Parks
When a Door Closes, a Window Always Opens…Because Someone Will Saw Through the Fence
2:16 PM PST on December 7, 2012
The South Los Angeles Wetlands Park located at 54th and Avalon is having a rough go of it these days.
Earlier this year, officials had to drain it in order to replace the leaking ceramic basin with plastic liners. It remained dry as a bone until the recent drizzling rains. But those have left it looking more like a fenced-in mud pit than a park. It appears to have even depressed garbage-eating seagulls and other fowl. None were to be found when I stopped by yesterday.
It wasn't particularly beautiful to begin with -- to passersby, it resembled a lot of dirt sparsely sprinkled with plants. The water often resembled more of a big puddle or muddy pond than an oasis, and there was no real place for kids to play or people to sit.
Still, it was a major improvement over the 9 acres of trash-collecting blight that it had been before. The abandoned former bus and rail yard now cleans the runoff waters that flow through it with native plants, offering area schoolchildren firsthand lessons about how ecosystems work. And, the looping trails provide a peaceful spot for joggers, elder residents who enjoy a stroll at sunset, and mothers out for a walk with young children.
Even knowing that neighbors had been slow to embrace it, I was genuinely surprised at how empty it was yesterday afternoon. The high school across the street had just let out and the students that I had seen cutting through the park when it first opened were nowhere to be found.
Taking a loop through the park, I realized that all the exits were locked with rusty padlocked chains. The only open entrance was the one to the parking lot, off Avalon. There would be no passing through the park -- you only entered it if you specifically wanted to spend some time there.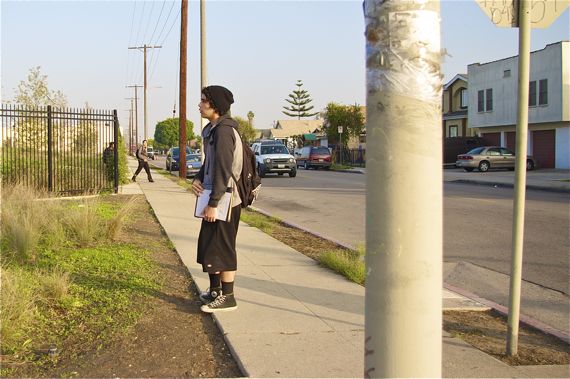 Apparently that hadn't sat well with someone. Two bars from the fence along 55th St. had been sawed or broken off, and another had been bent so that people could get through. A well-worn trail leading to the makeshift exit indicated that it had been there for a while.
I watched two students emerge from the park through the fence and asked if they knew who had done the deed.
No, they said, but they were glad someone had. Now they could get to school easier and even fit their bikes through the fence if they needed to. They didn't understand why the gates had been shut so soon after the park had been opened.
They wanted to be able to walk through the park. Having to walk around it made it more of an obstacle than an asset to them.
And it seems silly.
Part of ingraining the importance of park space on people's consciousness involves making these spaces accessible to them and essential to their daily lives. Even if the students don't regularly hang out in the park, having a clean and safe place to cross through that they know is there for them is important. It is a refuge from the busy streets, may pique their curiosity in the natural sciences as the park matures and becomes a more lush ecosystem, and it becomes part of what they value and remember about their community. They will want park space near their homes when they begin their own families.
Locking out the park-poor community that the park was supposedly designed to serve doesn't make a lot of sense, in other words.
A call to the parks department yielded little in the way of information. The first person I spoke with was surprised to hear about the hole in the fence. He'd have to send another email about the park again, he said. Thinking that meant he was in regular contact with park staff, I asked if he could give me the information of his contact.
There was a pause.
Let me see who that would be, he says. He came back with the general number for the Pacific Regional Headquarters Office.
The next person I spoke with tried to send me to an engineer.
No, I really just wanted to know about the gates, I said.
Oh, she said, saying she would send someone to make sure that the front gate was open. And that the mistake was probably due to budget cuts being what they were.
No, I clarified. It is all the other gates -- the park is inaccessible to the youth that live in the area and want to pass through it.
Not, incidentally, unlike Augustus Hawkins Natural Park, located on Slauson and Compton. Also a wetlands, it is completely gated off on three sides instead of being open and inviting to the public. It is a lovely park, no doubt, but it feels inaccessible. The vegetation has grown so much along the fences, you can't even see in much of the park from the street, making it feel even more separate from the community. Kids that live directly across from it on 57th St. have to make their way a third of a mile down towards Slauson -- a heavily trafficked major thoroughfare -- instead of being able to use one of the locked gates they can see from their front steps.
To be fair, the maintenance supervisor was not able to speak to me today as he was out of the office, so there may be some rational reason behind the locking of gates that I am unaware of. But it seems so counter-productive to the purpose of putting parks in communities. And because the only entrances are ones attached to the parking lots, it puts cyclists and pedestrians -- especially small children -- at greater risk. Even if there are costs to keeping the gates open, it would seem that the improvements to the health of park-goers gained by making the site more easily and safely accessible -- the stated rationale for building the park in the first place -- would outweigh them.
Sahra is Communities Editor for Streetsblog L.A., covering the intersection of mobility with race, class, history, representation, policing, housing, health, culture, community, and access to the public space in Boyle Heights and South Central Los Angeles.
Stay in touch
Sign up for our free newsletter