Bicycling
Long Beach Cyclists Still Struggle with Sidewalk Biking Bans in Business District
1:21 PM PST on November 20, 2012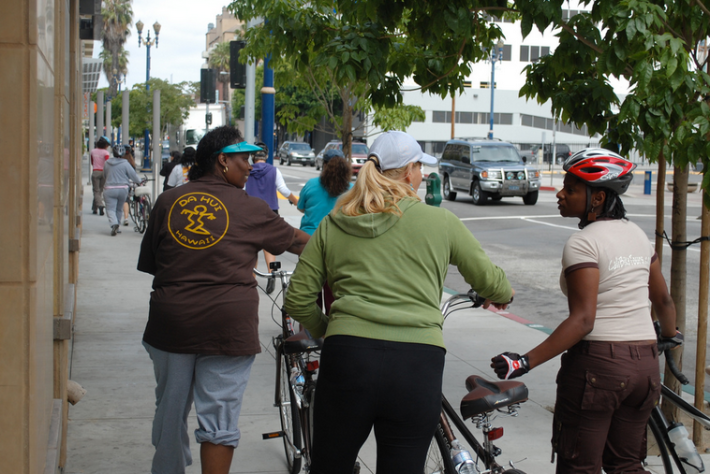 It is a pester in all business districts alike, from Retro Row to East Village Arts District: bicyclists on the sidewalk. The concern is not just annoyance; there are clearly safety issues at hand.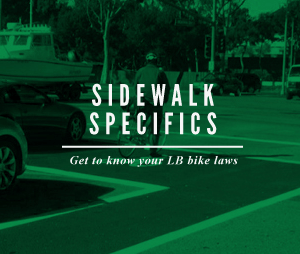 The city and its business owners are trying to find a way to get cyclists either off their bikes or off the sidewalk. Long Beach enacted several campaigns to curb the excessive riders. 4th Street businesses spray painted guerilla-style "Walk Your Bike" stencils. However, as Allan Crawford, bike coordinator for the city, pointed out: "The only real way to curb it is by enforcing it. Three years ago we had a huge problem on 2nd Street with people riding on sidewalks and all it took was a few tickets to get people to think, 'Oh, they're actually serious about this.'"
Though slightly Draconian in nature, there is a larger point to be addressed with regards to increased ticketing: Long Beach, bluntly put, has bicyclists who aren't respectful of pedestrians. This trend is exemplified by two recent crashes including a 90-year-old woman  breaking her hip after being run down by a bicycle near 4th and Alamitos outside her nursing home due to riding on a sidewalk, and a child being hit near 4th and Junipero near Retro Row by a bicyclist.
"As a deaf person with dogs," explained resident Joe Ascheman, "I sometimes get dirty looks from some--most are diplomatic in my experience--bicycle riders when I do not move out of the way. I love the idea of making more bike friendly lanes, spaces, et cetera. But also, I wish [for] more education for drivers, riders, and peds so we call all be happy and safe."
So far, the strict enforcement has proved legally fruitful. According to Bike Long Beach statistics, Long Beach Police officers ticketed over 50 bicyclists for riding on a sidewalk downtown within the past 30 days.
Just be respectful and have common sense," said Crawford.
Some violating[1] bicyclists do not take well to the "just be respectful and have common sense" chiding. These cyclists are outraged by the multiple-hundred-dollar ticket (cost depends upon speed) but also argue that the definition of a "business district" is too loosely defined. The city has zoning map which shows such districts--all marked conveniently in red.
For example, one of the violating bicyclist's arguments is that if Long Beach wants Amsterdam-style ridership numbers, it must provide Amsterdam-style biking amenities, such as divided sidewalks where foot pedestrians take one side while leaving the other open for bicyclists.
But business owners argue differently: despite the murkiness of what constitutes a business district and despite the lack of Euro-style bicycle adaptation amongst a city's given population, a bicyclist should be--first and foremost--equipped with common sense. If one sees a street with businesses on it, ride in the street or walk your bike. Many customers are not expecting a bike to be whizzing by at 15 mph as they step out with their coffee onto a sidewalk.
In easy terms, it seems that more prominent markings and signs need to be implemented within business districts. In much more complicated terms, there is a need for not only education about one's city, but also an attempt to somehow get riders used to using streets--which is the where they qualify to ride first and foremost.
There is something to be said about the strange driver-bike-ped triad in Long Bech: drivers annoyed with bicyclists, therefore increasing danger for bicyclists; bicyclists scared of drivers, therefore increasing danger for pedestrians. There are streets--7th, Ocean, and Pacific Coast Highway, that even the most experienced bicyclist would be hesitant in riding on.
This is why Long Beach implements Sharrows and bike lanes. It is odd that any bicyclist would choose Ocean over its immediate neighbors of 1st and 2nd, both designed to be bike friendly. And these--along with proposed bike lanes in 2013 surfacing along 6th, within Central Long Beach along 14th/15th, and the still-in-design Daisy-to-Myrtle Bike Path--are meant to encourage bicyclists to engage with the road, not the sidewalk. In fact, during my 11.5 mile ride with Tony Cruz, we never once rode on a sidewalk, despite traversing the entire southern and eastern region of Long Beach, from downtown to Belmont Shore.
So Crawford's simple call--"Just be respectful and have common sense"--is not that audacious. The tools are being provided to bicyclists (though not yet perfect and though they might tack on an additional few minutes to your trek) to take routes which are safer for both themselves and pedestrians.
FOOTNOTES:
1. Municipal code regarding sidewalk riding (10.48.070) is as follows:
<A. No person shall ride a bicycle upon a sidewalk within any business district; upon the sidewalks of bridges; in pedestrian underpasses; on pedestrian overpasses; upon sidewalks adjacent to any school building, church, recreation center, playground, or senior citizens' residential development; within the area south of Ocean Boulevard between the Long Beach Museum of Art on the west and Bluff Park on the east; on the northerly side of the Downtown Marina mole which directly abuts said marina, between Gangway A and Gangway P.

B. Any person riding a bicycle upon a sidewalk shall yield the right-of-way to any pedestrian, and when overtaking and passing a pedestrian, shall give an audible signal and shall pass to the left of the pedestrian only under conditions permitting such movement in safety.

C. The speed limit for bicycles on a sidewalk is 15 miles per hour unless otherwise posted. The speed limit where pedestrians are present is five miles per hour. Signs specifying the speed limit shall be placed by the Traffic Engineer in locations which will provide notice to significant concentrations of sidewalk bicycle riders or where bicycle speed problems are found to exist on sidewalks.

D. For purposes of this Section, the following public ways shall be considered sidewalks: 1. Seaside Walk south of Ocean Boulevard between 55th Place and 69th Place, known as the Boardwalk;

C. This Section shall not apply to a bicycle operated by any officer employed by the City while acting within the course and scope of his or her employment, having peace officer powers pursuant to Penal Code Section 830 or are employed in positions as provided under Sections 16.16.080, 16.08.340 and 16.08.341 of the Long Beach Municipal Code. (Ord. C-7453 § 1, 1997; Ord. C-7210 § 1, 1994: Ord. C-7204 § 1, 1994; Ord. C-7084 § 1, 1993: Ord. C-6883 § 1, 1991; Ord. C-6322 § 1, 1986; Ord. C-5911 § 1, 1982; Ord. C-5678 § 1, 1981; prior code § 3410.206).
Stay in touch
Sign up for our free newsletter