pedestrians
Los Angeles Walks Moseys into Leimert Park, Speaks with Residents about Aspirations for Their Neighborhoods
1:26 PM PST on November 16, 2012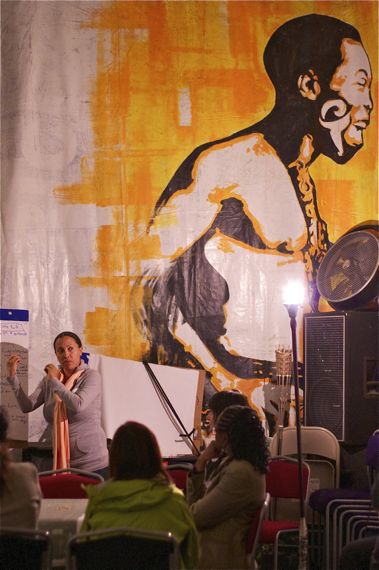 "My son calls it "Poo-poo Island," said Heather Presha of Stocker Plaza, a sizeable grassy island at the intersection of 8th and Garthwaite Aves.
She was presenting her group's summary of the issues of concern and areas of opportunity in her neighborhood to the approximately 25 community members and pedestrian and health advocates gathered at the KAOS Network in Leimert Park. The meeting, led by Los Angeles Walks (in collaboration with L.A. Commons, Community Health Councils, the Prevention Institute, the Los Angeles County Bicycle Coalition, and Multicultural Communities for Mobility) to begin a conversation about how to make the area more walkable. Participants spent a good half hour poring over maps of their neighborhoods and marking them up with their concerns and ideas for improvements. Then the groups each reported back to the rest of the participants with a summary of their findings. Presha's group included the area considered to be the heart of the Leimert Park community, where the art walk is held on the last Sunday of every month.
Poo-poo Island, Presha suggested, might be a great place for a dog park, as neighbors tend to use it that way already. The official designation of the site would create one more opportunity to encourage interaction between community members.
Other suggestions for improving walkability in the area included putting in curb cuts and making all sidewalks ADA compliant, beautifying sidewalks, putting benches on islands, adding more lighting, increasing the visibility of crosswalks, having animal control patrol more regularly (to round up problematic stray dogs) and making major shopping centers more accessible for pedestrians.
Speaking on behalf of his group, resident Randal Henry raised their concern that, at some major shopping centers, the only way onto the property is through the entrance that cars use. That kind of design is unfriendly to pedestrians in general, but can be especially so to youth, those walking with their families, or elders.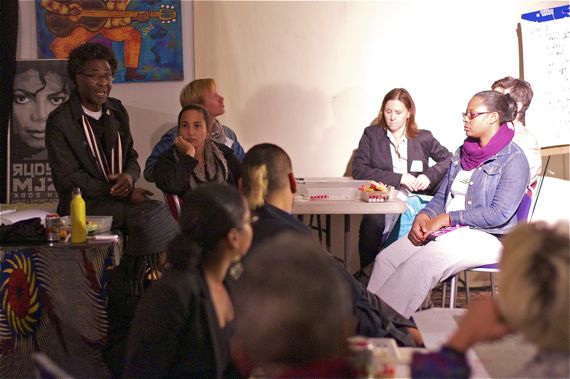 He also suggested that beautification of the Crenshaw corridor might help to revitalize that area and restore some of its former glory. He had heard elders talk about it being a hub of activity back in the day, with bowling alleys and theaters, and hoped to see that area thrive and shine again.
All of the participants talked about the urgent need to slow traffic down along major thoroughfares, like Crenshaw, and streets used as cut-throughs, such as Coliseum, to benefit both cyclists and pedestrians.
The sense of urgency, it seemed, was due to the unique composition of the community.
Both Henry and his wife, Manal Aboelata, pointed out senior and rehabilitation centers positioned along main streets on the map of their neighborhood. They also noted that they have been walking their young sons back and forth to school every day for the last 16 weeks. As students walking to school usually have to cross at least one major street, if not more, slowing traffic down is imperative to not only making sure that kids can move about safely but also encouraging others to walk to school.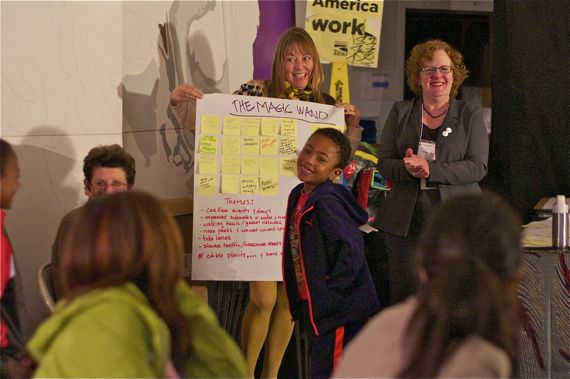 After the break-out groups had all presented, Deborah Murphy, founder of Los Angeles Walks, took the helm again to close the meeting. She summarized the themes that emerged both during the group session and from an icebreaker exercise where participants described the good, bad, and ugly of their neighborhoods on post-it notes. She also listed off some of participants' aspirations from the "Magic Wand" poster, which encouraged people to use their imagination to conjure up fun ways to improve the area.
Edible-ness of infrastructure seemed to be a big theme, for some reason. Henry and Aboelata's sons had their own take on that theme, with one proudly wishing for lollipop trees and the other preferring his trees laden with sausage.
As the meeting drew to a close, Murphy asked for someone to volunteer as a contact point and coordinator for the area. She was looking to build on the momentum from the meeting and put down the foundations of a group that could not only keep the dialogue going but recruit more participants from the area. She reiterated that Los Angeles Walks was a volunteer organization and that the coordinator for the area would need to be willing to move things forward on their own. And that time is somewhat of the essence -- earlier in the evening, Valerie Watson, the new assistant pedestrian coordinator for L.A., had underscored the needs for groups interested in seeing pedestrian projects brought to their communities to build their coalitions now so that they could be prepared when calls for proposals go out in March.
An enthusiastic Presha stepped up, saying she was committed to seeing the neighborhood become an even better place.
Her enthusiasm caught the attention of Albert Lord, a deputy from Councilman Herb Wesson's office who had come to see what participants' interests for the area were. Perhaps it was admiration of her commitment that prompted him to pledge to break the city's streak of doing nothing and see about moving the truck, trailer, and boat that Presha complained someone had parked in front of her home eons ago. Whatever it was, she seemed glad that someone was finally hearing her concerns.
As participants filtered out, I ran into Henry and Aboelata's sons, who were playing tic-tac-toe with a Para Los Niños representative.
One announced proudly that he had come up with the idea for lollipop trees all by himself. And that he had a second great idea that hadn't made it onto the board: candy corn trees. It could be a year-round thing, he thought. Or, it could change with the seasons. He hadn't decided. But he did know that candy in trees was a way better choice than sausage -- he was sure of that much.
I had to agree. I would be much more inclined to stroll candy-lined streets.
Are you interested in improving the walkability of Leimert Park or your neighborhood? Check out Los Angeles Walks' website for more information and to get on their mailing list.

Sahra is Communities Editor for Streetsblog L.A., covering the intersection of mobility with race, class, history, representation, policing, housing, health, culture, community, and access to the public space in Boyle Heights and South Central Los Angeles.
Stay in touch
Sign up for our free newsletter