Measure J
Move L.A.: Why You Should Vote Yes on Measure J For Jobs
1:36 PM PDT on October 29, 2012
...And what the New York Post and LACBC founder Ron Milam have to say about Los Angeles and public transit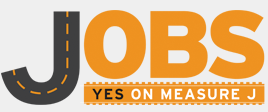 Los Angeles County is darn big and densely populated, a complex conglomeration of neighborhoods, multi-centered, and with complicated commute patterns. It's hard to believe policy and funding still prioritizes cars when it seems so obvious we need to make every other kind of transport easy and safe — whether by foot or bike, scooter, skateboard, bus, shuttle, car and car-sharing, rail, baby strollers, wheelchairs, carpools, neighborhood electrical vehicles.
Rail will be the backbone of that new constellation of transportation choices, providing the clean, quiet alternative to the car that can travel through and connect up all of LA's soon-to-be-walkable-and-bikeable neighborhoods. Even as we develop more local economies with retail, services and jobs that you can walk and bike to there will be a need to travel farther — to big job centers, the beach, museums, and airports.
Measure J would accelerate construction of this rail backbone, essentially accomplishing LA Mayor Antonio Villaraigosa's much-vaunted 30-10 plan: Seven rail projects would begin within five years and be completed within 13, instead of 27 years as is currently planned. Measure J does this not by raising taxes but by extending the half-cent Measure R sales tax that voters approved in 2008 for another 30 years.
This longer revenue stream allows LA Metro to finance construction now, when the cost of financing and of construction is super low. Speeding up these projects would also accelerate the creation of 250,000 jobs, according to the private nonprofit LA County Economic Development Corporation (LAEDC) — at a time when unemployment in the county is painfully high (11 percent).
It is as if voters would be providing LA County with our own economic stimulus package, as the increased buying power from all those paychecks ripples out through the economy, also boosting tax revenues. While many jobs would be in transportation and construction, jobs would also be created in professional, scientific and technical services, in health care and social assistance, and in the retail sector.
In addition, Measure J would provide an additional 30 years of funding for bus and rail service — 20 percent of revenues go to bus operations and 5 percent to rail.  Measure J also means another 30 years of funding for all 88 cities and unincorporated areas of LA County — 15 percent of revenues go to the "Local Return" program that allows cities to fill potholes, synchronize traffic signals, fund local transit service, sidewalk repair and bike lanes.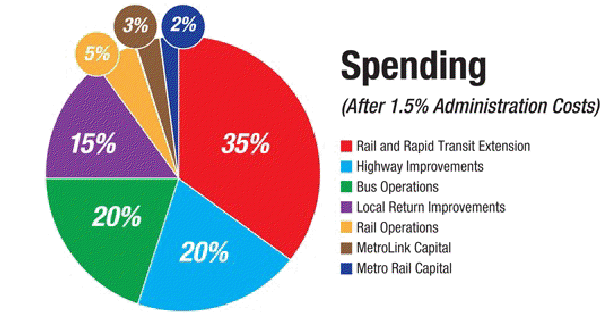 Moreover, Measure J, unlike Measure R, allows the "flexing" of funds from highway projects to transit (or vice versa), with a two-thirds vote of the Metro board. It is true that Measure J also funds highway improvement projects, but these are mostly ramp and interchange improvements to fix "hotspots," safety upgrades, grade separations for freight rail, and some carpool and truck lanes.
The centerpiece of Measure J really is the expansion of the rail system, with seven iconic projects completed between 2019 and 2025: the Green Line to LAX, the I-405 Transit Corridor, the Westside Subway Extension, Gold Line Eastside Extension, Green Line to the South Bay, West Santa Ana Transit Corridor to Cerritos, and the Regional Connector, which connects rail lines in downtown LA to provide "one-seat rides" from the beaches to the inland valleys.
By 2025. That's WOW! With a cost that is estimated, by LAEDC, to be about $25 per person per year.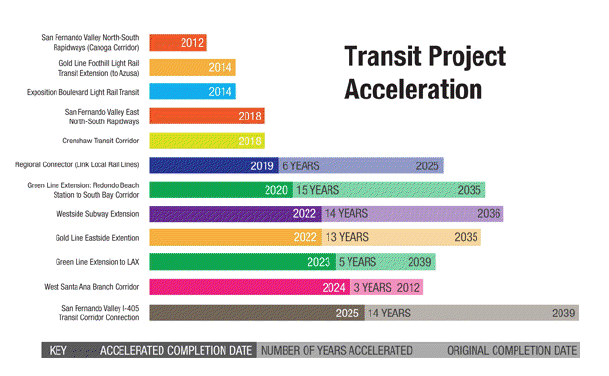 Measure J has been endorsed by the county's major environmental and community organizations, business organizations, labor, and city councils: from the American Lung Association of California to the Sierra Club, the LA Area Chamber of Commerce to the LA County Bicycle Coalition, the LA/OC Building Trades and LA County Federation of Labor, the League of Conservation Voters and CicLAvia, even the LA Dodgers. And by city councils from Santa Monica to Los Angeles to South Pasadena to La Canada.
All endorsers are listed on the Measure J website.
Passage of Measure R in 2008 ushered in a new era of transportation choices — making it possible to double the size of the rail system and the number of stations in LA County in 30 years. But Measure J would usher it in with a bang, making LA County more sustainable, healthy, walkable and bikeable within our lifetimes.
Yes the bureaucratic machinery is still focused on expediting car travel, but cities and agencies have begun acknowledging that people are demanding more transportation and housing choices — changes brought about by shifting demographics, rising gas prices, terrible traffic and air quality, concerns about the Middle East and climate change.
LA DOT has a study underway — to be completed in six months — to create multi-modal levels of service enabling routine consideration of the ease and safety of people traveling on foot and by bike. LA Metro has begun creating a strategic plan for first-mile last-mile connections to the county's stations — now just 100 but soon 200.
Even the Southern California Association of Governments, an agency not known for progressive planning, passed a regional transportation plan and "sustainable communities strategy" (RTP/SCS) this year that got this headline in The Atlantic Cities: "Is SoCal America's Next Environmental Success Story?"
California Senate President Darrell Steinberg and California Endowment CEO Robert Ross were so impressed with the RTP/SCS they came to SCAG in person to urge passage by the Regional Council. This plan — which would increase regional bike/ped funding by 350 percent — was adopted, unanimously.
The rest of the country is watching LA's transformation: A recent headline in the New York Post claimed "Los Angeles is the future . . . check yourself New York!": This has been a "decade that saw the city grow in all sorts of exciting and impressive ways," Andy Wang and David Landsel write. "A decade of building real transit. (For the first time in generations you will soon be able to travel by rail between Downtown and Santa Monica; soon after expect a subway stop on Rodeo Drive in Beverly Hills.) Of creating truly walkable neighborhoods."
As an aside, the LA County Bicycle Coalition was created in my office, when the national nonprofit I was working for offered to share office space in the belief that robust bicycle and pedestrian infrastructure was necessary to make the public transportation system work. How else could the rail system "extend" service into neighborhoods and serve the most residents?
I had lunch with LACBC founder Ron Milam a few months ago, and as always he tried to provoke. We were talking about Measure J and debating the best ways to fix LA County's transportation situation — whether rail, bus, car-sharing, cell phone apps, bikes, more walkability or what — and he said, "Do you really still believe that rail is the answer? Really?"
I've continued to ponder that question as we double-down on Measure J, and I have to say that I deeply believe the answer is yes — that rail is an essential component of a larger transportation ecosystem (for lack of a better word), that includes all of the alternatives listed up above as well as others that haven't even been invented yet.
Smart mobility hubs, cell phone apps providing for informal carpools, arrangements allowing you to rent out your own car — we're only just beginning to imagine a wealth of other choices. Consultants hired by LA Metro to develop a first-mile last-mile strategic plan talked about the importance of new alternatives that could more closely follow "desire lines" and "elephant paths" instead of street grids.
During the national Rail~volution conference in Hollywood last month, a transportation planner from Sri Lanka stayed at my house. I live in Mount Washington close to a Gold Line station, and during his stay here he traveled everywhere by train — visiting Long Beach, Santa Monica, Pasadena and El Monte.
As I rode with him to catch the Flyaway Bus to LAX I asked him what his major takeway was about Los Angeles. He said that he found it remarkably easy to get around. So we are making progress. It's easy to see why the nation is watching us.
(This is the first of a four part series of op/eds for and against Measure J.)
Stay in touch
Sign up for our free newsletter