Antonio Villaraigosa
League of American Cyclists Awards Los Angeles Bronze Medal for Bicycle Friendliness
10:22 AM PDT on October 18, 2012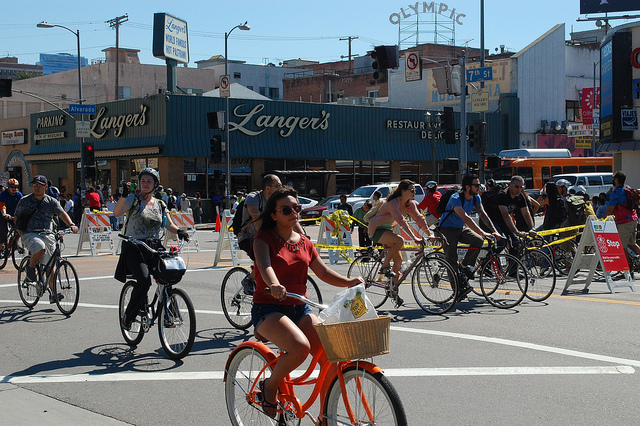 Over the last two and a half years, Los Angeles turned a corner. While the city has a long way to go to be a safe and welcoming city for pedestrians and cyclists, things are getting better. The change in attitude has also changed the debate from, "What can the city do to make things better?" to "Is it doing all that it can?"
Earlier today, the League of American Cyclists stepped into the discussion by awarding the city a "Bronze Medal" for bicycle-friendliness.
"Los Angeles is honored to be recognized by the League of American Bicyclists for our work making LA a more bike-friendly city," said Mayor Antonio Villaraigosa. "From building 1,600 miles of bikeways over the next 30 years to increasing the number of bike racks in the city by 80 percent, we're making it simpler and safer for Angelenos to get around on two wheels."
Earning the Bronze is an accomplishment for a city, and mayor, that are taking bicycling seriously as a form of transportation. However, the League has four levels of bicycle friendliness: Bronze, Silver, Gold, and Platinum. While advocates were happy to give the city its due, they also don't want the city to settle for reaching the bottom rung of the ladder.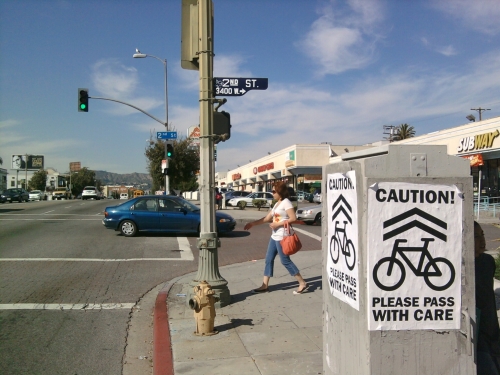 "There's still plenty more to do, but recent progress has been unprecedented - and worth acknowledging " writes Joe Linton, an advocate who has literally done it all from the founding of the Los Angeles County Bicycle Coalition (LACBC), to working as the executive director of C.I.C.L.E., to planning the first River Rides, to being the first staffer for CicLAvia.
"Mayor Villaraigosa and the LADOT deserve a great deal of credit for implementing more than 50 miles of bike lanes last year, hosting CicLAvias, and generally beginning to pay more attention to active transportation. Let's hope that LADOT continues to make great progress, and hopefully aims for silver or gold very soon."
Many advocates hope that the city uses this award as a springboard to become a truly great bicycling city. Neither Portland or Long Beach became bike-friendly cities overnight, and the size of the city and its car-centric planning could leave cyclists with a long hill to climb before true bike-friendliness is achieved.
"In the span of about 10 years, we have achieved what many thought was impossible in this car-centric city. At this rate of progress, it could be possible in another 10 years for Los Angeles to be known as a premier bicycling city. Keep in mind, Copenhagen's status didn't happen overnight. It took almost 40 years for the Danish city to reach 40% of the population using bicycle transportation," writes Dan Dabek, the executive director of C.I.C.L.E.
No matter how one counts it, Los Angeles shattered all of its previous records for building bicycle facilities in the last year. The city says it constructed 75 miles of new bikeways,
Streetsblog's count was 62
. But, even if one chooses Streetsblog's math over the official tally, 62 miles of new bikeways was still more than the previous three years put together.
"This award would have been unthinkable just a few years ago," begins Ted Rogers, author of the popular Biking In L.A. news site. "When I started my blog a little over four years ago, which was my introduction to bike advocacy, Los Angeles was a very bike-unfriendly city. There were no sharrows, few bikeways connected to one another, and the only major bike lane built in recent years unceremoniously dumped riders off with no warning in the middle of high-speed Century City traffic a few blocks from even more bike-unfriendly Beverly Hills. And, we had no voice whatsoever in City Hall or LADOT."
In its press statement announcing the award, the League noted the diverse advocacy groups representing all parts of the city, be they advocacy organizations such as the LACBC, groups that encourage and train cyclists, such as C.I.C.L.E., or the city's various bicycle co-ops.
One of the featured groups is Multi-Cultural Communities for Mobility (née City of Lights), a bicycling organization designed to engage and empower immigrant and non-English speaking communities. City of Lights has become a national model for advocacy organizations in other cities.
"In the past three years, as we've advocated for low-income cyclists in the City of Los Angeles, we've seen a sea change in bicycle facilities in the neighborhoods where they're most needed. The City has made leaps and bounds in implementing the 7th Street bike lane and bike racks in Pico-Union, campaign priorities of MCM. We will work to make sure that the City continues to focus on implementing the majority of new facilities in high poverty areas, just as the Bicycle Plan calls for," said Allison Mannos, Board President, Multicultural Communities for Mobility.
The LACBC notes that earning a Bronze Medal isn't just about building bike lanes, but about building a culture that supports bicycling in all levels of government and, of course, on the streets.
"However, a Bicycle-Friendly Community is about more than just bike lanes, and the City of Los Angeles has advanced by leaps and bounds in these areas as well. The LAPD has been a national leader in engaging the bicycle community, recently appointing a local liaison officer in each of the City's four divisions," begins Eric Bruins, the Policy and Programs Director of LACBC in a statement. "The City's "Request a Rack" program has made getting a bike rack as simple as filling out an online form. Bike corrals, which can fit up to 16 bicycles in the place of one automobile parking space, will soon be coming to business districts throughout the City through an expanded pilot program. In the next few weeks, a Bicycle Parking Ordinance that would ensure that all new businesses and apartments provide bike parking for their customers, employees, and residents will be before City Council."
While everyone Streetsblog reached out to responded with favorable comments, there was widespread acknowledgement that the Bronze Medal is a first step that the city has to make to meet the needs of those choosing to leave the car at home or never buy one in the first place. When the League announced that Los Angeles received an "honorable mention" last year, the advocacy group Bikeside released a survey showing over two of three cyclists did not believe Los Angeles is bicycle-friendly. While L.A. may have had a "banner year" last year, there are still a lot of streets and communities that need better facilities and fairer law enforcement.
Stay in touch
Sign up for our free newsletter