ExpressLanes
Metro ExpressLanes and Carpooling: The Facts, the Benefits and More
9:35 AM PDT on October 2, 2012
(Those of you that follow Streetsblog on Twitter may have noticed the ExpressLanes team at Metro were less than thrilled with our article on the concerns some have with the transponder requirement to access ExpressLanes. We invited them to write a response and Stephanie Wiggins, Executive Officer for the Congestion Reduction Demonstration Initiative, responded. - D)
So, what happens to carpools when toll operations begin on the 110 Harbor Freeway (between Adams Boulevard and the 91 Freeway) on Nov. 10 and on the 10 San Bernardino Freeway (between Alameda Street and the 605) next year? This has been a topic of discussion lately on social media and a few blogs. What we are hearing is some carpoolers don't understand the rules for carpools when tolling starts. Some are concerned they will have to pay a $40 pre-paid toll deposit, and that "casual" carpoolers who don't travel these freeways frequently will be forced to use the general purpose lanes because they don't have the required transponder. Finally, others simply say the ExpressLanes won't improve the flow of traffic, and that the ExpressLanes may actually discourage carpoolers.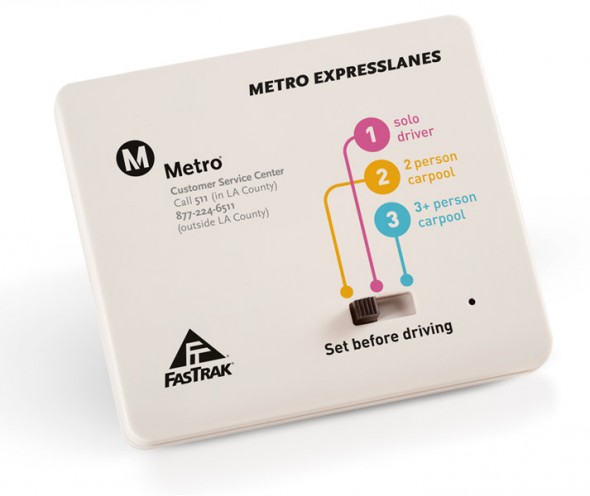 We understand those concerns and want to keep the dialogue going. First, we must point out that we are implementing this multi-faceted ExpressLanes program because we believe it will reduce traffic congestions and improve your commute.
It will do this by increasing travel options with more buses, vanpools, expanded transit stations and more. It also will maximize freeway capacity on heavily traveled sections of the 110 and 10 by converting the carpool lanes to High Occupancy Toll (HOT) lanes. The HOT lanes allow solo drivers (and two-person carpools on the 10 during rush hours) to use the ExpressLanes for a toll.
To avoid backups in the Metro ExpressLanes, sensors are deployed that measure congestion and adjust the tolls, increasing the toll from 25 cents a mile up to a maximum of $1.40 a mile as more vehicles enter the Metro ExpressLanes.
As we prepare for the launch of the tolling program, we are going to be flexible enough to make adjustments once it begins and throughout the one-year pilot period.
Let's start by laying out the facts related to carpools: 
Fact 1: When tolling starts, carpoolers can still travel toll-free under the same rules for those freeways that are in place now (see details below). The difference is that carpool drivers must open a prepaid FasTrak® account to receive a transponder and mount that transponder in their vehicles.
Fact 2:  The $3 monthly maintenance fee for the Metro ExpressLanes FasTrak® account will be waived if the account holder makes at least four one-way trips. These can be toll-free or paid trips and/or rides on transit in the corridor.  The $3 monthly maintenance fee is automatically waived for those customers who qualify for the Metro ExpressLanes Equity Plan.
Fact 3: Enforcement, flexibility, and performance monitoring are the key reasons for the transponder requirement for all. Currently, the violation rates on the existing carpool lanes are as high as 10%.  There is no way to enforce the toll requirements on the ExpressLanes without everyone playing by the same rules. In other words, if we allowed only carpoolers to have free transponders and no monthly fees, here is what would likely happen: Some people would declare that they carpool – given that there is no way for the Metro Program to distinguish whether they are driving a carpool prior to their actual trip. Also, people using other toll facilities in Southern California (all these projects use FasTrak®, like ExpressLanes) could cancel their accounts and sign up for a no monthly fee account with Metro, which would mean more maintenance costs for Metro without any revenues from those accounts. The FasTrak® requirement for all vehicles on the ExpressLanes will help us maintain traffic flow and accountability during the evaluation process.
To benefit carpoolers, we are offering the Carpool Loyalty Program, the first of its kind in the country, which will reward carpoolers and vanpoolers for taking Metro ExpressLanes by entering them into drawings for free gas cards each month that they use Metro ExpressLanes.  We are implementing the Carpool Loyalty Program in response to focus groups and surveys in which carpoolers said they wanted a non-toll incentive for using the ExpressLanes.
The conversion of carpool lanes to High Occupancy Toll (HOT) lanes is new to Los Angeles, so it's important to put it all in perspective. In addition to reducing traffic congestion, this program will provide sustainable and environmentally-friendly transportation solutions. Some program features include:
59 new clean-fuel buses and operating subsidies for the one-year demonstration period for the Silver Line, Foothill Transit, Gardena Transit and Torrance Transit.  Since the ExpressLanes-funded Silver Line Bus Rapid Transit service began in June 2011, ridership on the 110 Harbor Transitway has increased by more than 60%.
100 New Metro Vanpools;
El Monte Station Expansion and a new Transit Station at Patsaouras Plaza;
Harbor Transitway Park & Ride Upgrades;
Metrolink Pomona Station Expansion;
Transit Signal Priority Expanded in Downtown LA;
New bicycle lockers at the Harbor Gateway Transit Center & bicycle station at El Monte Station;
Our research shows that 80% of current carpoolers would continue to carpool after the FasTrak® requirement goes into effect so they can avoid paying the toll or being forced back into the general purpose lanes when their carpool partner is not available. Our initial statistics bear that out with almost 35% of the people opening new FasTrak® accounts indicating they are carpoolers. Those who don't use the ExpressLanes may be happy to find the regular lanes flow faster than they did before ExpressLanes. Others will likely begin using the expanded transit opportunities.
Our program also is environmentally friendly.  The Metro ExpressLanes will reduce air pollution and greenhouse gases equivalent to:
Removal of 12,593 passenger vehicles per year
7.1 million less gallons of gasoline consumed per year
149,285 less barrels of oil consumed per year
Reduction in electricity use of 7,994 homes per year or
Reduction in energy use of 5,585 homes per year
State law requires a performance report to the Legislature by December 2014, which includes any reductions in greenhouse gas emissions attributable to Metro ExpressLanes, as well as the demonstration project's impact on carpool usage.
Another first-in-the country ExpressLanes feature is the Equity Plan that provides qualified low-income commuters both a $25 toll credit to go toward either the transponder or the pre-paid toll deposit and the automatic waiver of the monthly $3 account maintenance fee.
Where will the money go that is raised from the tolls? It will be reinvested in the corridor's transit and carpool facilities. The money will stay right there, helping your commute now and in the future.
So, back to carpooling. Here are some details.
On the 110, vehicles with two or more occupants will be able to use the ExpressLanes toll-free 24 hours a day.
On the 10, which currently has a requirement of three or more people during rush hour in the carpool lanes, the ExpressLanes will allow two-person carpools the choice of accessing the HOT lanes for a toll when tolling begins next year. Vehicles with two occupants will need to pay a toll during peak hours (5 a.m.- 9 a.m. and 4 p.m. - 7 p.m.). They will have toll-free use during off-peak hours. Vehicles with three or more occupants will be able to use the ExpressLanes toll-free at all hours.
On both the 110 and 10, solo drivers will have the option to use Metro ExpressLanes for a toll.
A Metro ExpressLanes transponder will be needed to travel in the 110 and 10 ExpressLanes to receive the toll-free discount. The Metro ExpressLanes FasTrak® account and transponder can also be used to electronically pay tolls on all toll facilities in California (i.e. Orange County, San Diego County and the San Francisco-Oakland Bay Area).
We hope this helps clarify information on the carpool portion of ExpressLanes. We encourage people to keep the conversation going on Facebook and Twitter.
Stay in touch
Sign up for our free newsletter