Bicycling
Morales: Young Man Killed During Critical Mass Lesson Learned, or Not?
11:56 AM PDT on September 4, 2012
(Following this weekend' high profile crash and fatality at Critical Mass, there's bound to be some discussion of fixed gears, "brakeless bikes" and helmet usage. Here at Streetsblog, we don't want to run away from the controversy or try and tell you how to think so we decided to run a series on the issue(s) raised by the events of the last 96 hours. If you would like to chime in, feel free to do so in the comments section, or if you are interested in publishing your own op/ed, drop me an email at damien@streetsblog.org - DN) 
The news of a tragic bike accident during Critical Mass last week traveled at lighting speeds through Facebook, Twitter and text messages.
When I received the news of the crash, minutes after it occurred, my initial feeling was, I hope everyone makes it out ok.  The next thing that rushed to my head was, I bet it was someone on a fixed gear / fixie / or single speed bike, without brakes, and my third thought was, were these cyclist wearing a helmets?
Some may ask, why I would rush to these conclusions or questions so quickly?  In my experience, most bike accidents that are happening involve the types of bikes I mentioned above.  As an avid cyclist and reporter, I hit the streets on my bicycle. I have come across several bike accidents during my travels, and have spoken to several law enforcement officials from many municipalities, other cyclist, bicycle attorneys and even insurance companies.  They all agree that an overwhelming number of bike accidents that are occurring could have been avoided if the cyclist could of stop and control their bikes.
Incident after incident, Auto VS Bike, Bike VS Bike or Bike VS Pedestrian, A good percentage of accidents could have been avoided.
Not being able to stop is as irresponsible as a drunk motorist driving a car!
If you take out a fellow cyclist and he or she is injured or dies because you can't stop or injure a pedestrian for the same reason, it is just not right. We as cyclist must take responsibility and think of what dangers we put ourselves and fellow bike riders in.  I realize that these are harsh words to say to fellow cyclist who enjoy the freedom of riding a bike as much as I do.   I may not become very popular saying these things, but someone has to step up and tell it like it is.
Not wearing a helmet?
Come on guys. Most people that aren't wearing helmets aren't wearing them because of cost.. Coming from LA's Eastside, I personally know the financial challenges our community members face. I do realize that there are some riders that truly can not afford them.  However, most of the people who decide not to wear a helmet is by choice and just to be cool.  I have seen people receive helmets for free and refuse to wear them.
I have also seen cyclist getting hurt, way to often, week after week.  Most people reading this post will agree that they know of someone that has been hurt in an bike accident because (1) they could not stop, and (2) they were not wearing a helmet.  I am not talking about incidents where a motorist are actually at fault, by being distracted by a cell phone, text messages or just simply not paying attention to the road.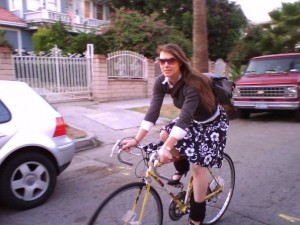 After they get injured, some see the light and value their life a lot more and start to wear a helmet.  I have several friends that can testify that I request them to wear a helmet for years, and it was not until they had a bad fall, some losing consciousness or getting a concussion that they realize maybe its not a bad idea, for others it may take actually seeing a bad accident that will change their minds about wearing a helmet.
Unfortunately, for young Jerico Culata it's too late.
I mean no disrespect to my fellow cyclist, or to Jerico or his family or his friends, I did not have the pleasure of meeting him.
I have attended several Critical Mass rides over the years and wrote a post about "The Good, The Bad and The Ugly of Critical Mass Rides" several years ago.  I even have led these rides a couple of times and have friends who have as well.
Although some things have been addressed to make these rides safer, others have been ignored.  We, as cyclists and activists, have to rethink what we are doing to ourselves and to the bike culture.  Over the years we have made several big strides creating  change in the way cities, counties, states and nations address cyclist concerns.  There are several cities around the world now working on bike master plans to improve the bike transportation infrastructure.
It is not COOL when you get in an accident!
It is not cool to place fellow cyclist in danger because you can not control your bike!
It is not cool to leave family members and friends with the pain of losing you because you did not want to wear a helmet.
It is not cool to become a quadriplegic or brain dead!
Enough is enough, instead of blaming someone, let's concentrate our efforts on looking at ourselves, and lets move forward.
SO IF EVERYONE REALLY CARES, LETS DO SOMETHING ABOUT IT!
We can regulate ourselves, or someone will do it for us - It's our choice.
In the spirit of enjoying the freedom of riding a bike, and celebrating life and the friends we meet on a bike and in honor of Jerico, let's create a movement to wear helmets and to add brakes to your bikes.
We all have family that we care about, and we all LOVE RIDING BIKES.
Why do we continue to hurt the things we love?
Look at the pain Jerico's family is going through... It is up to us...
How many more Jerico's do we have to lose before we decide to change things around?
This an opportunity to change things around, so - LESSON LEARNED OR NOT?
LET'S DO THIS!
(Carlos Morales is the founder of the Eastside Bike Club and Voice Community News Papers)
Stay in touch
Sign up for our free newsletter