High Speed Rail
What High Speed Rail Funding Bill Means for Southern California in the Next Decade
1:57 PM PDT on July 10, 2012
(High Speed Rail is a hot topic on the Streetsblogs.  For more check out CA Senate Approves Funds for High-Speed Rail, Commuter Rail Upgrades at Streetsblog San Francisco, A Victory for CA High Speed Rail but Still a Long Fight Ahead by  "Streetsblog.net" director Angie Schmitt)
Last week, the State Senate and Assembly passed legislation that approved the sale of $4.7 billion in state bonds to begin construction of the California High Speed Rail project that will one day provide high speed travel between San Francisco and Los Angeles.  The $4.7 billion will fund 130 miles of high speed rail service between Bakersfield and Merced in the Central Valley and "local improvements" surrounding Los Angeles and San Francisco.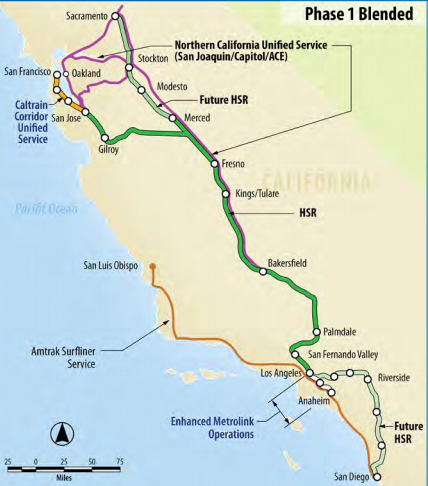 Most press accounts of California's High Speed Rail victory last week spends a paragraph, maybe two, saying something along the lines of, "The bill provides $2.1 billion to upgrade the Metrolink and Amtrak systems in Southern California and electrify Caltrain in Northern California."
While it's nice to hear that Metrolink's aging infrastructure is going to receive a boost, at this point the $950 million isn't yet dedicated to specific projects.  For example, we know that the project will provide for upgrades to Palmdale Station, which could potentially be a HUB for Metrolink trains, Amtrak, and both the California High Speed Rail project and Desert XPress.  Pending how Metrolink grows, it could also provide rail access to both the Palmdale and Burbank airports.  At this point, it would be very difficult to make an acurate prediction on how the $950 million would be spent.
To create a specific plan for those funds, a team of staff for many Southland transportation agencies (page 2-7) signed a Memorandum of Understanding and agreed to create a project list that will be completed by 2020, the same year that High Speed Rail in the Central Valley will come online.  The agencies on the task force are the Southern California Association of Governments (SCAG), Southern California Regional Rail Authority (aka Metrolink), Los Angeles County Metropolitan Transportation Authority (aka Metro), San Diego Association of Governments, Riverside County Transportation Commission, San Bernardino Association of Governments (SANBAG) and the California High-Speed Rail Authority.
This isn't to say that the Senators and Assembly Members that voted last week had no idea what the project list for the region would include.  SCAG announced details of the MOU earlier this year, which was a key point in gaining the support of politicians and leaders in the San Gabriel Valley.  The plan included major upgrades to Palmdale and Anaheim's Metrolink/Amtrak stations to handle high speed trains in the distant future and increased local service in the near-term.  On the rails, money could be used to "double track" Union Pacific Rail Lines in Industry, West Covina, Irwindale and Alhambra.
For Metrolink rail, a series of crossings will be grade-separated, better safety features will be put in place, and the oldest of the current tracks will be modernized.  At this point, there is no discussion of electrifying the Metrolink rail tracks in local plans, so for the forseeable future, passengers on the official High Speed Rail train would be transferring at Palmdale to signifigantly improved local service to Los Angeles and Anaheim or faster Amtrak service to San Diego.
One of the reasons that this project has stronger local support in the San Gabriel Valley than the original, more expensive, plan to electrify the entire route is that it doesn't require much improvement outside of Metrolink's current footprint.  Plans that required the seizing of private houses to supply the route 100% electrified route all that it needed were wildly unpopular in the San Gabriel Valley and Orange County.  Los Angeles County Supervisor Mike Antonovich, who chairs the Metro Board of Directors for the next year, publicly praised the current route and plan despite it's unpopularity with many of his fellow Republicans.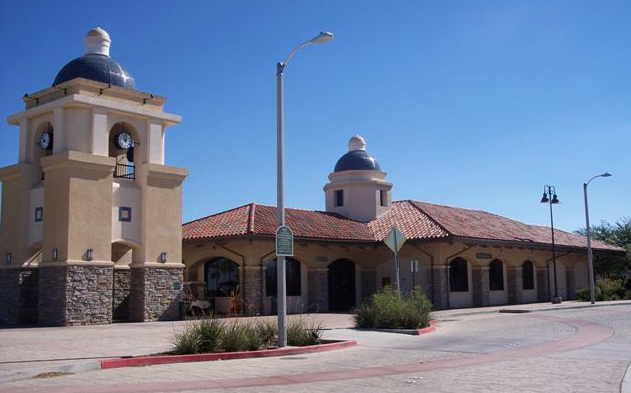 Antonovich, who represents Palmdale and other communities in the San Gabriel and Antelope Valleys, is also a proponent of the Desert Xpress alignment that ends in Palmdale.  The Supervisor envisions a future with Palmdale at the center of a new rail system that serves California.  While the Board Chair is a villain to many Westside transit supporters for his opposition to the Westside Subway and the proposed extension of the Measure R transportation tax, Antonovich stands out among his Republican colleagues for having a progessive vision for transit and rail for the people he represents.
Of course, despite the high price-tag of the entire High Speed Rail route, the project will actually save the Southern California region that Antonivich represents billions of dollars Metrolink service in the Los Angeles region has been found to remove the equivalent of one lane of traffic off of Interstate 5 and other highways.   Caltrans' estimatea that it costs $30 to $50 million per lane-mile for the construction of urban interstate highways.
Adding a lane for each direction of the full 45-mile length of I-5 in Orange County would cost from $2.7 to $4.5 billion, to say nothing of wideing projects that would surely spring up in L.A. County without an improvement to Metrolink.  The estimated cost of the Metrolink upgrades that will dramatically increase its service and service speed is $450 million.
As more information about how High Speed Rail funds will be spent in the region becomes available, Streetsblog will continue to follow the story.
Stay in touch
Sign up for our free newsletter