"Accidents"
LAPD: Susanna Schick Fell Off Her Bicycle
6:04 AM PDT on April 11, 2012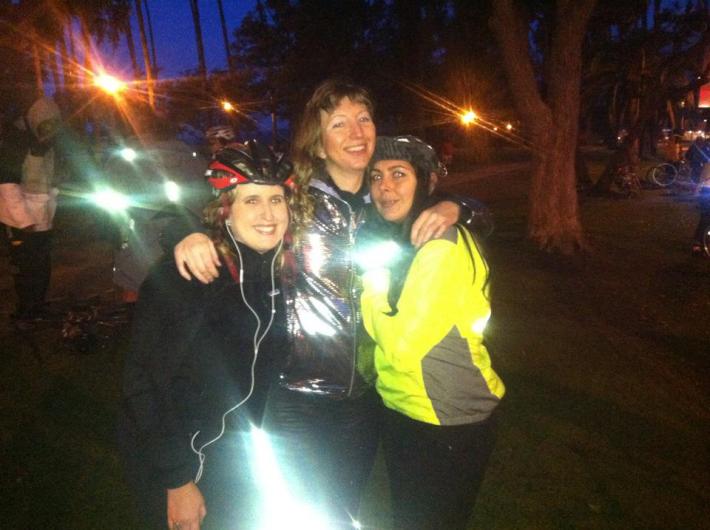 (Friends of Susana's have set up a ChipIn account to collect funds to help with medical bills.  You can donate, here.)
From the people that brought you "Andres Tena backed into a hummer and was propelled over his handlebars" and "a woman who plowed into a group of thirty cyclists committed no crime" comes another soon to be classic, "(Susanna Schick) fell down on her bicycle."
Despite widespread media reports that Susanna Schick was attacked by the driver of a white Lexus on Friday night and that the LAPD didn't even file a report until three days later; the LAPD is fighting back against perceptions that they bungled the case by attacking the victim implying both that she was the agressor in the incident and that she is an incompetent cyclist.  As we've seen before, they also accidentally admitted they don't really understand traffic safety laws.
The crux of the LAPD's argument is that there was no contact between the white Lexus that Schick claims hit her on Friday night, therefor there was no crime.  Lt. Paul Vernon tells Blog Downtown, "There is no crime here.  She fell off her bike."  LAPD spokeswoman Wendy Reyes was even more vague, telling NBC 4, "They obviously determined it wasn't a hit-and-run. She might have fallen off the bike on her own."
"They" is a pair of LAPD officers who witnessed the entire incident.  According the officers, Schick was bicycling down Spring Street in the green buffered bike lane when a car pulled out of a garage, swung wide and swerved into the bike lane.  The car did not hit Schick.  At a light, Schick rolled up to the car, and pounded on the side view mirror causing the car occupants to roll up their windows.  When the light turned green, the car sped ahead and eventually turned right.  Then Schick just fell over.  The officers then called the paramedics and after Schick was safely in the hospital they returned the bicycle to her residence.
While anything is possible, the idea that Schick just fell off her bike is about as far-fetched as her being forced off her bike by lightning bolt or fear of green paint.  Schick, who goes by Pinkyracer on the Internet and racing forums, has been traveling by two wheels pretty much her entire life.  Her personal website is devoted to two wheeled travel, be it on bike, motor bike or scooter and she's even a motor bike racer.  The odds that she just happened to fall off her bike and it just coincidently happened after an altercation with a car is statistically insignificant.
Even in the LAPD's weird version of events, one which is designed to cast the victim as the aggressor to the poor drivers who were rolling up their windows, there are laws broken.  A car that "pulls out of a garage, swings wide and swerves into a bike lane" has a driver that has just broken a traffic law.  California Vehicle Code 21209 clearly states that no motorized vehicles can enter a bike lane unless they are within 200 feet of an intersection where they are going to make a turn.  
Even in the LAPD's "there was no crime, Schick just fell off her bicycle" version of events, the car clearly wasn't making about to make a turn, they were making a dangerous and illegal maneuver that put their vehicle completely through a six feet of extra road paint designed to give cyclists extra space into a bright green bike lane.
When I spoke to Jennifer Beatty, a friend of Schick's who is well known in the bike advocacy community and who has served as a sort of spokesperson for Schick and the family, she described Schick's bike as "badly damaged from the rear."  She went on to say that you can "see right where the impact happened."  Blog Downtown got a more picturesque description from her, "Beatty described the damage to the rear wheel as being a "bike taco" bent half an inch." (Note: There is some disagreement on how bad her bicycle is, read the comment section below.)
To make matters worse, Beatty reports that as of Tuesday night the LAPD still hadn't released the crash report to Schick's family.  They managed to find time to talk to the press, but not the family of a woman who is going to be in a hospital for two months for "falling off her bicycle."
To add even more insult to injury, even if the driver of the Lexus came forward, the report that Schick "fell off her bicycle" would undermine an attempt to even pursue a civil action under the city's Bicycle Anti-Harassment Ordinance.
In November of 2008, I was riding on the Santa Monica bike path at night when my bike hit a part of the path that had been covered in sand.  Stupidly, I tried to warn cyclists behind me and took a hand off the handlebars to point at the sand while calling out the hazard.  I was traveling about 15 miles per hour, lost control of my bike and it slammed down hard on my right leg.  I had a gash on the leg, ruined a nice pair of jeans and ended up with a swollen knee that kept me from riding for a couple of days after I got home.  Oh, I did get back on my bike and ride from Santa Monica to the Fairfax area.  About six months later, my bike got a tuneup.  Nobody ever compared the scratch my bike received from the spill to any sort of Mexican food.
Following the incident where Schick fell off a bike completely randomly just after an altercation with a car, her bike is unrideable and she received a concussion, a broken collarbone, six broken ribs and a shattered pelvis.  I guess it's a good thing no LAPD officers witnessed me falling.  My crash would have been a lot worse.
Stay in touch
Sign up for our free newsletter