Santa Monica
As Debate Over Tuition Hikes Or Class Cuts Explodes At SMC, Millions Spent On Campus Auto Infrastructure
1:43 PM PDT on April 6, 2012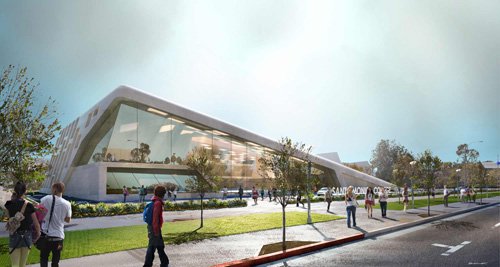 The debate on affordability and access to education turned ugly on Tuesday at Santa Monica College. A student protest of the board of trustees was halted by campus police using pepper spray, garnering national media attention. The heart of the contention between students and administrators is a proposal to maintain some classes slated to be cut due to state budget constraints, by introducing a second tier of classes with higher tuition. Basically, classes that were most popular with students, including many that would be prerequisites to gain entry to professional degree programs such as nursing would cost more than less popular ones, a move some students have called a privatization of public education. Protests continued this week, and the two tier plan may be placed on hold.
While all eyes have been on the state funding decline that started this crisis, considerably less attention has focused on the tens of millions of dollars being pumped into parking garage capacity increases and building upgrades.  For example, the new student services and administration building is a $53 million modernist architectural showpiece with 500 costly underground car spaces (more renderings here). KCRW is pitching in a few million of the  $63.5 million dollar offsite media complex which creates 430 parking spaces.  However the bulk of the money ($57.5 million) for the media center comes from SMC local bond measures approved by the voters of Santa Monica and Malibu.
The bond measures are "capital only" funding streams dedicated towards certain buildings, meaning it is not within the college's power to just spend the money on something else such as maintaining classes.  When one looks at the big picture, and how our society spends it's money as a reflection of values, it appears that parking expansion and architectural kudos take precedent over maintaining education.
Across the state, tough choices are being made between dropping classes, raising rates for students and cutting teacher positions. Meanwhile, Santa Monica College spends well over a hundred million dollars on very expensive building projects and adding subterranean parking to a campus that already has substantial parking structures and offsite lots.
Bond measures such as Measure U and Measure AA are essentially local workarounds for our dysfunctional state system of funding education. Because of their limited allowable scope, California colleges spend scarce dollars on  new buildings and costly transportation facilities without the flexibility to improve class offerings or fill gaps left by state funding cuts. For California to maintain the accessibility and affordability of public higher education, it's going to require a rethinking how it funds our community colleges. If the state cannot maintain funding levels, local municipalities and educational institutions need to be empowered with more flexibility in the ways they can raise and deploy revenue.
Some school administrators see the expansion of parking lots and structures as an equity issue, since the cost of living in Santa Monica is expensive compared to the rest of the region. Currently, only 15 percent of SMC students live in Santa Monica. In essence, the school is trying to address the lack of affordable housing around the campus, by creating more housing for cars on campus; allowing students to live much further away where the cost of living is cheaper. As the cost of driving rises with the price of gasoline, this equation to improve accessibility to SMC narrows in benefit as it becomes less affordable for students to own cars and drive extended distances regularly.
There has been significant progress on thinking beyond cars at the campus. The partnership with the Big Blue Bus known as "Any Line / Any Time", which bundles bus passes into student fees, and allows students to hop on any BBB bus with their ID, has been wildly successful. According to a 2011 student transportation survey print out I acquired (I was unable to find a copy online), prepared by the SMC Office of Institutional Research, about 44% of students take public transportation as their primary mode of transportation to get to campus on any given day.
When added with bicycling, walking and skateboards, that is about 52%, or more than half of students, who get to school without driving or carpooling. About 75% of students surveyed reported using some form of alternative transportation at least one day a week to get to campus. A column I wrote last year about the state of bike parking at SMC revealed deficiency in their bike facilities, but a new plan is moving forward with increased funding for bike racks. An effort led by a student and administrator committee that formed following the article.
Yet, the vast majority of transportation resources and spending at SMC is devoted to expanding capacity for driving; even though that spending is benefiting a shrinking percentage of students as bus ridership becomes the dominant mode choice. If current behavioral and demographic trends continue, with more and more younger people forgoing driving altogether, it is also a distinct possibility the next round of expansions may be an overreach once finally completed, even if today's lots are full.
If the number of students driving declines, or just the number of students as enrollment has already dropped, effecting tuition revenues, these parking structures could become under utilized liabilities in the long run.  Multi-level parking structures are expensive to run and maintain, and underground structures are even more so due to air circulation systems and other special circumstances.
Plus, there's a lot happening off-campus that will further encourage less students to drive to campus.  On the transit side, there's the  Expo Line light rail and bike path which should be completed in 2015 or 2016.  The cities of Santa Monica and Los Angeles are also building out bike plans that will increase access to both campuses for cyclists.  If these changes are as game changing as I believe they will be, they will be a shot in the arm to the trend away from driving. Such a shift would be a great thing for getting our society toward a sustainable path, but it's not such a good thing for long-term parking garage financing.
The housing accessibility and transportation problems of SMC students cannot be addressed by the college alone. There are land use policies in the surrounding area at work in all of this coupled with local neighborhood resistance to expanding housing density. There is a tenuous relationship between the college and neighbors long resistant to SMC expansion. Finding a balance between the needs and desires of the students, SMC as an institution, and the adjacent neighbors is a thin line. I do not envy the decision makers that have to navigate it.
No individual citizen, no one institution, and no single level of government is to blame for this mis-allocation of resources and unexpected budget mess. There are no easy quick or simple solutions, but budgets are getting tighter right now whether we like it or not. So we have to thoroughly evaluate every dollar going into education, and from every source. We have to ask ourselves is a project really necessary, or are we only building it because of a flawed system of funding pools. If we build it, can expected revenues keep the facility maintained decades from now when things start to wear? Could we do this better, smarter, leaner? We also have to plan for greater financial resilience in the face of more economic uncertainties in the future.
Infrastructure spending is by no means the only issue deserving scrutiny, but it is often overlooked in debates on how colleges spend their money. Along with the role of zoning and local land use policy in constricting housing options that would benefit students, such as onerous parking requirements that drive up housing costs.
This article only scratches the surface of the issue, and I certainly don't have all the answers. I encourage students, educators, parents, or anyone concerned about the future of our education system to start a dialogue about the complex interaction of state and local funding mechanism, infrastructure priorities, transportation policy, and land-use codes, that along with many other issues, impact the cost of providing an education.
Stay in touch
Sign up for our free newsletter