fracking
Go Frack Yourself, Part II: PXP Blames Cracked Home Foundations on Pesky Earthquake Faults
2:13 PM PDT on March 23, 2012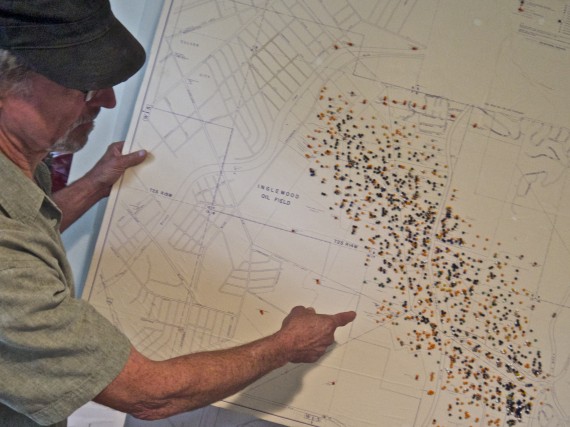 (Part 1 of the series is here.)
IF FRACKING IS such a safe practice, then why is it such a secretive one?
For the past several years, outspoken journalist and media critic Earl Ofari Hutchinson has likely been asking himself that question. Hutchinson is a resident of Windsor Hills, a community that sits adjacent to the 1000-acre Inglewood Oilfield — the largest urban oilfield in the country. Beyond the regular complaints of health problems, noise, and pollution of residents in the area, Hutchinson and others in the area have complained for years that the drilling has been so violent that the foundations of their homes are cracking. One resident had to put his home up on blocks, another resident claims he hears the house cracking at night. Hutchinson himself had to spend $100,000 to fix the foundation of his home because it was, according to SoCal Connected correspondent Jennifer London, "splitting in half." London interviewed Hutchinson as part of the report she prepared for KCET's feature on fracking in L.A., slated to air tonight.
It would seem that all was not well in them thar hills. And although all signs would seem to point to the drilling — and the fracking that likely was part of the drilling process — as the possible culprit, getting PXP to explore taking responsibility for that has been a long and difficult process.
In 2011, PXP finally launched what they called their "first annual ground movement survey." They found that 7 of their 42 monitoring stations had experienced ground movement of greater than 0.6 inches (0 - 0.6" being the acceptable range). Two of those sites were in the Windsor Hills area. Based on these results, the L.A. County Dept. of Public Works asked PXP to determine whether or not the ground movement was related to oil field operations. They were hoping to find some resolution to the 12 complaints that have been lodged regarding ground movement and structural damage.
"At this time," however, PXP's report states, "the data suggested that the recorded ground movement may be related to the movement of the Newport-Inglewood fault zone." The data, however, is PXP's own data (as I understand it). And because PXP has concluded that they are not the source of the problem, the Department of Conservation's Division of Oil, Gas and Geothermal Resources (DOGGR), the agency tasked with overseeing drilling, has not been called in to evaluate the fluid injection and withdrawal rates or assess the validity of the findings.
Part of the reason that PXP can avoid accountability is that they do not have to disclose where they are fracking. Once a company is permitted to drill for oil, they don't have to get a second permit to engage in fracking. And DOGGR has not felt the need to ask for that information, even though it is within their mandate to do so. And until the legislature requires it or DOGGR is handed "evidence of manifest damage and harm," they do not plan to monitor or manage use of the technology. Worse still, Congress exempted fracking from federal environmental laws, including the Safe Drinking Water Act, the Clean Water Act, and the Clean Air Act, meaning that it is harder for the public to find entry points by which they can hold companies like PXP accountable.
At the meeting I attended in Baldwin Hills a few weeks ago, DOGGR and PXP repeatedly said that fracking has been a regular practice in California for the past thirty or forty years (although it has likely been practiced for longer than that), as a way to reassure people that it is safe. Moreover, companies claim, fracking is often a small part of what they do. Although it may take several weeks to drill, actual fracking may only take place over a couple of days during that period.
True as that may be, when multiplied over the number of wells in the area, it means that there could be an awful lot of fracking going on. Between 2000 and 2008, 692 wells were drilled in Los Angeles County and over 25,000 in California, the fourth largest oil producing state. Production at the Inglewood Oil Field alone – a field that has been open since 1924 – has averaged between 2.5 - 3.1 million barrels a year for the past decade.
All that activity, and the only ones who get to know which wells have been fracked are the oil companies. Something seems wrong with that picture. And it isn't that the Muppets are oil-hating communists.
The lack of concern for public health both at PXP and at DOGGR has been difficult to comprehend. Then, I stumbled across this graphic in one of PXP's newsletter reports that seemed to make things clearer. If I pictured the only "living organisms" to be sperm in the ocean, I suppose that it would be easier to not think about environmental concerns.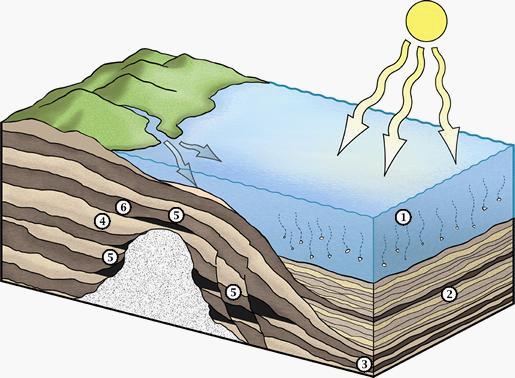 The graphic is taken from "Geology 101" in their 2011 newsletter (check the newsletter out for historical photos, maps, and other helpful graphics).
Want to know more? Tonight KCET sits down with Tim Kustic, the head of the Department of Conservation's Division of Oil, Gas and Geothermal Resources (DOGGR), for his first (and probably last) TV interview. Reporter Jennifer London asks about their unwillingness to require more transparency regarding fracking in light of the environmental and health concerns of the community, as well as the complaints of nearby residents regarding extensive damage to the foundations of their homes. The preview is available here: http://www.kcet.org/shows/socal_connected/socal-connected-97.html
Sahra is Communities Editor for Streetsblog L.A., covering the intersection of mobility with race, class, history, representation, policing, housing, health, culture, community, and access to the public space in Boyle Heights and South Central Los Angeles.
Stay in touch
Sign up for our free newsletter