South LA
The Human Cost of Car-Centrism: Carwashes are the New Sweatshops
1:28 PM PST on February 22, 2012
Unionization at two carwashes represents victory for a handful of workers, but underscores how much more remains to be done to protect workers.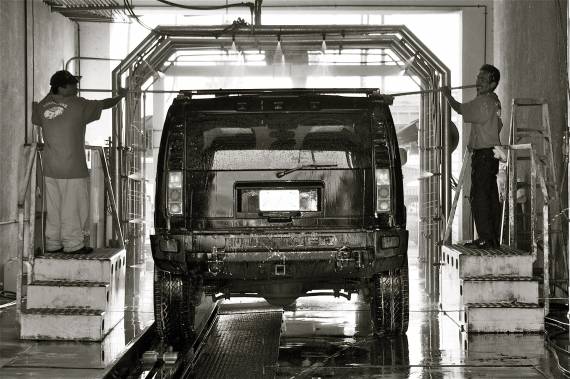 Imagine washing as many as 150 cars a day. Working 6 days a week, but only being paid for 5. Logging a 10-hour shift and being paid for half of it. Having your supervisor take half your tips at the end of the day. Being berated by management in front of customers. Having a supervisor try to intimidate you by showing you the machete, combat knife, .38 caliber bullets that they keep within reach at the office, "just in case." All while you are being denied breaks. And "being denied breaks" entails the supervisor grabbing and shaking the table where you are eating in the hopes of sending your meal flying.
Now imagine you speak only Spanish and management, only Korean. And the only person that can mediate for you is a single cashier who speaks some English, which is not particularly useful to either of you. Imagine that the only time you and management are truly able to understand each other is when your employers point to the street and tell you that you are free to walk out any time if you don't like how they do things.
And imagine that, no matter where you went, the job conditions would be almost exactly the same, if not worse. Assuming you were able to get hired, that is.
You have a family. Rent to pay. No savings. Only basic literacy skills in your own language and no high school degree.
Would you risk your job to take a stand?
Workers from Vermont Carwash and Nava's Carwash in South Los Angeles found that they couldn't afford to not take a stand.
After almost two years of struggling to have their rights acknowledged and protected, they were finally able to celebrate the signing of contracts that allowed for the unionization of carwasheros at both sites.  The ceremony yesterday at Vermont Carwash attracted local political lumiaries, Mayor Villaraigosa and AFL-CIO President Richard Trumka. The contracts mean a small pay increase for the workers (to $8.16 an hour), a guarantee that they will be given breaks, and that they will be provided with additional safety training and safety equipment. It also means, perhaps more importantly, that a mechanism has been put in place that will enable them to voice complaints to management and work together with management to resolve problems in-house.
"Now, we get paid," said a worker, grinning. "If we work 8 hours, we are paid 8 hours. And they can no longer treat us like animals. We are human beings."
Getting the ball rolling
Even though the provisions are incredibly basic protections that any worker should have at their workplace, getting workers to claim these rights and management to take them seriously was a difficult and labor-intensive process for the organizers from the Community Labor Environmental Action Network (CLEAN).
For starters, there are several hundred carwashes in the city of Los Angeles, and anywhere between 7000 – 10,000 workers. Most are small operations, having maybe a dozen employees (give or take a few) and, especially in South L.A., they are not very profitable. Most are also staffed by Latino workers who may or may not have documented status, and, until now, none of them had been unionized, with the exception of Bonus Carwash in Santa Monica, the first unionized carwash in the country.
In other words, owners have very little incentive to put in place measures that would make their operations more costly.
When CLEAN organizers started talking with workers from the Vermont Carwash, they could see that workers were very aware of how precarious their situation was.
"They were afraid," said an organizer. So afraid of losing everything, in fact, that many of them had continued to work at the Vermont site for years, despite the poor conditions and frequent theft of their wages.
To cultivate trust with the workers, the organizers spent months doing home visits and holding worker meetings. They helped the workers devise strategies to exercise their rights at the workplace. First came worker delegations, where the carwasheros would halt work and walk into the manager's office together to try to talk about workplace issues. When that didn't work, workers started putting up signs with their demands to alert the public to the abuses they were suffering. When that didn't work, they picketed the carwash and refused to work.
It was only then — when the owners started seeing a drop in revenue and thought that workers might begin taking legal action — that they agreed to sit down for negotiations.
For the owners, said Neidi Dominguez, who assisted with the legal aspects of the negotiations, the contract became a safety net for the business, one that would protect them from further picketing and negative attention. The added pressure and assistance from other unions and workers' organizations in the area that joined forces with CLEAN helped to convince management that legal action was not only a real possibility but one that could cause them to have to close up shop.
"[Management] saw we had the support of the community," said a worker. "They saw no way out."
Spreading the gospel
"We want others to hear us and understand that they can do the same," said a worker, while acknowledging that it has been a challenge to try to get others to step forward.
He and others alluded to the fact that many of the carwashes in the area are Korean-owned and that, if a worker should make trouble at one work site, word would get around pretty quickly within that community, making it unlikely that he would be able to find work at another carwash.
The worst offender, however, was a Latino owner, said one.
"They pay workers by the car... If he charges $10 per car, half goes to management and the leftover is split between the washers and driers who are there from 7 am to 7 at night..." he trailed off, shaking his head in disgust. "It's theft."
The fact that the owner was Latino appeared to be the most demoralizing aspect of the situation for the workers there. If they couldn't get protections from him -- someone who they felt would understand their plight -- it seemed unlikely to them that they would be able to have them anywhere else.
"The owners have to recognize that we have rights," concluded a worker. "But change only happens little by little."
Although gaining that respect and being treated as an equal was a big part of the victory for many of the workers, none seemed to feel that they could sit back and enjoy their win. They were right back at work washing cars, even as the press was still milling around, eschewing photo ops for a few dollars in tips. The work was still hard, the conditions still left much to be desired, they still had no gloves or masks to protect them from the chemicals used to clean the cars, and there are still thousands of other workers like them that have no protections.
It's a good start, said one, watching the owner (who looked a little shell-shocked from all the attention) pace back and forth across the parking lot. "I think that, because of the all the pressure, they understand that things must be different now. But people must continue to step forward, or things will always stay the same."
Vermont Carwash is located at 6219 S. Vermont St., Navas Carwash is at Florence and Hoover--both in South L.A., and Bonus Carwash can be found at 2800 Lincoln Boulevard in Santa Monica
Sahra is Communities Editor for Streetsblog L.A., covering the intersection of mobility with race, class, history, representation, policing, housing, health, culture, community, and access to the public space in Boyle Heights and South Central Los Angeles.
Stay in touch
Sign up for our free newsletter