Boyle Heights
It's Casual Frontman Eddie Solis Makes Loud, Fast Car-free Music
11:54 AM PST on February 1, 2012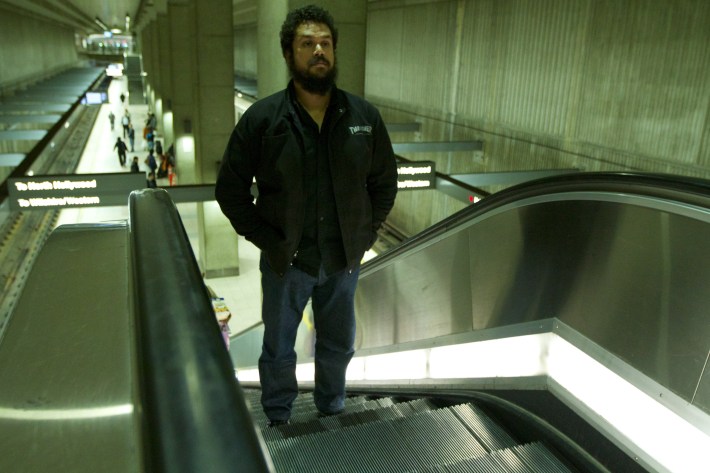 A few weeks ago, the hardcore band It's Casual posted "The Red Line" music video on Youtube and quickly caught the attention of local and national blogs for it's simple yet creative critique of Los Angeles freeways. A current resident of Boyle Heights, guitarist and vocalist Eddie Solis sat down with Eastside Streetsblog to talk about how his car-free lifestyle inspires his music and how he encounters on his morning walks the smell of Boyle Heights tortilla factories.
You do a lot of music that's very transit oriented; can you explain why you went that route?
Sometimes I think there's a lot of content out there that's too, I want to say, too fiction. Kind of make believe. And I notice all my favorite music that hits home to me in my heart and that I kind of step back and see these bands still going  . . . are bands that write timeless music with timeless contact that basically come from the truth of actual events and someone's perspective. So I said I really want to find an avenue and report on it. And I go, wait you know what, my daily commute. I see LA different because  . . . I take the bus and subway everywhere. And the freeways are just sitting there, and people are in their cars just frustrated about it, but I'm just like sightseeing everyday. So I took that concept and said, "You know what, I'm basically going to report on what I see and interpret it."
What kind of message were you trying to evoke when you were making "The Red Line" and then making the video?
For one thing, the lyrics explain the feeling I had. I remember one particular summer I would maybe catch a ride with a friend to go places, and I always noticed we were always stuck in traffic. And it was always to get from Hollywood to Downtown or in between. And I was like, " Man, you have to ride the Red Line with me." I validated my opinion by taking him on there and I remember seeing the 101 being a parking lot, and another freeway would be a parking lot. And I'm like "I'm able to get from downtown to Hollywood in 17 minutes, and it would take an hour for some people (or) 45 minutes." My intent or my message was from real life experiences, and if I name check all the freeways, I'm going to identify the region within LA and people will get it.
So when we made the video, Rick Kosick, he's the director, he scouted the locations, he had the vision, the video is all him. He really wanted to create visually what I'm saying vocally, verbally. The whole video took six months. I mean, keep in mind though he has a job, I have a job, and he went out and scouted locations and said here are the way we are going to do things. Rick wanted to create exactly what I'm saying but with full energy and movement.
Did you have any trouble shooting on the subway? What were the kind of reactions you got?
It's funny you say that. We went in there, we were kind and courteous to everybody, and we didn't have no problems. There was times on Saturdays at Union Station, where you know, the sheriffs were patrolling, and they talked to us: "So what are you guys doing?" And we told them the truth. He's like, "Ok, well, do your thing." Really I don't know if that's good or bad I'm saying that after letting us off. Cuz I don't know.
As a resident of Boyle Heights, what kind of opportunities and challenges do you see for public transit users in Boyle Heights?
I would say from experience, and being hands on with public transportation, the opportunities first would be the (Metro bus) line 18 runs on the main artery in Boyle Heights, which is Whittier Boulevard. And to me that's amazing because it's 24 hours. And not only that, it runs so often and I believe like between the hours of (6 am – 12pm), they're like every 10 minutes, 12 minutes. So you don't need a schedule. You just get to a stop and they come.
As far as the challenges, the fact that after a certain time the 18 runs very infrequent. It runs once an hour. And that's kind of rough. And I think the MTA should be a little more mindful because there are a lot of working class people out there that need to get form point A to point B. You need to serve them a little better because these people are using it to earn a living and keep themselves above water. Some of these people have to work over night, so make it every 30 minutes.
Take us through a walkthrough of a day in Boyle Heights for you. What do you see, smell, or hear?
On a regular weekday I get up and do a morning walk. And I grab my cup of coffee at the La Mascota Bakery which is like an institution for their tamales and pan dulce and stuff like that. And I'll walk to Soto (Street) and, I gotta say that not only what I see but what I smell, is a key component, because there are so many tortilla factories and bakeries and it's just like this, the aroma is just like an epic for your taste buds. I'll walk back down Whittier Boulevard past east of Camulos (Street) toward Indiana and Lorena and I see a lot of exciting things. Independent businesses, I see different things coming in, skateboard shops which I think is very cool.
Stay in touch
Sign up for our free newsletter