Measure R
Q&A with Measure R Oversight Committee Advisory Panel member Allison Yoh
8:59 AM PDT on September 16, 2011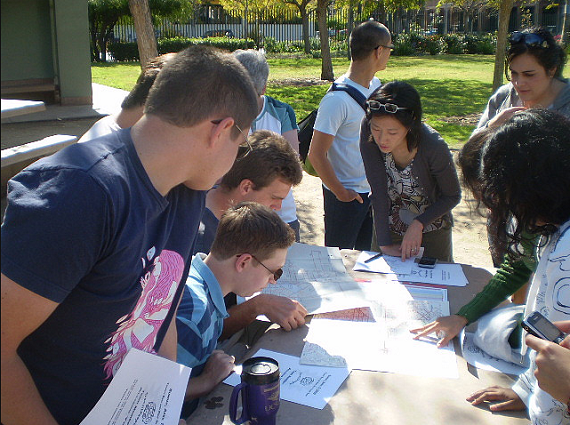 Earlier this week, we posted the responses of Measure R Oversight Committee Advisory Panel member Gary Painter to some questions including several suggested by readers of this blog.  Today, it is Panel member Allison Yoh's turn.  Yoh is Associate Director of the UCLA Institute of Transportation Studies and also a past member of the Metro Board of Directors. The latter experience resulted in my asking Yoh one extra question I didn't ask Painter.
And again I wish to express regret at the delay in getting this material ready for posting. As I said earlier, life happens.
 Gabbard: Briefly describe your academic background?
Yoh: I work in urban planning, particularly in public transit. I've done research on how transit agencies can increase ridership, the costs of bus rapid transit, transit improvements (operational and capital) needed to increase rider satisfaction, smart card adoption and applications, and different fare structures that could improve the effectiveness, efficiency, and equity of transit services.
Gabbard: To what extent are you a daily train user? Is it you main means of mobility? What other modes do you use (automobile, bicycle)?
Yoh: Transit is one of the modes that I use. It is not my primary mode now, though it had been for over a decade when I first moved to LA in 1999. During that decade, I used transit for a good majority of my trips – to school, work, leisure activities, shopping, and other appointments. Now, I drive or carpool for most trips that are related to getting my child to school, doctor's appointments, other activities, and for work. I use transit about once every week or two for work and other trips. I also walk. I bicycle/skate/scoot the least.
Gabbard: How long have they been riding transit (i.e. from what age)? Have you experienced outside of Los Angeles, outside of California and outside of North America? Any impressions or thoughts about our system comp[ared to others?
Yoh: I've been using transit since I was about 17 years old. I've used transit in the Bay Area and in Southern California. Outside of California, I've used transit in other large urban areas (New York, Boston, etc.) and also in not-so-large, not-so-urban areas too (Florida). Outside of North America, I've used transit in Paris, London (and suburbs), Stockholm (and other areas in Sweden), Beijing, Shanghai, Taipei, Singapore, Kuala Lumpur, and San Juan (Costa Rica).
My impressions/thoughts about our system compared to others? Well, the experiences I've had run the gamut. One thing I can say is that LA's transit system can get you anywhere you need to go. We have great coverage. What we don't have, however, is good reliability. You can get anywhere, but how long it will take and whether your vehicle is on time is another story. I think LA's transit system would benefit immensely from having a network of bus-only lanes to pull transit vehicles out of congested general flow lanes. It is something that would require far less in capital costs (compared, for example, with rail), it would improve throughput on our street systems, and it would reduce travel time and wait times.
However, such a system would require a lot of political will and leadership, and support from the local governments that maintain and operate the roads. In other parts of the world, particularly in Europe and Asia, there is a strong public willingness to support transit and to make it a viable mode – in terms of giving it priority and making it a convenient way to travel.
Gabbard: What reaction did you have when asked to serve on the panel? Have you undergone any briefings or been supplied with any materials by the agency prepatory to your service? Have you been given an idea when the panel may be convened and how often it is anticipated it will meet?
Yoh: I am very honored to serve on the panel -- there were many well-qualified candidates whom Metro considered. I keep in touch with Metro staff on occasion as questions arise. I've been told that the oversight panel will draw on advisory members on an as-needed basis, and perhaps on an individual-by-individual basis when certain questions arise.
Gabbard: What further improvements would you make to the present Metro system, if any?
Yoh: In addition to more bus only lanes as I mentioned above, I would encourage Metro to improve the frequency of their bus services, and particularly the reliability of their bus schedules, since buses provide the most extensive geographic coverage in our region. Rail lines have the advantage of operating in their own rights of way, which helps with reliability and on-time performance, and these service qualities are possible with buses as well if you provide dedicated lanes. If Metro Rail is the "backbone" of the transit system, as I've heard some advocates and transit officials proclaim, then Metro Bus and Rapid are really the muscle that supports the backbone. I'd put rail only in corridors with extremely high levels of congestion because rail is so expensive to build.
Metro has recently launched a rather aggressive campaign to provide real-time information (via smart phones, internet, etc.) on bus and rail arrival and travel times. I'd encourage them to continue these programs.
Finally, I'd improve the way that we collect and set transit fares to better reflect the costs of providing services and to improve the equity of how we charge fares. With smart cards, we can begin to really innovate with our fare structures through incentive programs, distance-based, time-of-day-based, and mode-based fares that could really transform the system.
Gabbard: Are you excited at the prospect of undertaking this advisory role to a public entity?
Yoh: Yes!
Gabbard: Has your time serving on the Metro Board effected how you see this appointment? In what way?
Yoh: That's a good question. On the Metro Board, I voted on very difficult choices. There are many critical improvements needed for LA's transit system, but these all carry with them price tags and opportunity costs. Now is a particularly hard time for transit across the nation as agencies are expected to maintain service levels at a time when people need affordable travel options and yet, it is exactly at this time when revenues to support operations and maintenance are down. LA is quite unique (and perhaps in a better relative position) because of Measure R. There is no shortage of the ways we can make transit better. The toughest work is political.
Stay in touch
Sign up for our free newsletter