Metro
Updated 11:04…The TAP Day Pass Solution That Snuck Beneath Our Radar (and a peek at Metro's latest plans for the rail station gates)
7:36 AM PDT on September 13, 2011
One of the glaring gaffes of the original design of the TAP (Transit Access Pass) program is it didn't take into account the need to allow day passes to be issued on board buses without patrons already possessing TAP cards. Bus operators were provided TAP cards to issue to patrons needing to buy day passes only during the initial campaign for TAP day pass conversion March 15, 2009-April 11, 2009. Somehow the TAPucrats thought giving out TAP cards for a single month would suffice to address the need for bus users to possess cards when they wanted to buy a day pass. This of course ignored occasional users, tourists and others who no one would reasonably expect to have a TAP card with them prior to boarding.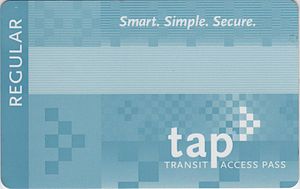 Slowly the short-sighted inadequacies of the foregoing assumptions created discontent among patrons and the operators until the problem could no longer be ignored by Metro management. In early 2010 Metro quietly implemented a work around procedure for converting a Metro-to-Muni transfer into a day pass when a passenger puts money in the farebox but does not tell the operator they lack the plastic card until afterwards (see pages 3-4 of attachment D of this TAP/gating update presented at the Feb. 18, 2010 Metro Board Executive Management and Audit Committee meeting.
And the long-term solution? Until recently it was supposed to be paper TAP cards with embedded chips issued to bus operators that are capable of having day passes loaded onto them for up to 30 days. Only one problem--when Metro management belatedly sought input from the drivers about this idea the response was quite negative as indicated in this TAP/gating update presented at the May 19, 2011 Metro Board Executive Management and Audit Committee meeting. Drivers felt having paper TAP cards would just create customer confusion. The TAPucrats concluded "Therefore if an on-board Day Pass is reinstated, TAP Operations will explore options for implementing the pass through a permanent plastic TAP card instead of using limited use media that may become a source of customer disputes".
Guess what? In conjunction with launching the cost reduction of day passes to $5 last month Metro did indeed start making available TAP cards for loading day passes onto to bus operators as part of a six month pilot program. The best explanation is in a Metro news release posted on the Mid City West Community Council's website (and strangely is nowhere to be found on the Metro website).
And has Metro ballyhooed this significant developement? Actually, no. This page on the agency website (revised in July) mentions it in passing, ditto this posting on The Source. The take ones mentioning it on board buses (headlined "We're a cheap date") bury the news and emphasize instead the day pass cost reduction, much in the manner of this news release on the Metro website. The TAP/gating update being presented at this month's Metro Board Operations Committee meeting lists it merely as a milestone completed among many
others of equal significance (see p.6).
And of course the proof is in the implementation. How well has the new procedure been communicated to bus operators? Are they being issued TAP cards? I'd appreciate anyone reading this who has witnessed an operator have a TAP card at the ready to load a day pass onto for a patron who lacked one post a comment describing what you saw. Also whether you have spotted a driver still making use of the transfer work-around. Or even drivers professing to have no remedy at all (and thus seemingly signifying that the word is
indeed not getting out).
And of course we can expect many more bumps on the road to TAP being fully rolled out. What fun!
(Update:This morning I actually witnessed a bus operator sell a TAP card and load a day pass on it during my commute to work. And what I saw raised some further concerns. It was on Metro's line 200 on Alvarado southbound at 3rd Street. As that bus carries a heavy load during morning rush on that portion of the route the driver could only quote the $6 price without further explanation and have the patron hastily feed the money into the farebox after which the driver handed over the card. As we were about to hit another heavy activity stop (6th Street) there was no time to explain that a dollar of the cost paid for the card, or that the card is reusable including for the $5 day pass. I'd suggest drivers have some sort of explanatory literature they could hand out when selling TAP cards with details about the pilot program, but that is impractical as frankly bus operators already have way too many distractions to deal with along with safely operating their vehicle, like seniors and the disabled who try to pay just twenty-five cents during weekday rush hour and have to be told from 5 a.m. to 9 a.m. and 3 p.m. to 7 p.m. the senior/disabled fare is fifty five cents. Maybe at least Metro's Marketing Dept. could produce a take one flyer solely devoted to explaining the pilot program to inform patrons what is happening.
I'd like to acknowledge the assistance of SO.CA.TA Director and San Pedro resident J.K. Drummond who made me aware of this program's implementation plus provided some of the details of the outreach for it (such as it is). - Dana)
BTW, if you took a careful look at the aforementioned TAP/gating update being presented at the Operations Committee this week it includes some interesting peeks at the latest plans of Metro staff to have the gating of the rail stations move foward, excerpts of which I present below -- I am very curious if they will really go forward with this next month...
*Staff has developed an implementation plan to test locking gates that will quantify the numbers of transfers and non-TAP fare media presented at the selected test stations.
*Four stations have been identified as test environments for gate locking. These stations have one entrances and limited external transfer activity. These stations are: Hollywood/Western; Vermont Beverly, Wilshire/Normandie and Wilshire/Western.
*The approach includes notifying patrons in advance of testing; providing Metrolink and EZ Transit Pass patrons with TAP-enabled fare media alternatives and converting the Ticket Vending Machines to TAP-only Operations.
*Testing would commence in October with a target goal of expanding a lockedgate environment throughout the Metro Red and Purple Lines in 2012.
Stay in touch
Sign up for our free newsletter