Bicycling
Confessions of a Sidewalk Rider and Commentary on L.B.'s "Walk It or Lock It"
10:44 AM PDT on August 31, 2011
Hello, my name is Damien.
And I occasionally ride my bicycle on the sidewalk, and have been since 2008.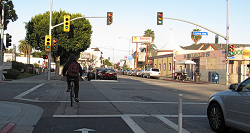 It's true.  It's not an uncommon site to see me in the Streetsblog Baby Mover hiking up Barrington Blvd. or back and forth on National Boulevard riding on the sidewalk.   I don't ride my road bike on the sidewalks, just the extra-slow and extra-wide Baby Mover.  Yes, I take extra care at intersections.  We don't sidewalk ride on quiet residential streets and we don't on streets with bike lanes.  It's a safety choice for both of us and a comfort choice for his ears.
Earlier this week, the City of Long Beach launched a public information campaign to encourage cyclists to ride on the road, and not the sidewalk in its popular Bike Business Districts.  The campaign was launched last week and it's a great campaign.  If I lived in Long Beach and had access to their infrastructure on major roads, the baby mover would never be seen anywhere but on the street.
The campaign itself is pretty impressive.  Instead of relying on free media and fancy television ads, Long Beach is reaching out to the media, local businesses, the LBPD and other cyclists to spread the word.  All the city has to pay for is the publicity, planning, and printing materials which is a heck of a lot more cost effective than creating television commercials.
The Walk It or Lock It campaign (those being the two things you can legally do with a bike on the sidewalk) is part of the Share Our Streets (S.O.S.) Campaign the city is introducing to spread safe bicycling messages.  Given the success of their infrastructure campaign, it's great to see an education campaign to help cyclists follow the law and arrive safely.  The press release announcing their information campaign can be found at the end of the article.
Based on the commentary around the story, it appears that some are looking at the Long Beach example and wondering why Los Angeles doesn't aggressively curb sidewalk riding and perhaps ban it outright.  While I would love to see Los Angeles undertake a similar informational campaign to Long Beach, I would hope sidewalk riding isn't a target.
Walk It or Lock It  is targeting sidewalk riding in the popular Bike Business Districts in particular, areas where the infrastructure already exists and there are a lot of pedestrians on the sidewalk.  In other words, the first step for Los Angeles to remove sidewalk riders is to create infrastructure that would make it safe for riders of all skill levels to feel comfortable on the road.  In short, Long Beach is focusing it's efforts on infrastructure heavy areas.  Infrastructure first, remove sidewalk riders second.  If it works in Long Beach, it can work in L.A.
Bicyclists Reminded to 'Walk it or Lock it' in Business Districts

With more bicyclists than ever sharing the streets in Long Beach, the City is launching a campaign to remind people about bicycle safety, including the importance of walking bikes on the sidewalks in business districts.

The Long Beach bike safety survey, conducted over the past few months, has revealed that while many residents (95 percent) know that bicyclists should ride in the same direction as traffic, only three out of four know that it's illegal to ride bikes on the sidewalks in Long Beach business districts.

"Being bike-friendly means we all have to share the road, and our busy sidewalks," Mayor Bob Foster said. "A little courtesy goes a long way to make Long Beach a better place to live."

As part of the campaign, police officers will hand out 

safety cards

, when appropriate, to encourage bicyclists to be courteous and walk, not ride, their bikes on the sidewalk.  Merchants will also be displaying posters with a similar design.

"Mixing people riding bicycles with people walking on our busy sidewalks just isn't safe," said LongBeach Police Department Chief Jim McDonnell. "Especially with more people walking in the summertime, it's critical that bike riders 'Walk It or Lock It' in business districts - either walk their bikes on the sidewalk, or lock them to one of the 1,200 bike racks in the city and walk the final steps to their destination. And, of course, bike riders can always ride with traffic in a business district, or anyLong Beach street as long as they obey the rules of the road."

Long Beach business districts include Broadway and Pine Avenue in Downtown Long Beach; along Atlantic Avenue in Bixby Knolls; along Second Street in Belmont Shore; along "Retro Row" on Fourth Street; and along Cambodia Town on Anaheim Street.

The "Walk it or Lock it" campaign is the first part of the city's "SOS: Share our Streets" safety campaign.   Residents are encouraged to complete the 2011 Bike Safety Survey,www.surveymonkey.com/s/bikesafelb, which was commissioned as part of an expanded motorist and bicyclist safety campaign in the city funded by a grant from the Los Angeles County Metropolitan Transportation Authority (Metro). The survey results will provide a baseline of information for thesafety campaign and help to shape the city's outreach plan.

"We invite Long Beach residents who have not yet taken the 5-minute survey to share their feedback with us on which bicycle-friendly amenities would encourage them to ride more often," said Allan Crawford, Bicycle Coordinator, Bike Long Beach. "Long Beach is already paving the way as a national leader in bike-friendly infrastructure, and we have more bike boulevards and bike lanes in the planning stages. The more input we get from the community about their specific needs, the better we can provide the right solutions for our neighborhoods."

Print copies of the survey can be requested for your civic or neighborhood organization by contacting Bike Long Beach via email at bikelongbeach@longbeach.gov.  

"Be Aware. Share Our Streets"

Twelve Tips for Sharing Our Streets Safely in Long Beach

1.                 Same Road, Same Rules, Same Rights for motorists and bicyclists

2.                 Stay Focused and Avoid Distractions

3.                 Red Means Stop at Traffic Signals and Stop Signs

4.                 Watch the "Door Zone" when bicycles are riding alongside parked cars

Important Rules for Motorists

5.                 Slow When Passing Bicyclists

6.                 Allow 3 Feet or More When Passing Bicyclists

7.                 Take Extra Precaution at Driveway Entrances and Intersections

8.                 Use Your Horn to Warn, Not to Scorn

Important Rules for Bicyclists

9.                 Be Predictable and Use Hand Signals

10.             Be Visible at Night - Use a Headlight and Side and Rear Reflectors

11.             Ride with the Flow of Traffic

12.             Walk Your Bike on the Sidewalk in Business Districts




###

http://twitter.com/LongBeachCity

www.facebook.com/CityofLongBeachCA

www.youtube.com/LongBeachCityCA

For this and other Press Releases, please visit:
www.longbeach.gov/news
Stay in touch
Sign up for our free newsletter