Bicycling
Cyclists Gearing Up for Anti-Harassment Ordinance Hearing, Scheduled for Next Wed.
3:21 PM PDT on July 14, 2011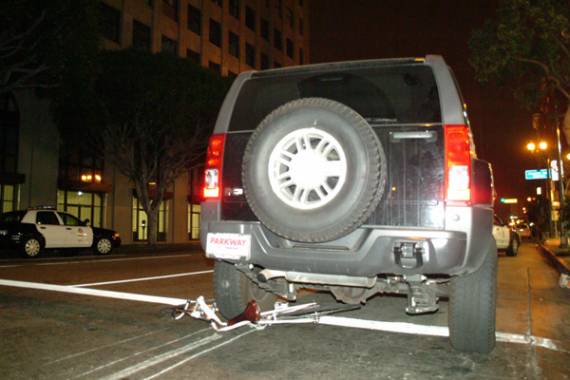 It's been almost two years since Councilman Bill Rosendahl first proposed an ordinance to better protect cyclists as vulnerable users of the roadway from harassment from empowered and obnoxious drivers, but now his proposed ordinance will finally get it's final hearing at City Hall.  The full City Council is expected to hear the ordinance at next Wednesday's meeting at 10:00 A.M.  The idea was first floated publicly in 2009 but had been discussed behind the scenes for months beforehand.  If passed, the law would be the first of its kind anywhere in America, a fact not lost on safe cycling advocates from around the country.  You can read the ordinance at the LADOT Bike Blog.
But for many cyclists, the ordinance can't come soon enough.  ""What kind of city do we want? If we want people to get exercise if we want less pollution and traffic, then we need to provide tools for cyclists to defend against harassment," writes Don Ward, a Streetsblog contributor and member of the Northridge West Neighborhood Council who is a vocal advocate for safe streets.  Ward himself was the victim of a hit and run crash in 2009 while biking home on May 19, 2009.
Over the years the ordinance has been mocked by the press, misunderstood by other City Council Members and somewhat watered down from the initial idea that it would include a "3 foot passing law," but the ordinance has slowly but surely moved forward.  Earlier this year a final version of the ordinance was released which created a course of action for cyclists to sue overly aggressive and dangerous drivers in civil (not criminal) court to recover damages caused by their reckless driving.   If passed, penalties for those found in violation of the measure would be three times the physical damages or $1,000, whichever is greater, plus reasonable legal expenses and damages awarded by a jury or judge.
We should also note that the issue of a safe passing distance is being addressed by state legislation, SB 910, that has passed the entire State Senate and several Assembly Committees.
This allows cyclists to make their case if the police are unable, or unwilling, to follow through and make their case for them.  Nobody found guilty of violating this ordinance will got o jail, it empowers victims to go to civil court, not criminal court; but cyclists can press charges at civil court in addition to any criminal charges.  Of perhaps greater importance is the language allowing cyclists to recoup legal costs.  If the only damage is to a bicycle, which may not cost a lot of money, it wasn't always worth a lawyer's time to take bike crash cases, even if they were easy wins, because the funds collected might not equal said lawyers fee.
Cycling attorney Ross Hirsch, who has worked with Councilman Rosendahl's staff on the ordinance, agrees the ability to sue for lawyers fees will make a difference.  "Currently, if you're riding a bike and you suffer injuries as a result of driver harassment or intimidation, you will likely be left with little to no recourse.  This law seeks to change that.  As an attorney who is regularly called upon to advise cyclists involved in traffic collisions, I believe this law will allow more cyclists to address legitimate yet too-often-ignored violations of their undeniable rights to travel safely on our roadways.  I do not believe, however, that this new law will cause any dramatic flood of cases filed in our courts, as plaintiffs still bear the burden of proof and must have all the facts to establish their case."
Ted Rogers, writer of the popular website Biking In L.A. and Board Member for the Los Angeles County Bicycle Coalition, believes the power of the law could be enough to dissuade scofflaw drivers from encroaching on the space of cyclists.  "This ordinance will empower L.A. cyclists to defend themselves from the sort of attacks by motorists that have long gone unpunished or even ignored by police. For once, we'll be able to respond, not just with words or gestures, but with subpoenas — the mere threat of which will do more that anything else to keep angry motorists in line."
Even the establishment is getting in on the act.  The LADOT Bike Blog, which published the full text of the ordinance and announced the final hearing date first, has also set up a Facebook Page for cyclists from anywhere to share their story about harassment on the roadway to make the point that this isn't a niche issue.
When it was first proposed that the city investigate an anti-harassment ordinance, there was some opposition from members of the City Council.  Councilman Dennis Zine, a recreational cyclist himself, seemed to think it was a bad idea to rile up drivers and former Councilman Greig Smith just thought it was a bad idea and would create unenforceable laws.  Over the last year and a half, Zine hasn't spoken in opposition to the motion save the first time he saw it in committee and Smith has retired from the Council so opposition is expected to be minimal next week.  Regardless, cyclists await just their chance to have their day in court.  In the meantime, it's nice to see Los Angeles take the lead on a bike safety issue and lead the country for a change.
Stay in touch
Sign up for our free newsletter