Beverly Hills
Rides and Challenges: Biking in Beverly Hills
9:55 AM PDT on May 16, 2011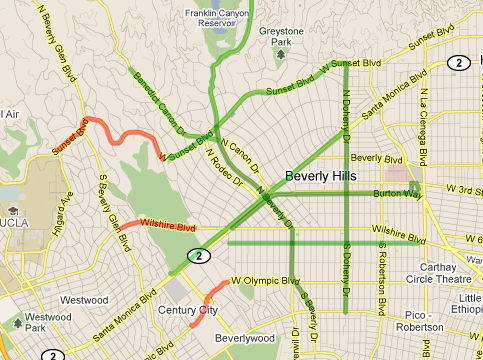 (Instead of covering the traditional gambit of events around the City/County that are part of Bike Month, we reached out to cyclists working on local groups and issues to talk about the experiences and challenges they face.  We tried to get folks from areas we don't usually cover on bike issues, (i.e. not Long Beach, not Wilbur Ave...) and are proud to present the first part of our Bike Week bonus coverage via Mark Elliot of Better Bike Beverly Hills.)
Cycling seems to be enjoying a golden moment in Los Angeles. There are more cyclists on our roads than ever. Popular awareness of cycling as both a recreation opportunity and smart transportation choice is on the increase, assisted by high-profile public events like CicLAvia. At the grassroots, cyclists have participated energetically and vocally in the update of bike plans across the region. Much credit is due to advocates who have pressed coherent demands for safer streets grounded in solid public policy arguments.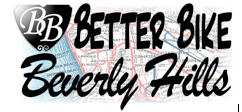 For Westside cyclists who must navigate a gantlet of traffic not only on major boulevards but congested local streets, change cannot come soon enough. In a recent meeting of cycling advocates convened by the Westside Council of Governments, there remain many significant gaps in a Westside bike route network. Looking at a map of current (few) and proposed (many) improvements, it was evident that we have our work cut out for us.
I formed Better Bike Beverly Hills nearly a year ago to continue the work of past advocates for cyclist-friendly improvements including bike racks, lane markings, and signage (there is none today).
The good news is that we have hardly any excuses not to  ride. We are a fit and active population with easy access to a compact central business district characterized by a healthy mix of medium-sized employers and small retailers.  We have a designated pedestrian district that mandates street-front retail uses. We're already well-served by bus and the subway station is coming soon.
The bad news is that we cling to an auto-era paradigm that keeps our corridors clogged. Policymakers prioritize car parking at whatever cost because we're loathe to bite the hand of the consumer that feeds us so well. But those consumers mostly arrive by car, which creates  a host of negative impacts.
For example, our historically unimaginative political leaders continue to build parking garages instead of making modest investments in pro-cycling infrastructure to lead Beverly Hills into the 21st century as a Westside alternative transportation avatar.
But we stakeholders also share the blame too. We voted in March to dole out two hours of free parking to our city guests despite swelling parking operations deficits. We don't watch our elected leaders closely enough to be able to help chart the future direction of the city.
Between the leadership and the grassroots are technocrats who have no incentive to think creatively about our challenging problems. They are not challenged to think outside the box. Instead, risk aversion predominates amid a reining ethos of trepidation in City Hall.
Progressive action here is vexed by conservatism at the grassroots. Packed community meetings show how a frothy opposition collectively voices a loud "No!" to sensible proposals. Most famously the Wilshire subway, but more recently proposals for a Wilshire bus lane and the Metro's preferred Constellation Blvd subway station.
We need not cling to those old ways, though. In light of the negative effects of congestion, our goal should be to shift as many car trips as possible to other modes of transit.
Better Bike Beverly Hills sees  a refashioned urban environment that signals to cyclists that they are welcome. We see for Class II dedicated bike lanes where feasible and shared-lane markings most everywhere else. We see corrals where curb extensions in the business district serve to highlight only trashcans today. We envision a network of local bike routes punctuated by wayfinding signage with racks placed near key employers and institutions.
More importantly, we call for a new way of thinking about development that would start with planning discussions that move beyond today's concerns over circulation concerns and parking requirements. We see required protected bike parking contingent on employee counts or anticipated travel demand. That alone is a win for developers for whom car parking is among the biggest and most costly headaches.
Most broadly, we believe that policy must elevate non-motor transportation to the level of importance currently assigned to auto accommodation. Our city recently moved to revisit the issue of changing the existing transportation zoning on Santa Monica Boulevard to permit commercial uses.
Any discussion about foreclosing transportation uses on that key corridor cannot proceed without a forward-looking assessment of transportation alternatives, however, and Better Bike Beverly Hills members stand ready to participate in that discussion.
As cities across the Westside move forward on bike improvements, we welcome the participation of cyclists from across the Westside who have a stake in realizing the last piece of the alt-transportation puzzle: safe roads and ample accommodations for cyclists in Beverly Hills.
Stay in touch
Sign up for our free newsletter