Bicycling
Long Beach Bike Plan Update – Group bike ride and meeting at Bixby Park, Saturday, March 19th
8:02 AM PDT on March 23, 2011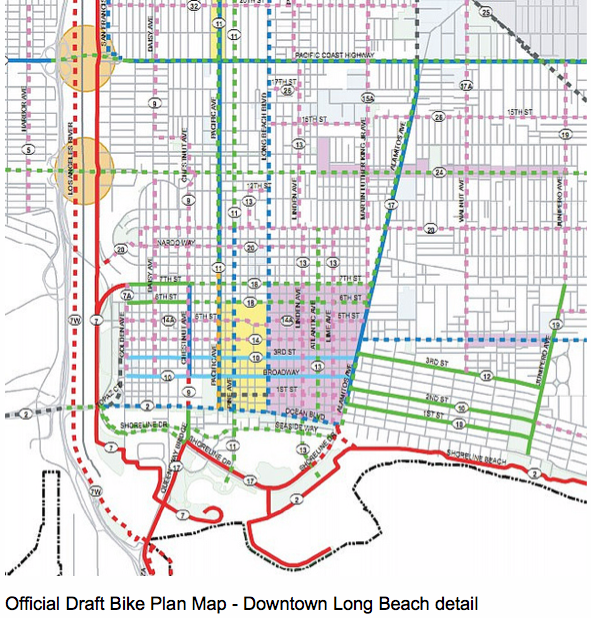 You have one last chance to hear the presentation and ask questions or provide feedback directly, Tonight, Wednesday 3/23/2011, start at 6:00 PM in the Mark Twain Library, 1401 E. Anaheim, Long Beach
Long Beach, California - The self-proclaimed "most bicycle friendly city in America" is moving a step closer to living up to that claim. For the past 3 years, a core of dedicated bicycle advocates in the city government and transportation department have worked to implement the Bike Plan passed in 2000. After a slow start until 2006, momentum picked up with many miles of new bike facilities installed, especially in the past 12 months. In fact, Long Beach has nearly to exhausted the planned bicycle facilities on the original map, and is now making an updated, more ambitious map of future bike lanes, paths and bike-friendly streets.
This year has seen the introduction of three innovative facilities that were not in the original plan: a "Bicycle Boulevard" on Vista Street in Belmont Heights, "Sharrow lanes" on Second Street in Belmont Shore, and protected bike lanes (or cycletracks) on Third Street and Broadway thru downtown Long Beach, which are being finished at this time. All of these facilities had been described in the original bike plan documents, but no lines were drawn on the map. Thanks to the initiative of community members and staff, Long Beach wrote grants and received State approval to try out these projects, common in Europe but new in California, on an "experimental" basis.
Generally, the response to these three projects has been positive, but already, there have been a few complaints about the process. Fortunately, the city decided to do a series of meetings and community bike rides, to present ideas for a greatly expaneded bike network for the city. The draft map was posted online, and meetings every week have been taking place in different neighborhoods.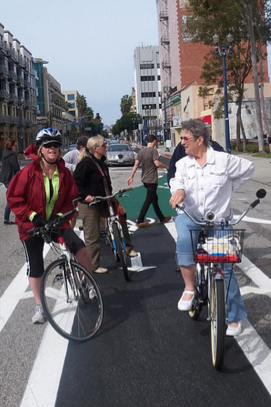 We had a chance to participate in the bike ride and meeting at Bixby Park. I had previously seen the presentation at Silverado Park in Westside Long Beach, several weeks prior. On this day we met up with about 16 citizen cyclists at Bixby Park, including Charles Gandy, Mobility Co-ordinatory for Long Beach, and Rock Miller, Long Beach Transportation engineer for bikeways. As the ride got organized, a Bike Safety "Roadeo" for kids was getting set up in the park. After a round of introductions, including an intro by Mr. Gandy and a discussion of a route, the group set on for a leisurely group ride down 2nd street, Orange, and Walnut thru Alamitos Beach. At short breaks Charlie pointed out the recent changes, including a road diet and new lanes on Third Street), and future plans for a Bike Boulevard on Walnut. Participants suggest Orange Avenue for this treatment as well.
The group then headed thru downtown on Third and Broadway, which remain under construction with "lane closed" signs. Mr Miller quipped "Just don't start shouting "Critical Mass" and we will be fine," referring to the infamous crackdown on the nascient Long Beach Critical Mass recently. Members of the group were generally supportive of the new cycletracks and bike lanes, and especially enthusiastic about traffic calming planned for the new bike boulevards.
Back at the community center in Bixby Park, Rock Miller lead a slideshow and presentation, which explained the Vista Bike Boulevard project, showed data from the Sharrows on Second Street, and detailed the final plans for Third and Broadway, which we had just ridden. The presentation was briefly interrupted for a surprise visit from Vice Mayor and city councilwoman Suja Lowenthal, who represents Downtown and the area around Bixby Park. A cyclist herself, Vice Mayor Lowenthal expressed her support for bike facilities, and spoke briefly about her friendship with Mark Bixby, a major bike advocate whose sudden death came just as he had secured a promise of a bike path on the Gerald Desmond Bridge. Lowenthal vowed to continue working for a more bike-friendly Long Beach, and encouraged the participants to be active in the community.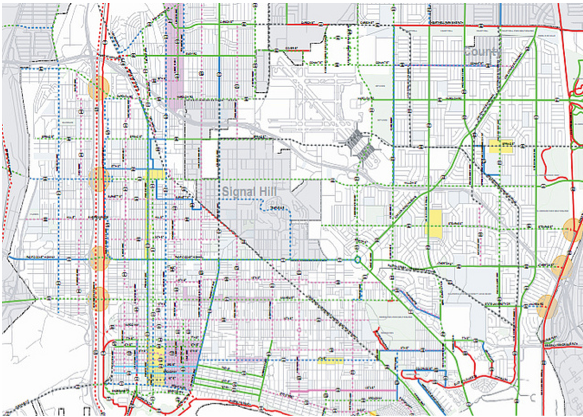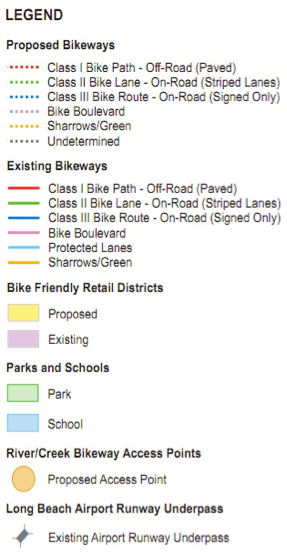 During the question-and-answer session, Miller, Gandy, and Sumi Gant (Transportation programs officer) revealed that there would be an official meeting in April to discuss possible updates to the wording of the Bike Plan. These meetings were meant to update the community on the plans, and gather suggestions for future locations for bike facilities. Bikeways staff believes the current plan already give good guidance about the types of facilities. They confirmed that all of the new "Bike Boulevards", which are a huge portion of the new lines on the map, will be the same qualitiy as Vista, including Sharrows, traffic calming (such as roundabouts or chicanes), bike signals at major cross-streets, and diversion of thru-traffic. Caltrans is working to include a bike and pedestrian path over the harbor bridges. The department will also be working closer with street services to make sure bike lanes are repaved and striped (painted) on a regular schedule.
Afterward, community members had a chance to write their suggestions and draw lines on several copies of the city-wide map and the downtown area map. If you want to do the same, the draft map of planned bike routes is available as a pdf file, and in our Fickr stream. If you prefer to look around on Google Maps, I have input the map of existing bike facilities. Compare this to the new plan, which has enough route to require two pages: one for paths and lanes, another for routes and bike boulevards. Expect a review and critique of the plan in the next week.
You have one last chance to hear the presentation and ask questions or provide feedback directly, Tonight, Wednesday 3/23/2011, start at 6:00 PM in the Mark Twain Library, 1401 E. Anaheim, Long Beach.  Bring the kids, and draw some more bike lanes on those maps. Or send comments to bikelongbeach@longbeach.gov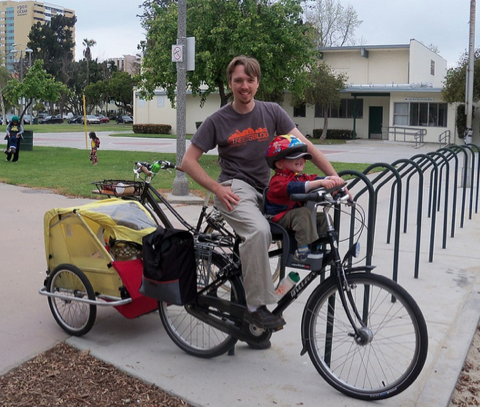 Stay in touch
Sign up for our free newsletter