Art Leahy
Metro Proposes More Cuts to Bus System
10:29 AM PST on January 5, 2011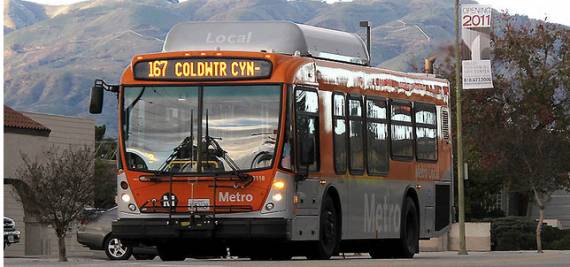 Earlier this week, Metro announced another set of proposed cuts to its bus system.  Following so soon on the cuts from just last month, Metro CEO Art Leahy took to The Source to defend the changes.  Oddly, rather than defend the good work being done by the bus division at Metro and push for the state to finally restore funds pledged to transit operations but spent on closing a gap in the general fund.  Instead, he tries to sell the cancellation of nine bus routes and reductions on dozens more.
A full list of the cuts can be found here.  Streetsblog will be covering cuts in each of the service areas in the days leading up to the local hearing in that area.  A list of the hearing schedule can be found here.
I reached out to transit advocates to get their take on the cuts.  The Bus Riders Union sent a quick reply that they're still working on analyzing the cuts, but that they found the proposal shocking.  The Southern California Transit Advocates, Transit Coalition and San Fernando Valley Service Council Member Kymberleigh Richards all sent in detailed responses both on specific proposed changes and on Leahy's statements in The Source.
Richards' statement is particular to changes happening in the San Fernando Valley area, and will be discussed in a later post.  In the meantime, you can read her statement here.
Writing for the Transit Coalition, Faramarz Nabavi takes issue with how the proposed cuts were planned.  Nabavi notes both that several parts of the Blue Ribbon Commission Report that Leahy references to justify the cuts are not taken into account and that such deep cuts may not be needed as sales tax revenue, which provides Metro with its operations subsidy, is rising.  Nabavi's full statement can be found here.
Metro is going to cut more bus trips, even though sales tax revenues are rising again. Although improving efficiency is a laudable goal, these changes appear to be based primarily on load factors, rather than eliminating duplication....

Nor are some of the changes proposed by stakeholders that would enable service to "be better integrated with rail service provided by Metro" included here. For example, the Orange Line runs 10 minute headways midday off-peak and weekends, while the Red Line runs 12 minute headways during these times. If the Orange Line headway was adjusted from 10 to 12 minutes, riders would have a better service through timed transfers, while Metro would save money. Note that overcrowding is only a problem during peak hours; this would actually improve the off-peak load factors closer to CEO Art Leahy's targets.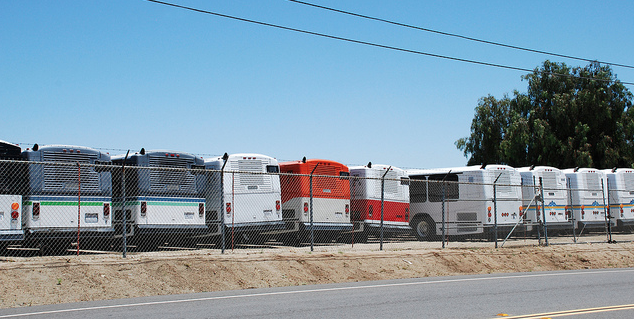 After noting that some of the proposed changes might make sense from a statistical point of view, they won't make as much sense in practice, Dana Gabbard, a Board Member for the Southern California Transit Advocates and L.A. Streetsblog but speaking for himself, takes issue with the notion that what is best for the agency is also what is best for the riders.  Gabbard's full statement can be found here.
Hopefully the "additional details" promised after January 17 will include details about ridership and maps that clearly illustrate the changes proposed, plus more in-depth explanations about why these particular proposals have been made. Hopefully the vague statement "... the proposed modifications will improve the efficiency and effectiveness of the public transportation system through a better use of resources" isn't the sum total of explanations offered...

...When Leahy speaks of "better service" I can see for the agency many of the proposed changes may be welcome but I am not convinced they necessarily benefit the riders. I see the peak hour bus lanes along Wilshire as a clear signpost of making changes that are improvements that benefit riders.
Speaking of the Bus Rider's Union, Leahy also takes time to take a swipe at the Bus Riders Union, and the consent decree which led to the addition of thousands of bus service hours every year.
"We've had an artificially high level of service because of the consent decree," he said, referring to improvements that were ordered by a court-approved mediator beginning in the late 1990s after the Bus Riders Union sued Metro. "That has created a focus on running more service rather than better service — without a lot more riders."

"If we had overloads and super crowded conditions on all our buses, this might not be necessary," Leahy added. "We do have some overloads and we need to take care of that and address it where it happens. But overall loads are not nearly as heavy as they were 15 or 20 years ago compared to now."
Not that the Consent Decree doesn't have more than its share of detractors, (Gabbard writes that "The consent decree WAS myopic in its focus on crowding as the main priority driving bus service allocation for 10 years.), but I have to wonder why Leahy can't summon a stronger defense of the Metro bus system.  Do some lines perform better, and at a more cost effective rate than others?  Absolutely.  Does Metro have an "artificially high level of service" on some lines?  That can be debated.
According to the National Transit Database, the average passenger load (APL) for Metro buses is 17.1, meaning that on average there are just over seventeen people on a Metro Bus at any given moment.  The only agency in the country that has a higher APL is New York City MTA at 17.9.  For comparison purposes, buses in Boston and Dallas have an APL less than 10.  Even cities that have a pro-transit reputation, such as Chicago at 11.3 or Seattle at 14.3, come in well below Metro.
So it's all well and good to say that some lines have an artificially high level of service compared to others, but let's also state that overall the Metro bus system is amongst the most used in the country and well ahead of almost every other metropolitan area.
Combining Leahy's comments on the Consent Decree with the statement that "Although overall Metro ridership has increased over time, bus ridership has fallen or been flat in the past two decades;" you're left with the impression that bus ridership has fallen as a result of the Decree.  While the merits of the decree itself can certainly be debated, that ridership has grown on Metro buses since it went into effect cannot.
Between 1996, the year the Consent Decree went into effect, and 2009 Metro bus ridership grew by 42 million boardings per year.  Considering that Metro was allowing municipal carriers to take over service, as Gabbard points out, and that bus service was competing with rail service, that's not a sign of a system that's wasting funds.
None of this is to say that cuts aren't needed or can't be useful, just that Metro's bus service is often maligned in the press or public opinion.  Even when cuts are needed, it would be nice for Metro to try to remind people of this.  After all, if the agency won't strongly defend its services, then why should state legislators listen to advocates when they complain about the state raiding transit funds.
Stay in touch
Sign up for our free newsletter