Metro
New Twist Enlivens Old Station
9:03 AM PST on January 3, 2011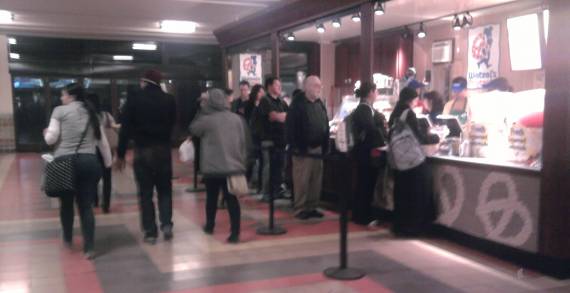 What are the most significant 2010 on-the-ground improvements for Los Angeles' green transportation? At-grade Exposition Line rail crossings? The city of Los Angeles' first sharrows? Sixty-thousand-plus Angelenos walking, biking and skating the first CicLAvia? Janette Sadik-Khan's visit for the L.A. Street Summit? A shattered elbow leading to another summit? The Backbone Bikeway Network making it into the city's Bike Plan? Wilshire Boulevard Bus-Only lanes lumping along? 30/10 lumping along? Long Beach leap-frogging?
Take this with a grain of salt, perhaps affixed to a pretzel, but there's another quiet transformation, nearly a hundred years in the works, that's making a big difference for Angelenos who bus, bike, walk and ride rail. It shows that parking isn't necessary. It proves public-private partnerships are viable. It demonstrates attention to detail. Arguably, it improves the lives of hundreds of thousands of Angelenos. It shows that public space can be great for the public to use and enjoy.
What is this little-heralded green transportation revolution?
Reasonable and reliable 24-hour retail has arrived at Los Angeles' Union Station!
Streetsblog readers are likely to already be familiar with Union Station. If not, perhaps brush up by reading Dan Koeppel's 2009 Bitter Ode to Union Station. The rail station was built in 1934-1939, guided by the Parkinson Architecture firm that did so many of Downtown L.A.'s landmark buildings. To make room for Union Station, the city tore out (later relocating) its thriving Chinatown; this displacement made much easier by racist laws not allowing Chinese-Americans to own property.
Union Station is an extraordinary historic place, with beautiful spaces both inside and out... though, as Koeppel describes well, in many ways, it hasn't been especially functional. It has tended to be a place one passes through, not a place one goes to or hangs out in.
Rail travel, like driving or flying, has its uncertainties. Frequently not-thoroughly-planning-ahead travelers (this author included) will show up, having neglected to check and adhere to a schedule, and ask for the next train southbound. Most days, most times, the wait is not too bad, but it can easily be twenty to thirty minutes. At off-commuter-peak times, it's frequently longer.
Sometimes it's not the travelers' fault. Twenty-minute delays aren't uncommon for Amtrak. Sometimes they turn into 2+hour delays. Passengers find themselves with some time to kill, and don't want to stray too far, for fear of a train departing and leaving one stranded.
In recent years, there have been a few options for grabbing a bite to eat. Inside Union Station, are Union Bagel, Traxx, and "the news stand."  These options work in a pinch, but, frankly, leave something to be desired. The news stand has charged something between movie theater and airport prices for a very limited selection. Union Bagel has decent bagels (only by a west-coast bagel standard), but their $7-8 sandwiches are uninspired. Time-permitting, Traxx has been the best deal. Very good food, not cheap, not stratospheric, but really only a couple of dollars more than across-the-way Union Bagel. And entirely worth it.  Traxx is a place for feeling civilized, sitting down, and really dining.
Options nearby can also be factored in. Over-priced under-inspired institutional cafeterias ( ...yawn... ) are very close by, at both Metro and at the Metropolitan Water District. MWD's features outdoor seating in a relatively nice plaza - though go for Traxx's outdoor dining first (in a much nicer historic Union Station space.) When one is certain that there's enough time, a couple of very good options are a short walk (unfortunately across the dauntingly freewayesque Alameda Street) away: Philippe's and La Luz del Dia. For late night fare, there's the 24-hour Patsaouras-Plaza-adjacent Denny's, more oriented to the freeway than the rails.
In October 2010, Union Station's food options took a great leap forward with the opening of Famima. If you're not familiar with Famima Convenience Store - it's a Japanese chain, somewhat similar to a 7-11, but more compact, urbane, a bit cheaper, a bit healthier (not tooo healthy though), and... well... a bit more Japanese - in the best sense! (Disclaimer: this author does not have any financial ties to Famima.) Soon thereafter a Wetzel's Pretzels also opened. Both are in a nearly impossible-to-miss location in old Union Station: the spot one passes to get from the Metro Red Line to the Metro Gold Line, Metrolink, Amtrak, or to Alameda Street. Along with places along MacArthur Park and on Broadway, this hub location sees the greatest volume of foot-traffic in all of Los Angeles.
Why didn't anyone think to put serious retail here sooner? Well... there's no parking. This doesn't seem to be a problem for retail in the heart of Los Angeles or in civilized locations around the globe... but it's probably a daunting prospect for many Los Angeles entrepreneurs to envision succeeding in places with plenty of foot traffic and no parking.
It's a failing of Los Angeles' transit landscape that its stations more resemble bombed-out craters than vibrant public spaces. Most transit stations in the rest of the known universe feature plenty of vending: from convenience stores, to news stands, to food, to musicians, to who knows. Rather than trying to draw folks in, Metro sometimes seems to favor adding rider-unfriendly features like baffling turnstiles. L.A. Metro's misguided attitude seems to see its stations as pristine dead zones, fit only to, in the immortal words of beat cops and security guards, "move along."
(This is sadly true for other public spaces in Los Angeles: better neat, clean and sterile than actually used and useful. For example, State Parks would rather keep their temporary Los Angeles State Historic Park grassy field unsullied and pristine than allow visitors to wear cleated shoes to play pick-up soccer games. Do these agencies fear that the public might actually come to love and support these public spaces?)
Compare the MacArthur Park station footprint to the surrounding area. Where Alvarado and 6th Streets positively bustle, up to the very edge of the station, one can hear a pin drop in the vacant featureless station plazas. To some extent, these places have been kept clear in anticipation of  future transit-oriented development - but were 15+years of empty space really necessary? in the heart of Westlake? Instead of actively prohibiting space use, Metro could have just  "looked the other way" and allowed informal uses to creep in. Formally, some kind of revocable lease could have allowed temporary uses in the meantime. Metro could potentially pocket a bit of income (including offsetting current maintenance costs), while enlivening its station environs. Dangerous rape-friendly dead zones can be made safer through more of what Jane Jacob called "eyes on the street." Boring corridors become more human and more pedestrian-friendly.
The same transformation, so successful at Union Station, can and should be done throughout the Metro Rail system. Near-station parking spaces can harbor food trucks. Vast in-station open spaces could host magazine stands. Artists and performers could be permitted - maybe Metro's arts program could take the lead on this?
Back to Union Station and Famima, though. Truth be told, Union Station isn't quite public space. It's privately owned and maintained, recently changing hands to a new owner Prologis. Many riders hope that the historic station's retail will continue to expand. Subway and Peet's Coffee were, a while back, announced to be "coming soon."  Competition with Famima is driving improvement in other nearby eateries: both MWD's cafeteria and Union Bagel have introduced new specials. Can improvements at the now-tranquil news stand be far behind?
What is making Union Station work is that it's approaching a relatively good, balanced, diverse mix of uses. It includes public and private areas, chains and locals, higher end and lower end options. It could probably use additional features: maybe coffee/tea, a taco stand, bike parking/repair, etc.  Though private retail has improved things greatly, maximizing is not optimizing. Too much additional retail could easily become excessive; imagine removing lots of public seating to make space for a fast-food chain. Shudder. With Union Station listed on the National Register of Historic Places, that sort of excess should be unlikely, but the station's mix is instructive in guiding future public-private partnerships.
Nothing in this article should be construed as supporting the wholesale kit-and-caboodle fire-sale privatization of L.A.'s public spaces! Adding retail to transit space should be done, and should be done with design, grace, access, mobility and utility in mind. The public has invested a great deal of public resources in these places and has generated a great deal of very valuable foot-traffic, hence the agencies need to negotiate to get the public's monies worth out of these deals.  No shopping mall management would leave so much revenue-producing area so undeveloped. When public space remains unactivated, the public loses. When Metro keeps lots of real estate off the market, it loses quite a bit of opportunity cost. When the retail is added intelligently, though, everybody wins.
The public and private sectors each have important roles to play in activating L.A.'s transit stations. The process for leasing private space is a bit simpler than that for public space... but it's not rocket science. The success of Union Station's new retail shows it can be done. Local transit stations don't need to be boring and strictly utilitarian. If Los Angeles really wants Angelenos to ride, then stations need to be vibrant and welcoming. Metro should take a cue from Union Station and activate its other stations. The city of Los Angeles can foster appropriate activation by revising station-area code requirements, including doing away with counter-productive suburban parking standards.
The big differences resulting from small changes at Union Station give us a glimpse of a future Los Angeles that's mobile, convenient, diverse and alive.
(Author's note: Huge thanks to the Los Angeles and San Gabriel Rivers Watershed Council's Alex Kenefick and to Gelato Baby's Alissa Walker for contributing to this piece. Apologies that I appropriated their ideas and ended up not actually quoting them. Their praises were very positive, and I felt like it might not be appropriate to weave them too tightly into my disparaging critique. Nonetheless, thanks Alissa and Alex!)
Stay in touch
Sign up for our free newsletter