CicLAvia
CicLAvia : 100,000 Cyclists, 0 Incidents, Millions of Stories
8:17 AM PDT on October 11, 2010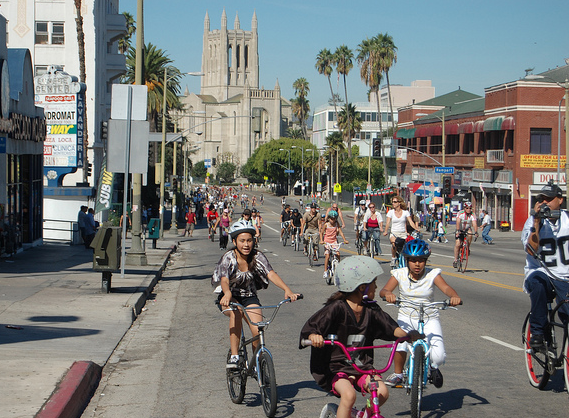 (This is part one of our coverage of yesterday's groundbreaking Open Street Festival.  Hopefully later today we'll have up a Streetfilm.  Tomorrow we'll review the reviews of CicLAvia. - DN.)
There's many ways to try and talk about yesterday's CicLAvia.  One way is to look at the numbers, another to look at the people, and another to look at the stories.
The numbers are impressive.  KABC News says that there were 50,000 people riding the streets of Los Angeles along a 7.5 mile stretch of streets that were open to public use, but closed to automobiles.  The Los Angeles Times puts that number closer to 100,00 people.
Anecdotally, the Coke Truck ran out of free servings after 50,000 drinks.  CicLAvia organizers estimated that 60,000 to 100,000 people took part with the number "closer to 100,000."
That's a lot of people for a 7.5 mile stretch of the city.  But here's the thing.  Their numbers are wrong.  All of them.
I'm not sure how you can count the number of people along the route that walk outside and take a walk for a couple of blocks without having to compete with cars.  How do you count the kids playing ball in the street that scurried out of the way when the bikes rolled past?  Yesterday was about a lot more than just counting the bikes that rolled past.  CicLAvia touched hundreds of thousands of people, even if it were just that they heard laughing on their streets instead of cars honking their horns.
But here's another number that's even more impressive.  0.  That's the number of "major incidents" reported along the route.  That number includes interactions between the different mode users: bicyclists, pedestrians, skateboarders, rollerbladers, that guy on the surfboard thing with wheels.  That number includes the interactions between the attendees of the events and the LAPD.  As for Los Angeles' finest, it was hard to find a sour face amongst the hundreds of police on the streets.  Even though they were working, they were as caught up in the wonder of the day as everyone else.
But more impressive than the numbers were the stories and the chance to just be out, in the city, surrounded by hordes of happy people. And why were they happy?  Because we were outside, sharing in space and sharing an experience.  And we didn't have to pay a lot of money to get shoved into an arena or stadium to do it.
I think I saw more of my Streetsblog friends yesterday than I do when we host Streetsblog events.  It seemed everytime we stopped, there were new friends to greet us.  At the feeder ride I got a chance to catch up with Carter Rubin, Kent Strumpell,  Rachel Stevenson and the crew from SM Spokes.  Here we are in East Hollywood and there's Deborah Murphy from L.A. Walks, "Park Czar" Alfredo Hernandez...oh, and over there is Ryan Snyder and Eric Garcetti...and.....  And it was like this at every stop.
Now on to three favorite stories of mine from yesterday.  Please feel free to add your own in the comments:
"Whose Streets?"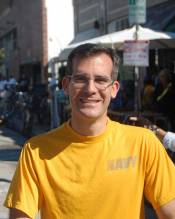 In 2009's Art Cycle event, City Council President Eric Garcetti led the crowd in a chant of "Whose streets?  Our streets!"  Yesterday, Garcetti road the entire 7.5 mile CicLAvia route at least once in relative obscurity.  Excepting a stop at the "No on Prop. 23" rally at City Hall, the city's second most important politician avoided the spotlight.  But a simple exchange between him and some friends spoke a lot more than any on-camera statement could have.
As we were traveling the last leg to Hollenbeck Park, Mom and I passed Garcetti and two friends traveling the other direction.  At first, I didn't recognize the Council President who had changed into a CicLAvia t-shirt from when I took his picture that morning.  It wasn't until I head his voice that I looked over.
"This is awesome," I heard Garcetti say to one of his travel mates as we passed each other in Boyle Heights.  "Unbelievable," his friend agreed.  No cameras, no crowd.  Just a couple of friends pedaling through East L.A. basking in the wonder of the day.
An Impromptu "Meeting"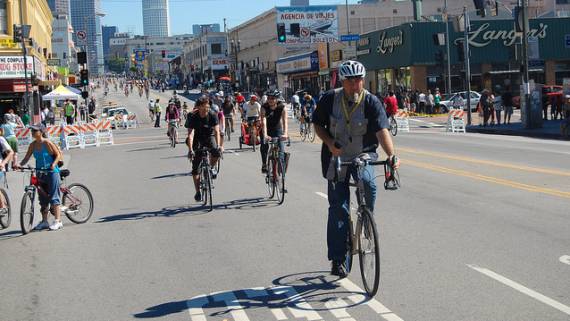 Around two o'clock, I'm standing next to Enci Box at MacArthur Park.  Looking around, I joked that they were one board member short of being able to hold a meeting of the Bike Writer's Collective.  Stephen Box was in the street talking to Josef Bray-Ali of the Flying Pigeon Bike Shop.  Gary Kavanaugh with SM Spoke was off to the side on a pair of rollerblades.  Bikeside's Alex Thompson was standing on the grass behind us.  Moments later I thought I saw Mark Peterson roll past.  That's six of the group's eleven scribes.  This  group of advocates that brought us the Cyclists' Bill of Rights come from all parts of the city, and it was kind of amazing to see them all in the same place at the same time.  Especially because it was a coincidence.
Some Standouts in the Bike Parade
And the non-traditional bikes were out in force.  We saw another Flying Pigeon Baby Bike, which made me miss Sammy who was at our Church's 60th Birthday Party with his mother.  There was also a bike placed inside a miniature car frame, a bike with a "sail" promoting the aforementioned "Bill of Rights" and more recumbent bicycles than you could count.  The site of Road "Too Tall Jamal" Block on a Tall Bike was worth a smile, but the best bike of the day has to go to the Eastside Bike Club.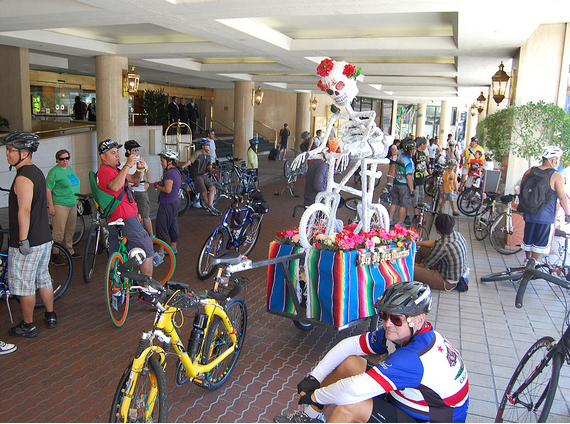 The amazing "Dia de los Muertos" Ghost Bike served as both eye-catching attraction and grim reminder that even though these are "our streets," they sadly aren't safe streets.  Eight cyclists have died in the Southland in the past three weeks, and this rolling "bike float" snaked through L.A.'s streets as a reminder that there's a lot of work to do.
Finally
But it wasn't the smiling faces of hundreds of friends and advocates that greeted my Mother and I as we pedaled through the route that I'll remember for ever, it was the story of a father and a son just out for a ride.  In Downtown Los Angeles we came across a young father walking next to (and occasionally propping up) his young son on a tiny bicycle.
At an intersection, the father was talking to an LAPD officer who asked about their trip.  Apparently the duo had traveled from the Eastside start in Hollenbeck park and had traveled two and a half miles to the intersection of 7th and Figueroa.  "My work is right down there," said the father gesturing.  "I live right by the park so we traveled my whole commute."
But what pulled my heartstring was what the father said when the ride continued.  To his son, "I finally get to see you ride your bike."
In a lot of ways, that moment represented more of what CicLAvia was about than any dodge ball tournament, yoga class, or political rally could.  It was just a father and son, enjoying the day and making a memory on their streets.
Leave your favorite story, from yesterday's unbelievable awesome festival, in the comments section.  And let's hope the city listens to the CicLAvia team and brings back more of these festivals in 2011.
Stay in touch
Sign up for our free newsletter