Critical Mass
The "New" Critical Mass: Evolving, Not Dying
9:29 AM PDT on September 27, 2010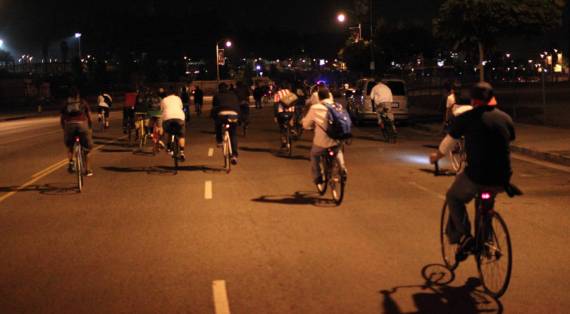 When I rolled up to Wilshire and Western at 7:00 P.M. last Friday, there were already close to 750 cyclists present, everyone was in a good mood, and there was still a half hour before the ride was even supposed to start.  Ridecards were being handed out urging cyclists to follow the rules of the road and work with the police.  People were laughing and talking.  The LAPD was present throughout the crowd but they were in a much more relaxed mood than when I rode the Mass last June.  Seargent David Krumer even cracked a joke that I should read the Internet more often after I mock asked Roadblock "Is this where the bicycle event starts?"
As more and more riders showed up, the crowd swelled.  The police were escorting bus riders on and off Metro buses to their destinations.  A trumpet player was serenading the crowd while CicLAvia volunteers passed out brochures for the big event on 10/10/10.  Stephen Box was shaking hands, dapper in a sports jacket.  Teenage latinas, were mixing with caucasian hipsters.   Lycra clad athletic riders, snapped pictures of a tricked out bike that had more lights than Dodger Stadium.  All races and age groups were represented and the gender split wasn't quite even, but was closer to even than any other ride I've attended.  It was starting to get so noisy that when many of the rides unofficial leaders were standing on the bike lockers screaming for Alex Thompson; he couldn't hear them.  He was standing about 150 yards away.
By the time the ride reached the Los Angeles State Park, after roughly thirteen miles of cycling through Korea Town, Downtown and North past Union Station; the mood was different.  Not angry.  Not dispirited.  But as a whole, Critical Mass seemed confused as to how they felt about what they had just experienced.  The mass had broken into a bunch of smaller rides because of Massers stopping for every red light that wasn't corked.  Another issue was the number of tickets our ride partners handed out.  One veteran rider joked to me that "we probably set a record for tickets."  On the other hand, when asked by Bikeside's Rachel Stevenson if I had a good time, the answer was "yes."  And that was the same answer she received from everyone standing near us at the time.  Not everyone was confused and strong feelings have spilled into contentious threads onto Facebook, Midnight Ridazz, and other social media.
But at this point, it's hard to say exactly what the overall mood of the community is.  Talking to a dozen people after the ride and monitoring social media and message boards is hardly a way to paint a complete picture of how people feel.  The mood seems mixed, but I think more people have a good view of the "new" Critical Mass than a bad one.  Numbers don't lie, and Critical Mass is becoming a huge phenomenon in Los Angeles.  I mean, how many Fridays are we going to see all those cops and a couple of news vans?  What kind of mainstream attention had Critical Mass achieved in past years?
But I had a different view of the ride than most.  Right at the start of the ride, a friend got a flat tire.  Carrying an extra tube, I stopped to help him and spent a lot of the first part of the ride trailing the mass.  Being that far behind, I saw a lot of riders being ticketed as I rode past.  A couple of times, I would even see them handcuffed, facing away from the cops.  When I asked the cops what they had done, they told me the riders ran red lights.  After that I kept my eyes open for handcuffs and noticed that dozens of riders were being ticketed and about a third were wearing handcuffs.
Massers complained that they couldn't tell when they were supposed to keep rolling through red lights and when they weren't.  While the LAPD did "cork" many intersections; if there wasn't a cop in the middle, then riders were expected to stop.  That being said, I'll admit that I rode through several red lights, mostly on smaller streets, that weren't corked throughout the night and could easily have been one of the riders that was ticketed and handcuffed.  When you're in the middle of a group of several hundred people, and the people in front of you aren't stopping; you're asking for trouble if you hit the brakes.  I'm sure several of those riders that were ticketed didn't want to stop because they didn't trust the people behind them to do the same.
On Midnight Ridazz, Sgt. Krumer explained some of the confusion about how intersections were and weren't corked.
Please allow me to explain. In the past, many riders have complained about our motors or cars zipping by you at high speeds in an effort to leapfrog to the next light in order to cork. Riders have suggested that it is dangerous and intimidating. We tried to avoid this but as a result we can not get to every intersection to cork. Additionally, we do not have sufficient officers to crok (sic) every light.

Since we can not cork all we are asking for riders to stop at all reds. This has the effect of splitting the ride into many smaller rides. Also it stretches the ride out over a larger area and increases the LACM footprint (not necessarily a bad thing if the goal is to be noticed).
Which brings us to our second issue.  The mass being broken up into several smaller masses and the debate on whether this "kills" Critical Mass.  Personally, I think Critical Mass is far from dead.  It seems every month brings record numbers of riders and I can't think of any city that has as many uniformed police ride with the mass on bicycles. When I was trailing the mass early in the ride, I was getting my directions from a bike cop who was tasked with monitoring the tail of the ride.  We had a friendly chat as we raced down Venice Boulevard until I lost him after turning on to Union.
That being said, it was a weird experience as I rode with one of the mini-masses through the Downtown we actually formed a T with the main mass that was stopped at a red light.  I felt a little like Lance Armstrong as I happened to be at the front of that group and got a huge cheer as soon as we rode in sight of the larger mass.  I would guess that if "mini-masses" become the norm, than every ride will eventually be a little more organized and less confusion will ensue.
I found it odd that the police and red lights breaking Critical Mass into a group of mini-masses is the main controversy from Friday, at least as its breaking down on the Internet.  Especially because the "mini-mass" tactic was one some ride leaders were suggesting for the June mass after the LAPD first announced their intention of riding along.  This tactic was used somewhat successfully to deal with police harassment of the old Santa Monica Critical Mass in 2008.  To me, the main issue is the ticketing and the handcuffing.  I know it's a familiar argument but how often do you see a driver handcuffed for running a red light?  How about pedestrians?
That being said, maybe I just happened to see a disproportionate amount of the ticketing.  Krumer broke down the police actions from Friday's ride:
35 tickets4 curfew violations1 drinking in public1 misdmeaner warrant arrest1 arrest for felony vandalism on the police car when person being cited threw bike at car....I saw that one person disputed our account of what happened.
42 tickets, not all of which went to Critical Mass riders, for a ride with somewhere between 1,500 and 2,000 participants doesn't seem like that many. Let's see if the official ticket count goes go up in the coming days.
Anyway, after our group left the Downtown we got split again and again.  At one point, I think we were riding through Boyle Heights, there were only about 120 riders.  None of which were the police riders.  For about twenty minutes if felt like it was 2008, and I was riding Critical Mass for the first time.  We even ran into a squad car that implored us to "ride the right."  When a rider yelled back that we would ride to the right all the way to the doughnut shop; the cop replied that he would "meet your mom there."  A "your mom" joke?  From the LAPD?  And yet, we all chuckled in spite of ourselves.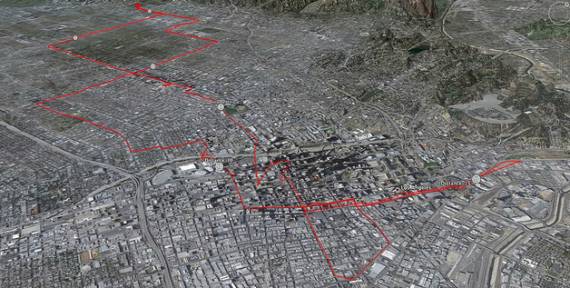 At around 9:40, just over two hours after the ride started, we stopped across the street from the Los Angeles Historic State Park.  Cyclists that were in the street were directed either on to the sidewalk or in to the park by the police and drivers were able to proceed with no real delay.  Here we saw another major difference from the traditional mass.  When the Mass is together, everyone stops and parties and eventually the mass rolled on.  On Friday, groups of somewhere between 20-200 rolled up and pulled over, or went into the park.  After about twenty minutes, two friends and I decided to head home.  Based on the small clusters of cyclists we say along our route, we weren't the only ones.
In my opinion, the LAPD as a whole are trying to "do right" by Critical Mass and encourage and allow it.  Part of it is trust developed with Sgt. Krumer, who has helped cyclists access LAPD resources on issues beyond group rides, and part of it is from talking to officers from along the ride.  That being said, watching a somewhat large group of police officers handing out tickets seemingly at random to cyclists, and watching those cyclists in handcuffs, is going to drain away enthusiasm for the police presence.  I'm not condemning the LAPD, after all this was just their fourth attempt at finding a way to ride with, not break up, one of the largest free and open events the city experiences every month.  Also, I didn't talk to every group of officers handing out tickets so I don't want to sound as though I'm an expert on every traffic infraction.  I'm just speaking based on my experience, my reaction, and the reactions to the people biking around me.
That being said, the biggest question that's left is how much influence should the police have on how Critical Mass is conducted.  Believe it or not, the cycling world is watching what's going on with Los Angeles Critical Mass, so the decisions made by riders will reverberate outside the Southland.  Krumer posted some suggestions on Midnight Ridazz to make the ride work better from where he sits.  Those suggestions are:
My suugestions mirror Aktive's to some degree. Develop a route. With a route you can avoid bad street selection, plan your stops in places where you can refill (and confirm they are open) and have a significantly smaller contingent of officers pre-deploy and possiibly cork your ride consistantly as we move along.

There are some who say that LACM traditionally has no leader and no route. While tradition can be a good thing, tradition itself is no reason to hold on to a practice that does not serve (and in fact hinders) the greater efforts to promote cycling and call awareness to cyclists in the City.
As we head in to the fall, when ridership numbers for Critical Mass traditionally dip; this is the question that riders are going to have to answer:  How much order can a ride have and still be Critical Mass?
Stay in touch
Sign up for our free newsletter