Buses
Pasadena Transit's Ambitious Zero Emission Bus Rollout Hinges On New Operations Facility
1:02 PM PST on February 28, 2023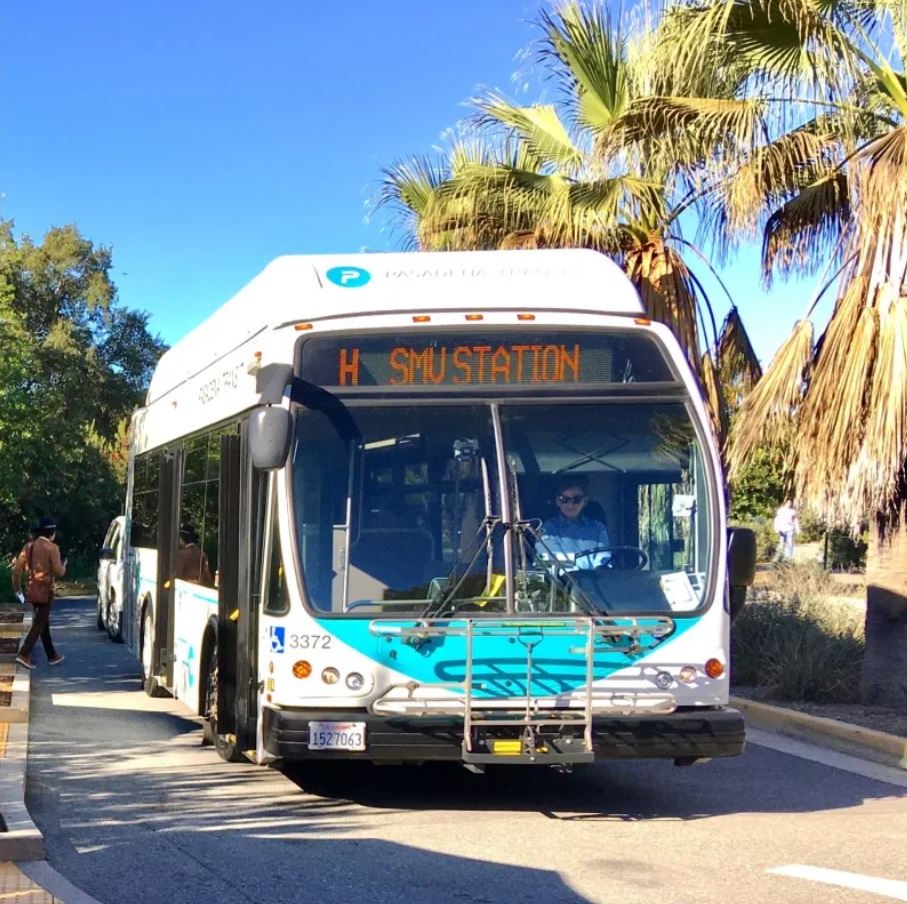 Pasadena Transit's Zero Emission Bus (ZEB) Rollout Plan was adopted by city council in late January. The plan lays out an "aggressive" schedule for the city's bus service to replace both its 35-foot fixed-route buses (29) and its 25-foot dial-a-ride vehicles (44).
Transit agencies in California must have full ZEB fleets by 2040 (under the California Air Resources Board's Innovative Clean Transit Rule of 2018), but coming much sooner in 2026, 25 percent of all new bus purchases by smaller agencies must be zero emission models. However, Pasadena's Director of Transportation Laura Rubio-Cornejo tells Streetsblog that 100 percent of the buses the city plans to purchase in 2026 will be ZEB's ("if funding is available," see chart).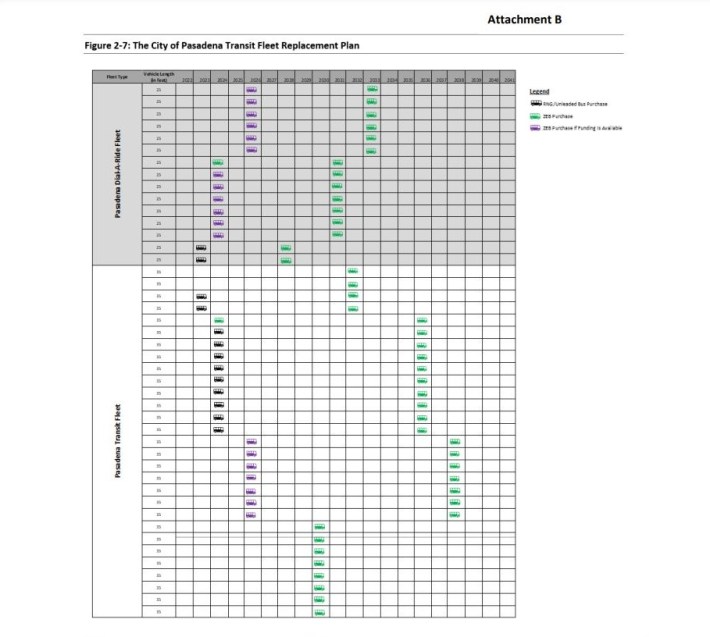 "What we lay out in the plan is that starting next year, in 2024, when we are due to replace 10 of our fixed route vehicles, one of those vehicles would be a zero emission bus. And then in 2026, when we're due to replace seven of our vehicles, all seven are being proposed to be zero emission." says Rubio-Cornejo.
Rubio-Cornejo tells SBLA that her agency has tested vehicles and will be making its recommendation to city council in a few weeks for the first ZEB purchase. Until then, she isn't able to share what that make and model is and whether it will be a battery electric bus (BEB) or a hydrogen fuel cell vehicle (HFC). 
That perhaps unsurprising wrinkle is due to Pasadena Transit opting to use both technologies: BEB for dial-a-ride, and HFC for fixed-route. Hard-nosed transit geeks (who read our coverage of Foothill Transit's shift to HFC) might guess what Rubio-Cornejo said next. 
"It really comes down to which vehicles are able to be in service for the duration of our service hours. What we have found from having vehicles tested out, and what we have also learned from other agencies, is that battery electric, usually, we have to replace those at a 2:1 ratio, meaning for every renewable natural gas bus that we're replacing, we would have to purchase two battery electric buses. And that's because the range of the battery is such that we would have to replace that vehicle mid-run." 
"Foothill Transit has that experience. Santa Monica, Big Blue Bus, had a not so great experience using battery electric buses for their fixed route." says Rubio-Cornejo. Foothill's BEB's gave 125-150 mile range on several hours of charge. Their HFC's perform twice as long, 300 miles, riding on a ten minute fueling stop. They're also pricier. They cost hundreds of thousands more, and fuel costs are nearly double battery charging costs ($1.00 per mile for HFC, and $0.45 for BEB). But Rubio-Cornejo says they could replace natural gas buses at a 1:1 ratio. It seems the downsides of BEB aren't as glaring for dial-a-ride service.
The two-technology plan is based on sustainability, according to Rubio-Cornejo. "If we happen to have a vehicle that goes down because the batteries aren't working, we're not fully reliant on just one technology. And that's an important lesson that we learned from those other agencies that fully invested in one type of technology and are now having to retrofit their facilities in order to support a different technology."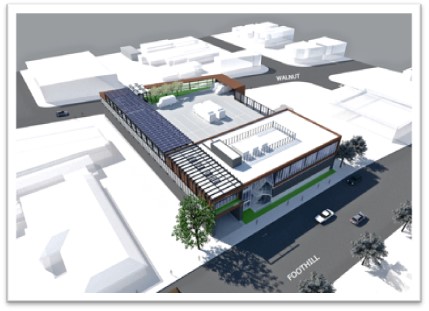 Of course, Pasadena Transit's ability to convert its fleet is dependent on having a place to recharge and refuel. Rubio-Cornejo says completion of the city's future Transit Operations and Maintenance Facility (TOMF) will expedite that. "One thing that was really critical that we tried to communicate at the Municipal Services Committee was that having a transit facility is imperative to us being able to fully transition to zero emission."
The agency's current facility is leased. "When we're looking to invest in zero emission technologies, we want to make sure that it's a city owned facility, it's a lot to invest." Rubio-Cornejo says.
She tells SBLA that Pasadena Transit wants to build and move into its city-owned yard at 2180 East Foothill Boulevard as soon as possible; they're just waiting on funding for construction to finalize design. "If we were to receive the funding tomorrow, I anticipate we would be able to break ground by early 2025."
The future TOMF will be outfitted with 45 electric charging stations. "DOT is also in the early stages of studying the potential of a Hydrogen fueling facility. This facility would include two dispensers for buses with the option to add more either for additional buses or for city fleet vehicles." Rubio-Cornejo says.
"Our goal is to be in a situation where we could fully transition to zero emission by this year [2026]."
Last week, Pasadena Transit did receive some transit funding from Metro. The Metro board approved shifting $180 million (originally for the canceled N. 710 Freeway extension) to Pasadena multimodal projects [staff report], including $65.4 million for construction of a new Operations and Maintenance Facility intended to serve existing transit service and "expanded transit services for the proposed development of the SR-710 northern stub area recently relinquished to the city."
Streetsblog's San Gabriel Valley coverage is supported by Foothill Transit, offering car-free travel throughout the San Gabriel Valley with connections to the Gold Line Stations across the Foothills and Commuter Express lines traveling into the heart of downtown L.A. To plan your trip, visit Foothill Transit. "Foothill Transit. Going Good Places."
Sign-up for our SGV Connect Newsletter, coming to your inbox on Fridays!
Chris is the San Gabriel Valley Reporter for Streetsblog LA and co-host for SGV Connect. He's been a La Puente native since 1991, and a radio journalist since 2014. He hosts the podcast SGV Weekly.
Stay in touch
Sign up for our free newsletter