Measure M
The Big Lie: No, Bonin Did Not Steal Measure M Money for Vision Zero
4:26 PM PDT on November 2, 2017
There's a pernicious lie being spread about Councilmember Mike Bonin as part of the "Recall Bonin" campaign. This lie is a centerpiece of the campaign's messaging and a repeated talking point on the alt-right radio program that supports the recall. As with most Big Lies it both resembles the truth enough that it might confuse people and is crazy enough that people would believe it because "hey, who would lie about something that audacious?"
The lie is that Mike Bonin stole money from Measure M that was meant for transit projects and redirected them towards Vision Zero and the safety projects in Playa del Rey and Mar Vista.
Sometimes the lie is stated vaguely, such as in the notice to file for recall which states, "To pay for these unpaid projects, he has raided the coffers of Measure M, meant for mass transit and repairing damaged streets without asking voters."
Other times it is more specific, such as on this Recall Bonin webpage: "To make matters worse, Councilman Mike Bonin, led a vote in the Transportation Committee to reallocate two thirds of the funds for Measure M passed last November by the city voters for mass transportation to their Vision Zero plan."
These statements are lies.
They cannot be considered mere confusion or misstatements, because people (myself - Damien - included) have tried to correct the record with KFI and Recall Bonin proponents. While it may be politically expedient to spread this lie, it does not make it true. It is a lie. Someone that tells it to you is either a liar or has been lied to.
Let's break down what's really going on here.
First, that Measure M funds have been misused for the road diet projects in Playa del Rey (or Venice Blvd) is the easiest to debunk. This lie was raised at a June Westchester/Playa Neighborhood Council meeting, and was included in Keep L.A. Moving's lawsuit which alleges "Measure M funds were, in fact, used for all of the aforementioned changes to Vista Del Mar, Culver, Jefferson and Pershing..."
A simple understanding of the Measure M timeline disproves this lie.
The Playa Del Rey safety improvement projects were implemented in June 2017.  Mar Vista's Venice Boulevard improvements were implemented February through May 2017. L.A. County began collecting Measure M sales tax on July 1, 2017.
Both projects were already on the ground before Measure M started.
The Bigger Lie, that Bonin has somehow stolen Measure M transit funds for Vision Zero takes a little more explaining.
In 2016, L.A. County voters were asked to approve Measure M, a sales tax increase that would fund a variety of transportation projects. The budget for Measure M is locked in by voters and cannot be changed without either voter approval or a super-majority of the Metro Board of Directors (where Bonin is one of 13 votes).
However, 17 percent of the budget for Measure M is for "local return," which is monies that Metro passes along to cities in proportion to their population. Of that 17 percent, one percent can only be used for transit projects, leaving 16 percent of cities' local return budget to spend on local transportation projects - which range from road and sidewalk repair, to traffic signals, to bike lanes, etc. L.A. City has roughly 40 percent of the population of L.A. County, so the city's local return ends up accounting for roughly six percent (40 percent of 16 percent) of the overall Measure M budget.
L.A.'s 15-member city council votes on how to spend the city's local return funding.
At the city council Transportation Committee, and then the full city council, there was a debate over what percent of the city's Measure M local return should be spent on Vision Zero projects. The city council approved a motion, proposed by Bonin and councilmember Paul Krekorian, budgeting L.A. Measure M local return funding for Vision Zero for Fiscal Year 2017-18. The Bonin/Krekorian motion allocates $22.8 million to Vision Zero. Of that $22.8 million, only $5.5 million are from Measure M; rounding out the city's FY17-18 Vision Zero budget is funding from Measure R, S.B.1, and Prop A and about $2 million (for LAPD enforcement and safety lighting) from the city's General Fund.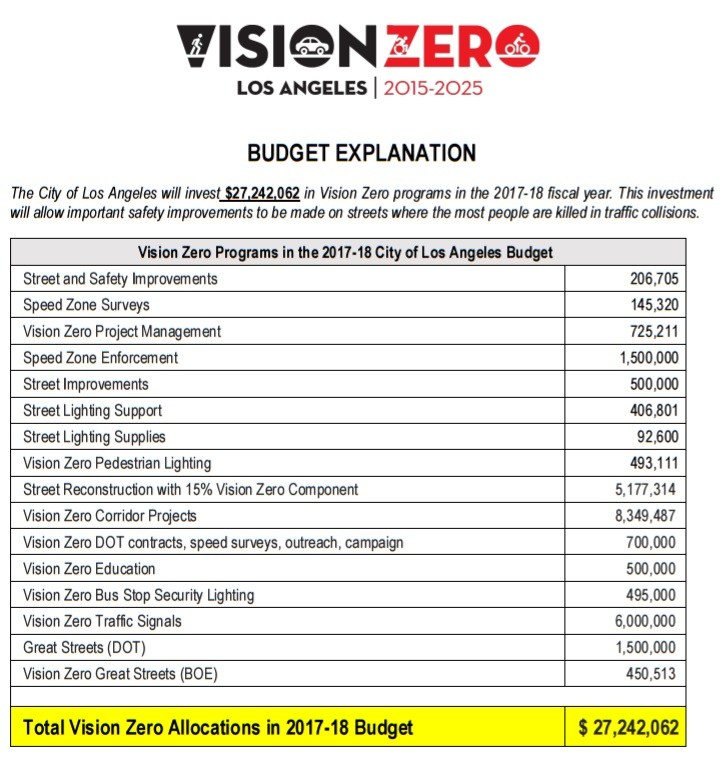 For those keeping score, for this year for Vision Zero, L.A. is spending about 10 percent of 40 percent of 16 percent (that is about 0.64 percent) of the county's overall Measure M sales tax revenue. Measure M Vision Zero spending underway is just $5.5 million of about $850 million in countywide Measure M revenue.
The council's unanimous approval of Bonin and Krekorian's Vision Zero allocation will have no impact on the various rail, bus, and highway projects funded by Measure M.
In fact, all major Measure M rail, bus, and highway projects are funded through capital categories separate from local return.
To make the Big Lie even worse, and it's already plenty bad, the buffet of items that are under "Vision Zero" is pretty large and includes street resurfacing ("repairing damaged streets" as the recall language calls it), traffic signals, pedestrian crossings, street lighting, speed surveys, speed enforcement, public education about street safety, streetscape redesigns, curb extensions, and more.
Note that in the FY2017-18 budget, Bonin and his fellow councilmembers approved over $5 million in new funding for street resurfacing: $3.11 million from Measure M local return, and $2.06 million from S.B. 1 state gas tax revenue.
Winding down, consider the assumption behind asserting Measure M was meant narrowly "for mass transportation" or "for mass transit and repairing damaged streets."
Bonin's critics are wrong. Metro's bottom-up, countywide process of developing Measure M went far beyond just cars and transit as legitimate modes in a balanced transportation system. Measure M is decidedly multi-modal, with funding for highways, streets, sidewalks, rail, bus, bike, and more. Measure M's language is clear on this.
In the actual ordinance language approved by voters, Measure M will "Repave local streets, repair potholes, and synchronize signals; improve neighborhood streets and intersections, and enhance bike and pedestrian connections." The Measure M ordinance specifies that local return will be spent on "communities' transportation needs, including transit, streets and roads, storm drains, Green Streets, Active Transportation [i.e. bicycling and walking] Projects, Complete Streets, public transit access to recreational facilities, Transit Oriented Community Investments, and other unmet transit needs."
Among many selling points, Measure M was promoted to voters as including bicycle and pedestrian improvements; watch this Yes on M campaign video promoting (starting at 1:03) a "more livable... more bikeable" L.A. County.
Keeping pedestrians, cyclists, transit-riders, car-poolers, and drivers safe is an important part of Metro's balanced multi-modal transportation system spelled out in Measure M.
Bonin's critics shouldn't try to tell Anglenos that Measure M was less than what we approved overwhelmingly.
Angelenos shouldn't fall into the logic of Bonin's detractors that somehow spending on Vision Zero is taking away from funding spent on L.A. drivers. Vision Zero is about safety for everyone - drivers included. Every year more than 1,000 people are killed or severely injured in L.A. traffic, more than half of these are people driving or riding in cars. Vision Zero is about ending all of L.A.'s traffic deaths. Vision Zero is not some pet project to be dismissed when real stuff - transit and cars - are discussed. Vision Zero is a key part of making sure L.A.'s transportation system serves us all.
So, in conclusion:
No, Mike Bonin did not use Measure M funds for the road diets in Playa Del Rey and Venice Blvd.
No, Mike Bonin did not thwart the will of the voters by taking transit and road expansion funds and spending it on road diets.
These things are not true, and anyone who tells you they are either hasn't done their homework, or is lying to you and expects you not to do your homework.
Stay in touch
Sign up for our free newsletter