City Planning
Boyle Heights Community Plan Aims to Guard Against Displacement, Still Lacks Teeth
3:46 PM PDT on October 27, 2017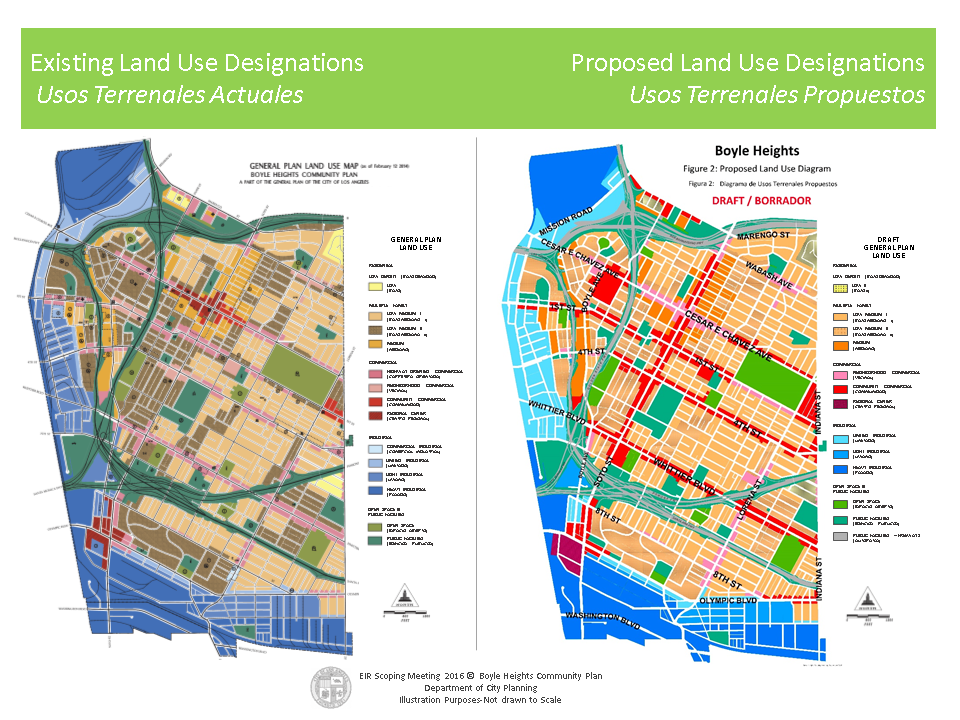 This Saturday, city planning will be hosting an open house at Boyle Heights City Hall offering residents updates on the Boyle Heights Community Plan.
The Boyle Heights plan, one of 35 community plans that make up the city's General Plan Land Use Element, is meant to lay out the goals reflecting the vision for the community, the policies that will guide land usage and development in line with those goals. During the battle over Measure S, a faster and more responsive community plan process was often cited as a tool by which communities could take back some control over the kinds of development their neighborhoods would see.
That intention is apparent in the Boyle Heights plan - there is a decided effort to make clear that the community prioritizes the building and preservation of affordable housing, ensuring the local community benefits from job creation and transit-oriented development, accommodating and celebrating smaller, local entrepreneurs and businesses as part of community growth, and mindfulness of the history and culture of the community and the preservation of its physical character and artistic heritage.
To that end, affordable housing gets top billing. It is the subject of the first three goals, each of which elaborates on the importance of preserving existing affordable housing and making sure new developments both be oriented toward multigenerational families and include housing accessible to those that are low-, very low-, and extremely low-income. In requiring that any redevelopment of "garden apartments" replace affordable units on a one-to-one basis, the plan also acknowledges fears that the redevelopment of Wyvernwood (and possibly that of Ramona Gardens, at some point) would result both in massive displacement and wholesale gentrification of the area.
Where the plan touts the potential for the river district to be "a desirable place for innovative industries to locate," including biotech, hydroponic farming, and big and small clean and green businesses, the plan encourages the cultivation of a local workforce via partnerships with schools and job training programs so that gains accrue to existing residents.
Transit-oriented development, including greater housing density, is encouraged along key commercial and transit corridors. And where transit-oriented development or new construction results in the creation of ground-floor commercial spaces, the plan encourages developers to build smaller retail spaces that would be cheaper and more accessible to small local businesses and local entrepreneurs.
The plan singles out Soto at 1st Street as having the potential to evolve into a key community center, supporting greater concentrations of retail and housing. The affordable housing projects slated for several of the lots there (both at 1st and a block up, at Cesar Chavez) will bring greater foot traffic to the area that should help support local businesses and community-serving spaces. The plan also seeks to ensure that buildings along important corridors like Cesar Chavez retain their historic character and pedestrian orientation.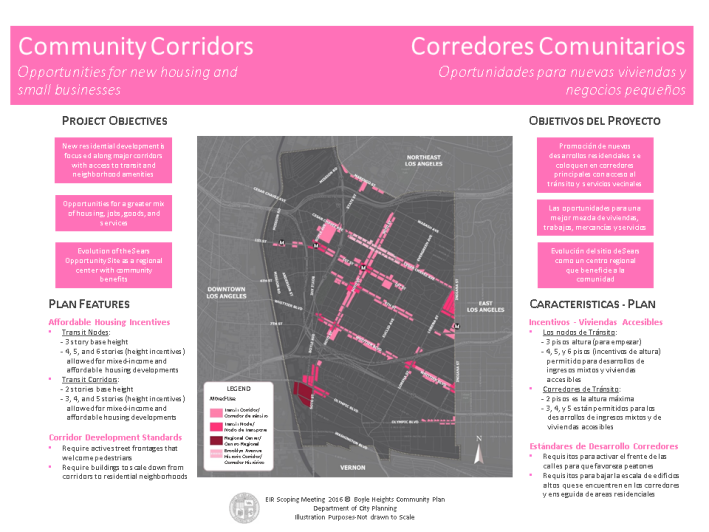 Well-intended as they are, the goals and policies of the plan also underscore how little control the community may ultimately have over how the neighborhood changes in the next several years.
Notably, in citing Boyle Heights' history as a "destination" for a diverse set of immigrants, the draft plan fails to note that that was not really by choice, thanks to redlining, and that, in subsequent years, the community would be denied resources, see freeways built adjacent to or on top of its few open spaces, and, as the community became more Latino, continue to be denied access to power.
Making official note of the efforts to segregate and isolate the community and the power dynamics that were and continue to be in play even now matters. Without acknowledging them, it's hard to give the policies outlined in the plan the teeth they need to truly protect and support the residents who are most vulnerable to displacement.
Where the plan points out the importance of preserving the community's murals (most of which depict the history of struggle) and in using local artists to help maintain them or produce new art, for example, there is no similar effort to retain the artists themselves.
Meanwhile, mariachis living at the newly rebranded "Mariachi Crossing" at 1815 E. 2nd Street continue to fight exorbitant rent increases imposed by new owner Frank "B.J." Turner that threaten to price them out of the building he named after them. Mariachis living in boarding-style situations so they can be close to Mariachi Plaza have been threatened with eviction. Still others have been priced out by gradual rent increases over time as the market has heated up. And others found themselves priced out a few years back, when the Boyle Hotel (where many had boarded in rather awful conditions) was converted to affordable housing and too many couldn't afford the new rent.
Local Latinx and Chicanx artists are facing a similar struggle. As fine artists with greater resource bases and patronage move into gallery spaces along the river, investors are able to brand the area as "edgy," "artsy," and "up and coming" and market it to well-to-do folks getting priced out of already gentrified neighborhoods. And the kinds of riverfront amenities the plan calls for - including a network of pocket parks, promenades, and bike paths - will likely boost rents, making it even harder for those who already struggle to retain their footing in the community to practice the arts Boyle Heights is celebrated for.
Finally, even well-intended efforts to ensure smaller businesses won't be pushed aside have the potential to make it that much easier for gentrifying businesses to move in. As it is, many of the smaller businesses in Boyle Heights don't have their books completely in order, don't have proper leases, or operate on such thin margins that they would be unlikely to be able to access the financing they would need to grow their businesses or move into to a new site. Which opens the door for higher-end coffee shops like Weird Wave or utter nonsense like La Gracia Frutería, a "Mexican-inspired" cafe that a self-described barefoot bohemian was looking to open in "up and coming" historic Barrio Logan in San Diego (*until social media disabused her of the wisdom of that notion).
Which is not to argue that a community plan can necessarily be so specific as to prohibit such egregious whitewashery.
But it is to suggest that, in acknowledging past discrimination, a plan would be more free to strategize ways to better address the needs of the groups that had been harmed and fill in the cracks they might be likely to fall through as the community grows.
The People's Plan laid out by the UNIDAD Coalition from South L.A. points to some of the ways that community plans can be adjusted to address some of those shortcomings: the inclusion of higher percentages of affordable housing in new construction; a commitment of resources to businesses that might not be credit-ready, guaranteed reduced rents for community businesses; a right of return for tenants (going beyond one-for-one replacement of affordable units) and a no-net loss policy for affordable housing; or referral, procurement, and other services to ensure new jobs and opportunities were actually filled by local community members, to name a few.
There are ways to acknowledge harms done and work to ensure folks are not left behind or pushed aside a second time, the People's Plan suggests, even if they require planners wade into some less comfortable waters. Boyle Heights' Community Plan makes a good-faith effort to acknowledge some of Boyle Heights'  very real challenges. But without addressing their provenance, or the extent to which some of the investments in transit and along the river the plan touts will add fuel to some of the very problems the plan trying to combat, it feels somewhat toothless.
What say you, denizens of Boyle Heights? Find the draft plan here. Attend the open house Saturday from 10 a.m. to 1 p.m. at Boyle Heights City Hall (2130 E. 1st Street) and give planners your feedback in person (details here).
Sahra is Communities Editor for Streetsblog L.A., covering the intersection of mobility with race, class, history, representation, policing, housing, health, culture, community, and access to the public space in Boyle Heights and South Central Los Angeles.
Stay in touch
Sign up for our free newsletter