Metro
Interview with Frank Ching, Metro's Director of Parking Management
2:33 PM PDT on April 24, 2017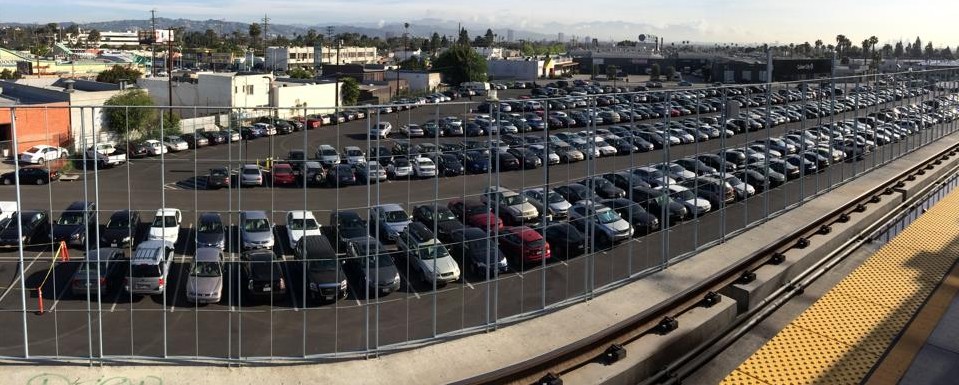 Starting today, Metro began charging for parking at its two San Fernando Valley Red Line park-and-ride lots: Universal City and North Hollywood. These lots previously provided mostly free parking. Big demand for free parking at these relatively suburban end-of-the-line sites has meant full lots and multi-million-dollar expansions to accommodate more parking. As of last week, on weekdays after around 7 a.m, finding free parking spaces remained basically impossible. Metro asserts that some drivers park for free and then do not even ride Metro, instead walking to nearby destinations including Universal Studios, which is next door and charges $10 to $40 per day to park.
Streetsblog L.A. has been critical of Metro's excessive free parking, which hurts the poor, the environment, and Metro's fiscal bottom line. SBLA has praised Metro's pilot program to charge for parking at thirteen of the agency's most impacted parking facilities.
The brains behind Metro's new paid parking pilot is Metro's Director of Parking Management Frank Ching. Ching has already had several success stories, including implementing TAP validation to park in Metro's lots, which has shifted over 500 spaces from non-riders to riders. Ching has been busy revamping Metro's overall approach to managing parking, including implementing paid parking along the western portions of the Metro Expo Line.
The interview took place over email last week. It has been edited for readability.
SBLA: How has demand for parking changed as Metro initiated TAP card validation, and/or converted sites to paid parking? What was the agency's experience with the recent parking changeover at the Culver City Station on the Metro Expo Line: how much replacement parking is being offered, where, and at what cost? [Note: As long planned, on February 14, 2017, Metro closed its Culver City Station parking lot to make way for the five-acre Ivy Station transit-oriented development, which will include homes, offices, retail, pedestrian paths, and 300 Metro parking spaces.] 
Frank Ching: With the Culver City closure, Expo Line parking capacity has been reduced by 590 spaces. The city [Culver City] has provided 250 parking spaces at Ince Parking Garage, which is about one and a half blocks away from the station. Other alternative parking locations include nearby Metro park-and-ride lots at La Cienega/Jefferson and Expo/Sepulveda.
At $3 per day and with TAP card validation at all these locations:
Ince Garage only parks an average of 50 cars per day.
Expo/Sepulveda Station parks about 20 additional vehicles.
La Cienega/Jefferson Station parks 267 daily transit users' cars, plus 147 monthly parking permits have been sold at the location, so the total cars served is 414 per weekday. Not all monthly permit holders show up every day. The garage performed 16 percent over Metro's projection in number of cars parked, averaging about 100 parking spaces available throughout the day. The occupancy rate remains at 75 percent, and transit users are able to find a parking space at any time.
According to our observations, Expo/Crenshaw station [450 free parking spaces weekdays at West Angeles Church - leased by Metro] occupancy has increased by about 100 cars on weekdays.
So, all in all, based on our calculation, the program [closing Culver City, adding Ince Garage with TAP validation, and paid TAP-validated parking at La Cienega] reduced parking demand by 400 cars per day on the Expo Line.
Has Metro's paid parking pilot impacted ridership, or station boardings? It seems clear that overall Expo ridership is growing, but did Culver City Station experience any significant drop in boarding when parking there changed?
We have continuously monitored the ridership and have not noticed any negative impact.
Culver City Station boarding activities have been declining, but this had to do with preparing the lot to be a construction site, and then the actual closure of the parking lot. Overall Expo Line station boarding activities have not decreased at all.
More boarding activity shows up during slightly later hours. This is similar to new performance at other paid Metro parking facilities: transit patrons arrive at slightly later hours and are able to find a parking space.
How are the parking management systems working so far? What is automated and what is staffed? Is more automation on the way?
The new parking management system has been working well and met our expectations.
All the stations are automated, but we provide parking ambassador services to help our patrons use the pay machines and to explain how they function.
On April 24 we will also implement a mobile payment option.
Note that installation of Metro's Parking Guidance System is underway. [Metro's PGS will send real-time occupancy information to station signage, mobile apps, websites, and emails - see earlier SBLA coverage.] We have installed it at four locations, including Metro parking facilities at Azusa Pacific University/Citrus College, Willow, Wardlow, and Fillmore stations. We are currently fine-tuning all the functions, and preparing to broadcast real-time space availability on the Metro parking webpage and app.
What sort of feedback is Metro hearing from the public - especially people who park at stations - before and after changes?
We have received feedback from both sides. Overall, the public is accepting of the program. It is a long overdue program that was expected by many users.
Many park-and-ride patrons are glad that they can pay a small fee and are able to find a space during later hours - so they don't have to arrive at the station at 6 a.m. We received some feedback from new users stating that before, they [had to] take their chance to find a parking space and use Metro [if they were lucky]. Now they can use our system more frequently, since they can find a parking space.
One concern raised by some is spillover parking - transit riders parking on neighborhood streets around Metro stations. Is Metro aware of issues with spillover parking impacting neighborhoods? Where? What solutions could minimize issues with spillover?
We are certainly sensitive to the spillover situation.
We have notified municipalities' agencies, including LADOT and other city transportation departments in our program. To minimize spillovers, cities need to adjust their parking policies to transition some neighborhood parking to permit parking. For example, [cities can] implement a time limit during commuting hours. Without a time limit, anyone can park on the street for 9 to 10 hours per day, every day. If there is a time limit of four hours Monday through Friday between 7 a.m. and 7 p.m., commuters will not able to park for the full day. A four-hour time limit is ample for care givers, landscape services, or housekeeping services.
Metro has no jurisdiction over any on-street parking, and can only provide recommendations for communities we serve. We have to realize what is attracting vehicles to the neighborhood, which in some cases is free parking. In our case, the closure of the Culver City Station lot did not create further spillover parking issues because drivers know that there is no point in driving to that location because free parking is no longer an option. If the parking rate is consistent along the entire Expo Line, drivers will travel to the closest station and pay the same fee.
One performance parking recommendation (from parking expert Donald Shoup) is to manage parking by both increasing and decreasing prices - in response to demand. Metro is taking smart steps to modestly increase prices to manage demand at peak times. How does Metro plan to manage parking on weekends and evenings? Will parking be cheaper or free at those times?
Any implementation of a parking program must be simple, consistent, and user-friendly to succeed. At this point, our main focus is on simple steps: park, TAP, pay, and ride Metro. Any program has to start somewhere, and Metro would like to begin with a user-friendly and consistent performance program before we transition to dynamic pricing, which adds complexity.
Even on the weekend there is high parking demand for events, such as NFL games. Charging higher prices - on event weekends or during any higher occupancy hours - may be slightly too complicated for transit users at this point. We will revisit the program after it is operating.
What is the timeline for the Metro paid parking pilot?
See table below. Please note that these are anticipated dates, and may have adjustments.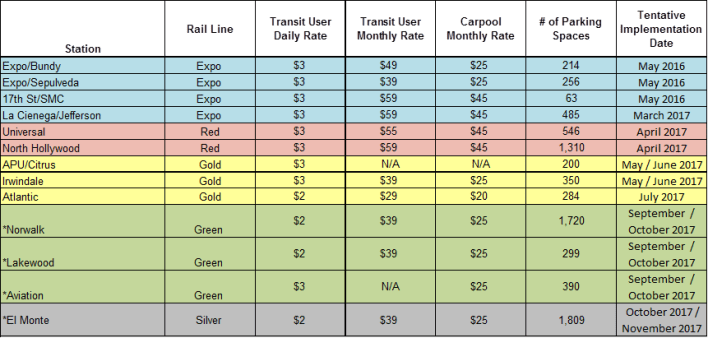 Stay in touch
Sign up for our free newsletter