A Line (Blue Line)
As Metro Prepares to Approve New Policing Contract, A Reminder that Criminalization of Poverty at a Discounted Price is No Bargain
5:25 PM PST on February 22, 2017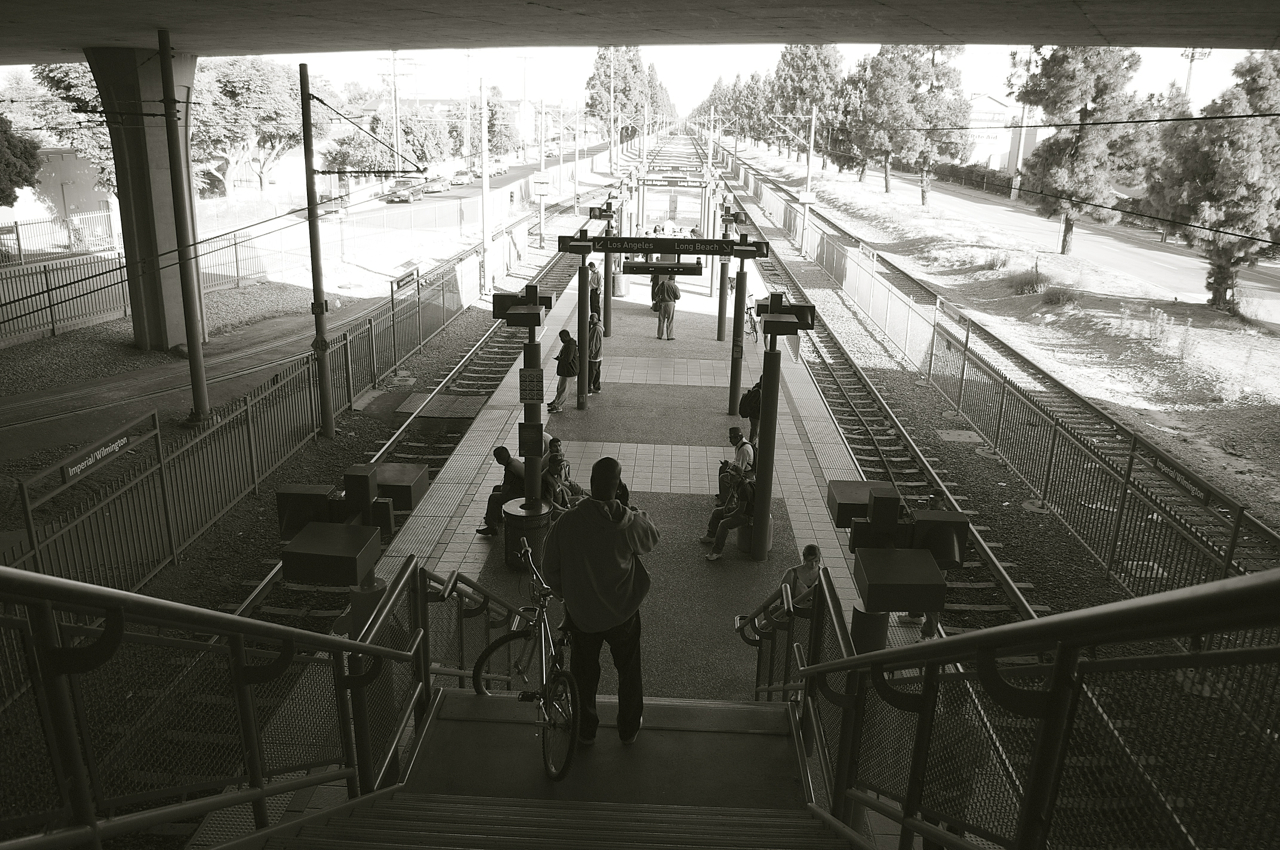 On Thursday, the Metro board is expected to approve a multi-agency contract that would see the L.A. and Long Beach Police Departments take over much of the responsibility of safety and security on transit from the L.A. County Sheriff's Department. As the board prepares for this decision, it seems like a good time to remind both Metro and our law enforcement agencies that the passengers that have the greatest dependence on Metro are the ones who need safe passage the most.
And right now, they're the ones who are least likely to feel like that is what they are getting.
I saw that within the first week of my taking the job as a Streetsblog reporter five years ago. It had started raining hard just as I was leaving Watts, so I hopped on a packed Blue Line train with my bike and headed to the space between cars to try to get out of folks' way.
The car was unusually quiet. Then a white Sheriff's deputy standing behind me spoke up.
What was someone like me doing there? I didn't seem like I belonged in Watts.
A car full of black and brown faces turned and glanced up at me expectantly.
If residents I meet ask me about my background, I'm more than happy to answer.
When an officer asks you that in a packed train he is patrolling, he is saying something about how he sees the people he is supposed to be protecting and serving and it is not particularly flattering to those people.
I answered politely. Which seems to have made him think that he had now found a sympathetic ear.
Loudly and without any sort of inhibition, he began to talk about the young black man he and a few other deputies were taking into custody. They had done a warrant check on him and he had come up dirty.
I stole a glance at the youth who was flanked by three white officers. He was probably no more than 18 or so and, upon hearing mention of his plight, he began staring at his shoes with rather intense fascination.
I nodded slowly and said nothing.
But my new friend wasn't done.
He went on at great length about how he patrolled "his" train, how he kicked off people he thought didn't belong there, how he always knew who was trouble, and how he never took any nonsense from anyone.
Nobody messed with "his" train, he said triumphantly.
Gesturing toward another young black man dressed in all black, wearing a do-rag, and shifting uncomfortably on his feet near the door, the officer announced, "That guy's a drug dealer...When I see him, I always tell him, 'Get off my train.'"
More people began taking an intense fascination in their shoes.
Mercifully, the doors sprang open. The young man locked eyes with me, shrugged, and hopped off.
The sizing up of the rest of the passengers continued for what seemed like an eternity. My new friend had a lot of thoughts about who was a criminal and he wasn't afraid to let those thoughts tumble directly from his brain out the unfiltered front door of his mouth. Nor did he seem to care about who heard them, which was just as well. By this time, people had literally stopped breathing so they could hear what he was saying while trying to make themselves as invisible as possible.
Finally, the moment came for the officers to yank their young charge to his feet and shuffle him off the train.
As the doors closed finally behind the officers, the car erupted. People actually jumped out of their seats.
"Oh my lord in heaven!" exclaimed a woman seated just ahead of me. "Thank God he didn't run a check on me! I got four warrants out!"
Others concurred, expressing gratitude that they had not been targeted, disgust at having gotten confirmation of what they always thought officers were thinking about them and the community, and fear that the officers would come back for more. Still others shared stories of their own unhappy encounters with officers where they felt they had been bullied, disrespected and demeaned, hassled, hit with what they considered bogus tickets, or arrested for resisting arrest and then never charged.
And while you might be inclined to wonder whether it isn't better that the officers are taking folks off the train with outstanding warrants, consider for a moment the range of non-violent offenses (in particular, unpaid citations) that can trigger a warrant.
Then consider the extent to which South Central Los Angeles has historically been overpoliced.
My own efforts to track the harassment of black and brown folks means I hear everything from people getting ticketed for disorderly conduct, to not having lights on their bikes in the middle of the day, to riding their bike on the sidewalk (something that is neither illegal nor something one particular person I know was physically able to have been doing, considering he had just broken his ankle), to littering things that happened to be on the ground as they walked by. More often than not, the tickets seem to be a way to justify the stop, the hassling, and the illegal search that often went along with it. For youth in particular, these tickets are often very upsetting. And if someone is unable to pay, unable to show up in court to contest it, or upset enough to not pay the ticket on principle - all three of which seem to be common among the youth I speak with - then those tickets turn into warrants. Which means that the next time they get stopped for a fare issue or some other infraction, justified or not, and a warrant check is performed, they're in trouble.
Finally, consider how transit-dependent so many of these folks are, and how transit makes them easy pickings.
Data released as part of an inquiry into potential civil rights violations by Metro shows alarmingly high numbers of arrests of young black men. Overall, African Americans comprise about 19 percent of rail ridership, but are nearly 60 percent of those arrested. Back when I had that encounter with the Sheriff's deputy at the end of 2011, that meant that LASD was arresting around 7,000 black people a year, largely along the Blue Line. Arrests have dropped significantly since then (as have citations), but the fact that the percentage of black and brown folks arrested on transit has remained both rather consistent over the years and so disproportionate to their ridership numbers suggests that we're criminalizing poverty.
It also feels like we're criminalizing poverty.
Sheriffs' cars parked at Mariachi Plaza or on the plaza itself at Soto and aggressively chasing away skateboarders, officers timing patrols to coincide with school hours, officers boarding trains at every other stop, and (occasionally) beefy white officers in wacky plainclothes outfits aggressively demanding TAP cards from folks of color - it all feels like criminalization and intimidation.
It also looks like criminalization of poverty: if you've ever seen a black or brown youth stopped for fare evasion, then you've likely seen that youth be treated as if he were a dangerous suspect - asked to face the wall, spread their legs, and submit to a search. Occasionally they're cuffed. On other occasions they're detained for lengthy periods of time. All because they failed to pay a $1.75 fare or committed some other minor infraction.
These kinds of practices serve to confirm the fears of casual riders, particularly those of privilege, that transit is unsafe and many of the people on it are dangerous. Because why else would people be subjected to that kind of treatment if they weren't dangerous?
Unfortunately, discussion of these kinds of practices and their impact on Metro's core ridership seems to have gotten lost in the shuffle. Instead, official conversations around the law enforcement contract have tended to focus on whether Metro was getting its money's worth out of the Sheriffs and the extent to which the multi-agency contract would offer Metro "more security for less dollars," as Metro CEO Phil Washington put it.
Should the multi-agency contract be approved, there will likely be some lag time as the relevant law enforcement agencies shift gears to take on their new responsibilities. I hope that they, along with Metro, will invest some serious time and resources in revisiting what "more security" for all - especially those who rely on Metro most - really looks like during that time.
Because greater criminalization of poverty at a discounted price is not the bargain Metro riders are looking for.
Find the Metro Board agenda and relevant documents for tomorrow's meeting here.
Sahra is Communities Editor for Streetsblog L.A., covering the intersection of mobility with race, class, history, representation, policing, housing, health, culture, community, and access to the public space in Boyle Heights and South Central Los Angeles.
Stay in touch
Sign up for our free newsletter