Bike LA (formerly LACBC)
LACBC's Tamika Butler Honored by Association of Pedestrian and Bicycle Professionals
9:22 AM PDT on August 30, 2016
On Friday, the Los Angeles County Bicycle Coalition (LACBC) announced that Executive Director Tamika Butler will receive the 2016 Professional of the Year - Nonprofit Sector award from the Association of Pedestrian and Bicycle Professionals (APBP). A statement from APBP noted Butler's growing role as a national leader in the movement to create safer, more attractive, and complete streets and a "more inclusive movement at the local, state, and national level."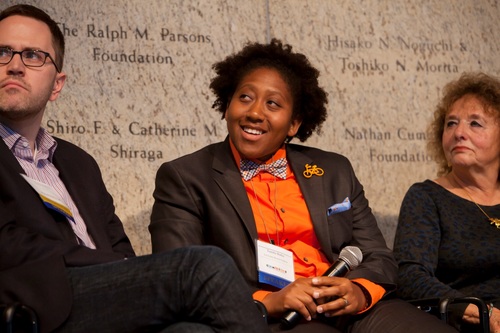 The APBP was particularly enthused by the LACBC's outreach efforts to support the passage of the Mobility Plan 2035, the city's long-term mobility strategy last year.
Jessica Roberts, a planner with Alta Planning who is on the Board of APBP and chaired its awards committee, explained why the work on the local mobility plan is so important to an organization with a national reach.
"Los Angeles and the entire region are really important right now, not just to the many people that live there but as a national example," Roberts explained. "What is in the city's Mobility Plan demonstrates where our nation needs to go, where active transportation is not an after-thought, but a core strategy...LACBC and Tamika are part of writing that important story."
The LACBC has already been honored by the Alliance for Walking and Bicycling for their efforts to start and maintain a dialogue with communities beyond just promoting bicycle infrastructure and road diets. Their efforts have become a sort of national model for bicycle and pedestrian organizations to reach out to communities beyond their more comfortable advocacy circles.
After acknowledging the hard work done by the entire LACBC team, especially policy directors Eric Bruins and current policy and outreach coordinator Hyeran Lee, Butler explained how their work on the Mobility Plan was and is important and ongoing.
While the recent decision by a City Council Committee to remove two important road diet and bicycle lane projects from the plan is disappointing, Butler contends that the Plan, and the process around the Plan, make it a success. What drove their work forward was that people beyond the usual suspects seen at City Council and neighborhood meetings were getting involved in the planning process and speaking out for more equitable and environmentally-friendly transportation designs.
"The huge success was that it wasn't just Streetsblog. It wasn't just the LACBC. The Mobility Plan was on the news and in the Times. A lot of people were talking about it. A lot of people were engaged," she said.
Currently, the LACBC is working to overlay the city's map of dangerous streets that was released as part of its Vision Zero program with the map of infrastructure planned in Mobility 2035. The discussion is ongoing and keeping people engaged is a big part of LACBC's mission.
"If the city wants to pivot and talk about Vision Zero, we're ready to talk about Vision Zero," Butler said.
Butler was also recognized for her growing role as a national leader in the bicycle and pedestrian advocacy fields. In her own words, "There's not a lot of folks who run bicycle coalitions who are queer folks of color." It's a reality that has made her a sort of go-to person to speak on issues of equity and outreach at events and conferences across the country.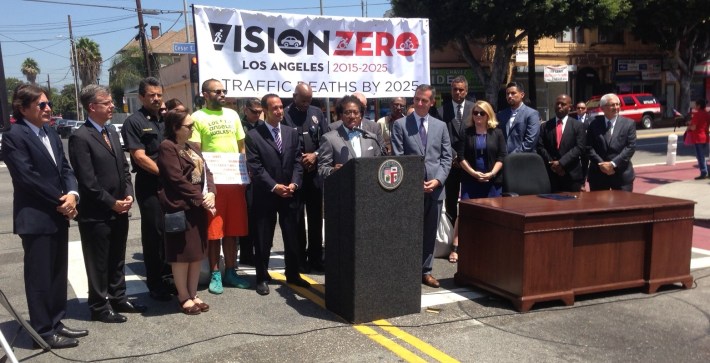 Roberts saw Butler speak at last fall's CalBike Summit in October and referred to Butler as "the conscience of our industry." Butler has made waves at speaking engagements across the state and at national conferences, including the recent one on equity in the bike-share industry held in Philadelphia.
Butler herself is quick to note she is neither the first to talk about equity, nor will she be the last, and that there were many "doing the work and talking equity" well before she moved into mobility issues. Still, her unique positioning as a queer woman of color, her affable personality and sharp wit, and her willingness to use her personal experience to help others understand what it is like to move through space in her shoes make her a powerful communicator on the importance of incorporating equity into mobility planning.
Last year at CalBike, where the theme was centered on equity in mobility, she offered a snapshot of just how often she might be tokenized or be subject to micro-aggressions, often from well-intended people within the mobility space who look to her as their gateway to understanding the position of people of color - all within a single week's time. In detailing these experiences, she hoped to convey to a mostly white audience the extent to which people of color or those who don't conform to gender norms may experience the public space, mobility, and life in a very different way.
That sort of basic understanding is needed if the movement for safer streets for bicyclists and pedestrians can broaden to include the access issues impacting the mobility of residents in lower-income communities of color, including gentrification, displacement, and suppressive or biased policing.
That conversation is still in its early stages, of course. But in the eyes of APBP, it is much further along than it was before the LACBC tapped Butler to be its executive director two years ago.
"Tamika has challenged the pedestrian and bicycle professional community to grapple with the ways that privilege and structural inequality are embedded in our transportation system and our profession," wrote Sarah Fine, a member of the APBP awards committee and a planner with the City of Oakland. "We're all better for it."
Stay in touch
Sign up for our free newsletter