bicycle lanes
Equity Advocates Discuss Needs of "Invisible" Cyclists on HuffPost Live
3:37 PM PST on November 4, 2015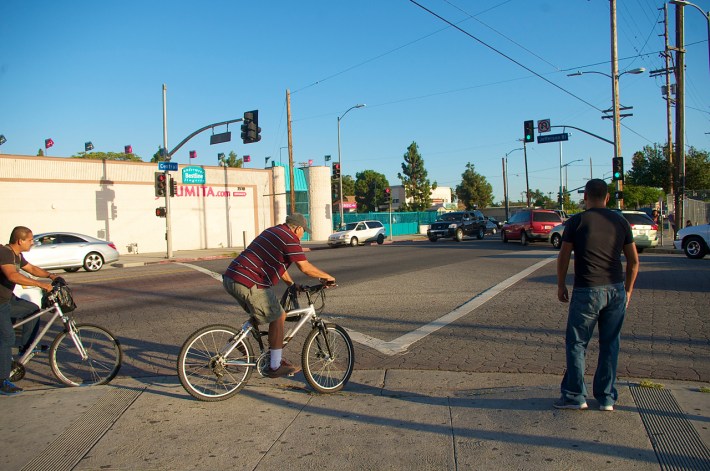 Last week, the Kinder Institute for Urban Research at Rice University published a story declaring that "Most Cyclists Are Working-Class Immigrants, Not Hipsters."
If you spend any time in the streets and/or pay attention to cycling issues, this is something you probably already knew. At least, intuitively. It's been a little harder to substantiate that claim using data, as the article explains, thanks to the way the Census lumps bicycle commuting to work in with motorcycling and taking taxis. The fact that the poor may also combine multiple modes to get from A to B (and C and D, depending on how many jobs or obligations they have) complicates the data. So does the fact that lower-income residents of color, particularly immigrants, are the people least likely to answer Census or other surveys or have habits that fit well into standardized categories.
The fact that the urban hipster persists as the face of cycling despite being the minority, author Andrew Keatts suggests, means that we aren't dedicating enough time or resources to understanding and responding to the unique needs of the "invisible" majority -- the cyclists that have the fewest resources or options at their disposal.
And then an interesting thing happens. Keatts reaches out to Adonia Lugo, former Equity Initiative Manager at the League of American Bicyclists, Sam Ollinger, who heads up Bike San Diego, the L.A.-based group Multicultural Communities for Mobility (MCM), and Watts-based John Jones III of the East Side Riders Bike Club to ask about specific challenges that keep poorer cyclists from being seen, heard, or able to ride safely. He hears about gangs, fears of gentrification, lack of access to reliable transit at off-peak hours, lack of access to reliable bikes and safety equipment (e.g. lights), and the lack of time to participate in city planning processes, among other things.
But instead of broadening the analysis to think about transportation in a more holistic context that accommodates these issues, he seems to try to fit their needs back into a bike-specific box.
He ends the article by paraphrasing his conversation with Geoff Carleton of Traffic Engineers, Inc. (tasked with putting together Houston's bike plan), who he says argues that "there's a formula out there...for increasing bike safety and multi-modal access that fits what each neighborhood wants. In some places it's better infrastructure, but in others, it's finding a balance between safety, education and enforcement."
But what if there isn't a bicycle-specific formula out there?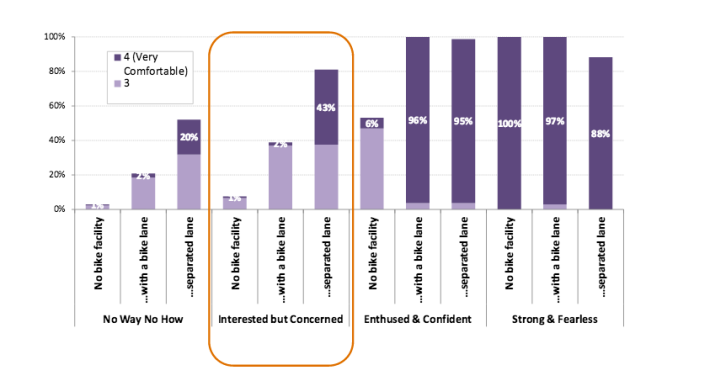 When investigating the potential for bikes to serve as a mode of transportation, we tend to do it in reference to traffic, infrastructure, and subjects who have a variety of mobility options at their disposal.
Not that that is a terrible thing. Advocates working on issues of equity in transportation tend to agree that traffic and infrastructure have a significant impact on how viable an option cycling is, even for those that ride out of necessity.
But they would also argue that those are only two of a number of factors that figure into the equation.
The "formula," if there even is such a thing, is actually complex, multi-layered, responsive to the diverse socio-economic contexts of specific communities, and anchored in broader understandings of mobility, livability, safety, and health.
In a HuffPost Live chat on Monday, Eve Bratman (Assistant Professor, American University), Andres Ramirez Huiztek (MCM), Naomi Doerner, (Advocacy & Membership Director at Alliance for Biking & Walking), and Veon McReynolds (organizer of Houston's Tour de Hood) elaborated on some of the challenges lower-income cyclists of color are up against and hinted at what a more inclusive model might look like.

Bratman spoke of some of the obstacles she has observed, including how gentrification and displacement have impacted the ability of folks to live within a reasonable distance of their jobs, how many working poor have to juggle both multiple jobs and their responsibilities to young children, and how some might be suffering from poor health due to unhealthy environmental and housing conditions. Speaking to questions of safety, insecurity, and education, Ramirez Huiztek and McReyolds discussed the hit-and-runs which disproportionately impact poor cyclists of color, cyclists not knowing how (or having the means) to maintain their bikes, and the uneasy relationship undocumented immigrants have with law enforcement.
With regard to solutions, Doerner spoke of the importance of tapping into the unique "human infrastructure" in these communities. Residents are clamoring to have safer communities, she said, but they want to build their own capacity to take charge of that process rather than have someone else's vision of safety and all that goes with it imposed upon them.
Pointing to MCM, Richmond Spokes, and Red Bike Green, she noted that there were many grassroots groups already connecting with communities that continue to be left out of planning conversations. Using non-traditional approaches to advocacy and engagement, these and other organizations are helping to build much-needed bridges between planners and marginalized communities. They are also hoping to forge stronger, more connected communities that will be better able to advocate on their own behalf in the long run.
In short, the advocates suggest, thinking about cycling in isolation isn't appropriate in lower-income communities of color where the constraints on mobility are multi-layered and cyclists tend to be multi-modal (or live in multi-modal, transit-dependent communities).
It's an observation that certainly holds more than true for the communities I cover here in Los Angeles. Years of disinvestment, disenfranchisement, and discrimination have left the social fabric of many neighborhoods in tatters and put opportunity and upward mobility far out of reach. The resulting insecurity in the public space -- gang activity, harassment by law enforcement, zones of prostitution (in some areas), and the trauma and stress that they generate -- can be a much bigger barrier to cycling or walking than traffic or a lack of infrastructure.
Take, for example, the case of a young man in South L.A. that left the gang he grew up in. To be able to get his high school diploma at a continuation school in Boyle Heights, he found that he had to change up the route he traveled every single day. He couldn't take the same bus more than twice a week or former rivals would know where to look for him. But if he had to walk more than five blocks in any direction to get to a bus stop, he would be too easy to track and too far from a safe place he could run to. He wouldn't have minded riding a bike to school, he said, but it left him too exposed, too vulnerable. Taking the bus was already risky enough. The day he got a car, he said, was the day he was able to breathe easy for the first time.
His case isn't as extreme as it sounds. Young men re-entering the community after a period of incarceration or who are trying to get themselves on a job track after having run with the wrong crowd come up against this issue pretty regularly. And the contested nature of the public space works to keeps a lot of youth -- even the vast majority who want nothing to do with gangs -- from being able to feel it is safe to move around freely.
This is not to say a bike lane or other infrastructure can't be of service to riders already cycling in a community that experiences challenges like these. But making biking, walking, transit, and the public space truly accessible for all requires so much more.
So what does a framework focused on broader and more inclusive understandings of mobility and accessibility entail? It's a topic I've covered from a variety of different angles over the years I've been working in Boyle Heights and South L.A.
Usually, I make my case via the deconstruction of the frames advocates tend to apply to particular issues. But critiquing a frame and offering an alternative paradigm are two very different things -- something that was underscored at the CalBike Summit held in San Diego last week. As the conversation swirled and stuttered its way around Equity in Motion -- the theme of the conference -- the overarching questions many of us were left with ran along the lines of, "What now?" And, "How do we see these insights incorporated into policy/data-gathering and analysis/approaches to community engagement/advocacy work/partnerships/our organization's mission and programming/the stories we tell/the way we talk to each other?"
In the coming weeks, in articles and via podcast, we'll take a closer look at some of the issues raised at the CalBike Summit, explore how they might be channeled into a more inclusive frame, and discuss some of the challenges of doing so.
As a primer to hold you over in the meanwhile, please enjoy the HuffPost Live chat below.
Sahra is Communities Editor for Streetsblog L.A., covering the intersection of mobility with race, class, history, representation, policing, housing, health, culture, community, and access to the public space in Boyle Heights and South Central Los Angeles.
Stay in touch
Sign up for our free newsletter