Eric Garcetti
Lawsuits and Leadership: Where Is Mayor Garcetti On L.A. Mobility?
1:35 PM PDT on September 10, 2015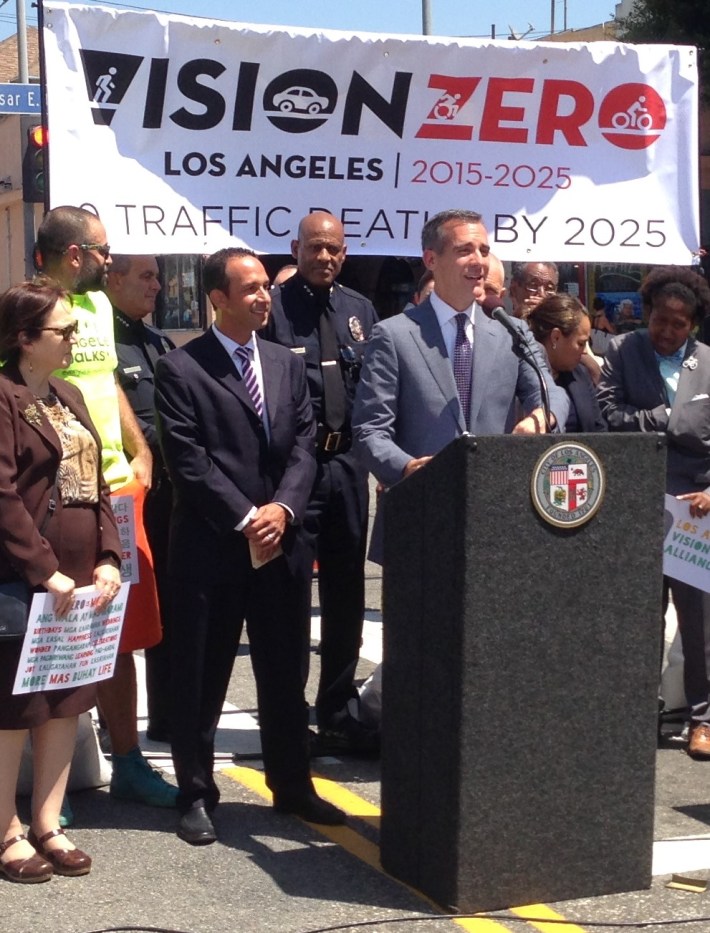 Yesterday, the Orwellian-sounding Fix the City officially announced their lawsuit against the recently approved city of Los Angeles Mobility Plan 2035. The plan, unpopular with those that value car travel time over public safety, is controversial because of provisions that would, in some cases, remove mixed-use travel lanes (car lanes) or car parking to add bus, walk, and bicycle infrastructure, including traffic calming.
Fix the City's lawsuit [PDF] claims that the plan is illegal under the California Environmental Quality Act (CEQA) because removing car lanes will increase car congestion and thus increase vehicle emissions. The lawsuit cherry-picks data from the plan's car-centric environmental studies to make this claim. It cynically takes worst-case-scenario projections and presents them as fact.
In a particularly bald statement, published at MyNewsLA, Fix the City representatives claim that bicyclists are stealing lanes from drivers.
Fix the City Vice President James O'Sullivan said the city acted as a "social engineer" when approving the mobility plan.

"They want to make driving our cars unbearable by stealing traffic lanes from us on major streets and giving those stolen lanes to bike riders and buses," O'Sullivan said.

"Don't get me wrong — I love bike riders and buses," he said. "But not all of us — in fact, very few of us — have the luxury of being able to ride to work on a bike or bus. We rely on our cars. If there were meaningful options to car travel that would be another matter. But there aren't."
Never mind that continuing nearly a century of wholesale investment in car infrastructure would also be "social engineering."
What's sad is just how put-out these 100 percent "rely on our cars" drivers tend to be. Why are they not grateful that they have been catered to for so long, and that Mobility Plan 2035 continues to favor expansion of car facilities, too, on its Vehicle Enhanced Network and plenty of widened streets?
While the lawsuit might sound somewhat like a parody, the funding behind it come from long-time foes of increasing the city's transportation options from the Westside and people who successfully fought the Hollywood Plan.
These are well-heeled culture warriors, and they clearly don't back down from a fight.
While the city prepares to defend its progressive mobility plan, it is also preparing a legal defense against a lawsuit challenging its retrograde redesign of the Glendale-Hyperion Bridge. For those just joining us, community members filed a lawsuit against the bridge redesign because the new bridge would not have sidewalks needed to make the bridge accessible to all road users.
And this is where the city finds itself, in large part because it can't seem to make up its mind about what kind of city it wants to be.
On one hand, you have Mayor Eric Garcetti and LADOT General Manager Seleta Reynolds out in the sun declaring a plan to reduce transportation related deaths to zero by 2025.
On the other, you have the Bureau of Engineering, with the support of Councilmember Mitch O'Farrell and Former Councilmember Tom LaBonge, arguing that a road diet on the bridge is untenable because of the possible unproven impacts it might have on car congestion, despite the safety concerns of the approved design. You have a trio of Councilmembers working to gut the Great Streets Initiative in their districts by taking road diets and bike lanes off the table, and even trying to get them removed from the Mobility Plan.
The filing of the lawsuit by Fix the City appears to be bad news for Angelenos interested in seeing Los Angeles become a safer, more equitable, more livable place - with more robust transportation options and safer streets.
However, it doesn't need to be.
Instead, it could be a wake-up-call to Mayor Garcetti. If he allows city departments to ignore his transportation vision and allows Councilmembers to try and carve his Mobility Plan and signature Great Streets Initiative without saying a word, he undercuts the work that others are doing to implement his vision. When we say others, we are including not just the activists who have devoted their lives and careers to what many believed a shared vision of a safe, robust, transportation system, but also leaders that he brought to L.A. from Denver and the Bay Area to steer key government agencies.
The dueling lawsuits show that there no sitting on the fence. It is a critical time to truly favor a safe and diverse transportation system, even at the marginal expense of the desires of car commuters to be able to speed through local streets. It may be past time for Garcetti to take a stand, because the vacuum left by his silence leaves all eyes focused on judges and lawyers instead of the leaders that we've elected.
Stay in touch
Sign up for our free newsletter