co-ops
East Side Riders' Dreams of a Bike Co-op Finally Materializing in Watts
12:32 PM PDT on July 21, 2015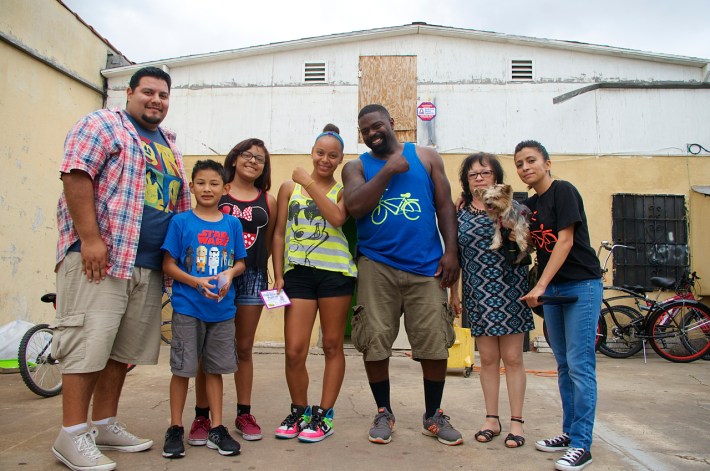 It may have been a hot and sticky Sunday afternoon, but it didn't keep the East Side Riders from firing up the grill and cooking for the community in front of their new bike co-op on Central Ave. in Watts.
Feeding the community is something they have done since launching the club several years ago. In those days, they would make sandwiches and hand them out to folks in need as they rode. As the club grew, they expanded their community service efforts to include promoting health and safe streets, encouraging black and brown unity, raising awareness around the need for justice in cases of hit-and-runs, building and fixing bikes for free for kids in the community, sponsoring families at Christmas, and, along with Los Ryderz Bike Club, serving as rolling ambassadors of positivity and change for Watts and the larger South L.A. community.
So far, they have managed to do all this out of their own pockets and without having a permanent home. In the early days, the club was run out of members' garages. Then, the Watts Labor Community Action Committee (WLCAC) gave them space to store their bikes, meet up, and launch their rides. But they still wanted something of their own -- a place they could adapt to meet community needs.
They finally settled on a new site at 113th and Central, a few blocks down the street from the WLCAC. It's also across the street from Nickerson Gardens, the largest public housing development west of the Mississippi. While that might be intimidating for some, the East Side Riders think they're right where they need to be.
Touring me through the freshly-painted structure, club member Ervin "EJ" Bromell, Jr., pulled out his Gangfree certification card -- youth mentorship is his passion and he is hoping to carve out space at the co-op where kids can come by to hang out, do homework, be around positive role models, and learn marketable skills.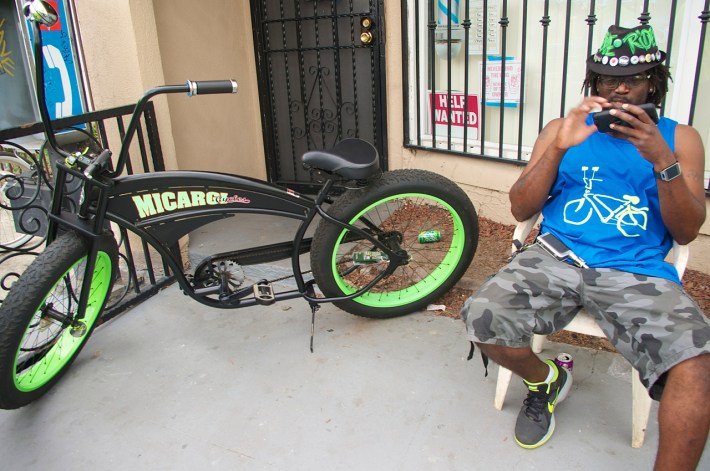 I stole a glance at founder John Jones III while he surveyed the space.
He looked excited and proud that the club had gotten this far, but also a little overwhelmed. They had been working on getting a space for about two years. And now that they had one, there was still much to be done.
Prior to Sunday's soft opening celebration, the members had spent long nights tearing up the tile, buffing the floor, and painting the walls. A nice saleswoman at Home Depot had helped out by giving them discounts on paint, but the charges were starting to add up. The first and last months' rent came to $1400. Because it was a commercial property, setting up electricity and water with DWP entailed a $600 deposit. Paint ended up costing about $400. An alarm system costs another few hundred. They're not sure how much wi-fi is going to cost. And they want to keep feeding the community on a monthly basis, host bike-in movie nights, and put art on the walls.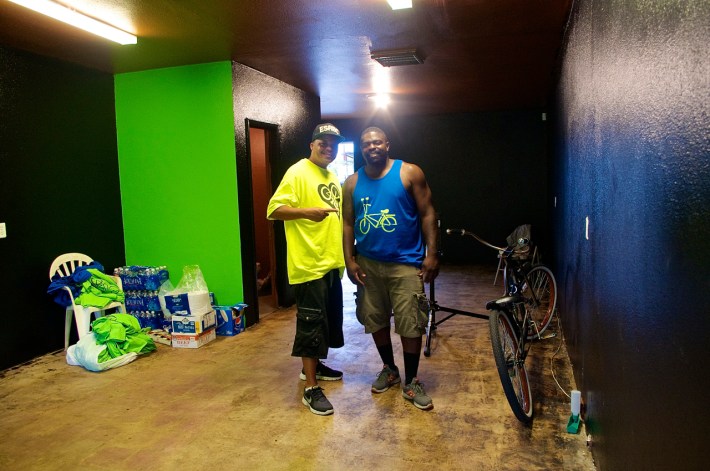 "It's a lot," I said to Jones.
He agreed, saying they weren't exactly sure where they were going to come up with the $800 or $900 they would need every month to pay the bills. But it was what they wanted. The goal of the club, he explained, had always been to help members harness their talents to give back. Whether it was Bromell's ability to mentor, Fred Buggs, Sr.'s extraordinary ability to build or fix any bike known to man, or Jones' own ability to bring people together, inspire them to give of themselves, and teach them to see their community in new ways, the club was intended to be a vehicle for them to put their talents into practice.
Having a space of their own would help them do just that.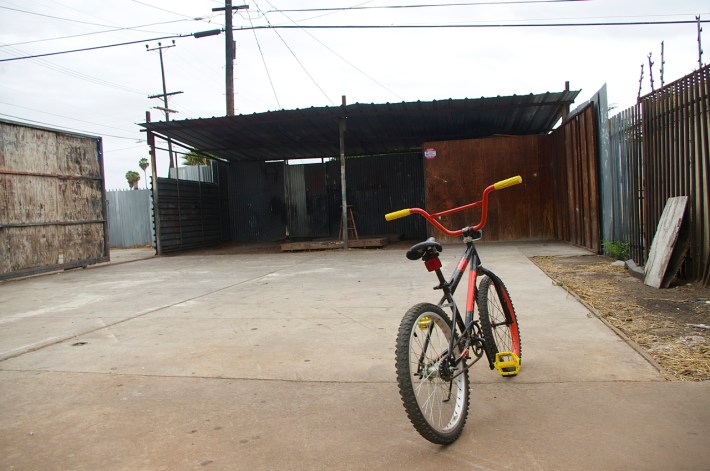 "I know," I said again, "but it's a lot..."
He laughed and nodded, saying that it was. But that people were stepping up just when he needed them.
Staff and faculty at Cal State Dominguez Hills, for example, had been so inspired by the work he was doing that they had set up a GoFundMe page for the club and asked if they could help out by sending students over to volunteer and work in the community. Someone else from Metro had mentioned trying to help get them first-mile/last-mile funds. And they were going to have a commercial component to the co-op as well, where they could sell custom bikes and basics like tubes or patch kits.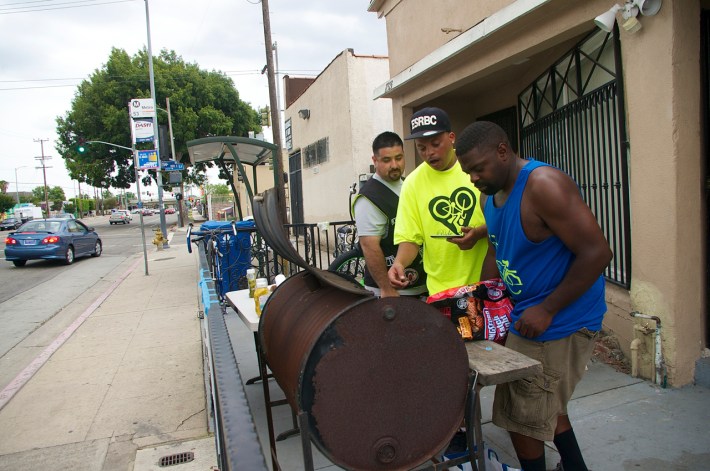 He had faith, Jones said, that it would work out.
In his mind, they don't have a choice but to make it work -- the community needs the space.
* * *
John Jones III is our Civil Servant Streetsie winner this year. We are currently thinking about hosting a ride to the co-op site and BBQ/community party. We'll have more details once we've hammered them out. In the meanwhile, check out this short video that highlights some of the work that Jones and his club do in the community or visit their fundraising page, here.
Sahra is Communities Editor for Streetsblog L.A., covering the intersection of mobility with race, class, history, representation, policing, housing, health, culture, community, and access to the public space in Boyle Heights and South Central Los Angeles.
Stay in touch
Sign up for our free newsletter