CicLAvia
Activist Profile: Tafarai Bayne
8:40 AM PDT on June 9, 2015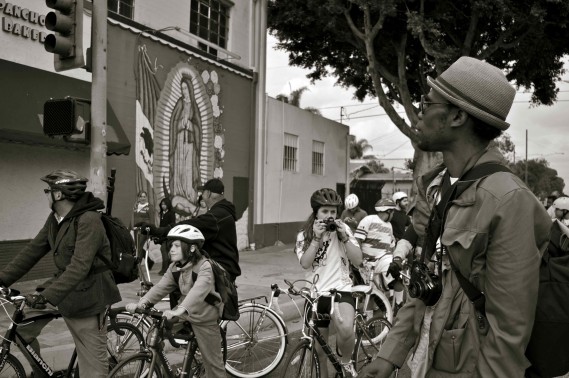 South L.A. community organizer and streets advocate extraordinaire Tafarai Bayne was often seen exploring the vast landscape of Los Angeles on "The Flash," his recently retired bicycle.
Despite The Flash's retirement, Bayne's passion for the cycling community remains a prevalent aspect in his work.
On December 7th, 2014, Bayne was joined by tens of thousands of Angelenos as CicLAvia cycled through South L.A. neighborhoods, from Leimert Park to Central Avenue via Martin Luther King, Jr., Boulevard.
CicLAvia's South L.A. route was a monumental event for multiple reasons: not only was it the first CicLAvia held through and for South L.A. communities, it was also the first route that Bayne had a strong hand in planning and executing after helping plan the event in previous years.
"The route in December was the culmination of years of work that I and some good friends/allies started in 2010 after I got the chance to attend the first CicLAvia," wrote Bayne.
In association with TRUST South L.A., Bayne approached Joe Linton, then an organizer for CicLAvia (and currently the editor of Streetsblog Los Angeles). Despite Linton's warnings of a lengthy planning process (written about by Streetsblog L.A.'s Sahra Sulaiman here) -- one that ultimately lasted about four years -- Bayne was determined to bring the cycling event to his community.
His interest in elevating communities like South L.A. had begun at an early age.
Born in Watts, Bayne was raised in the city's Crenshaw District. As a student at Downtown Business Magnet, he often found himself navigating Los Angeles on city buses to get to classes held in downtown spaces. He credits the combination of his upbringing and the commutes that allowed him to experience the ambiance of multiple neighborhoods with giving him a lens to think critically about his city and the number of ways in which communities like South L.A. were often overlooked.
It was teacher-turned-UTLA secretary, Daniel Barnhart, that helped him think about how to channel his passion for social justice and the advancement of his community into advocacy.
"I was introduced by [Barnhart] to the idea of advocacy and community organizing," said Bayne. "He's an organizer for the teachers' union now, but at the time he was going to the [1999 World Trade Organization] protests in Seattle. He'd come back and show us his gas masks and talk [to us] about challenging what people were perceiving as unjust, unfair laws. People weren't getting a say on how things were being decided or on the impacts they were feeling. This really got me thinking about engaging in Los Angeles."
Now attuned to the significance of public policy, Bayne didn't wait long to test out what he'd learned. After graduating high school, he volunteered at the "Convergence Center" at the 2000 Democratic National Convention -- the gathering site for protesters and community organizers from around the country. He then went on to intern with Public Allies. It was through this internship that Bayne was placed at Strategic Actions for a Just Economy (SAJE), where he was brought on board, first, as an intern and then as full-time staff. Bayne later found himself returning to Public Allies and, finally, spending seven years working at TRUST South L.A., an organization that addresses affordable housing (and, more recently, mobility) challenges in South L.A., and shifting his attention toward urban planning.
"The first time I ever thought about urban planning was having my boss at [SAJE] talking about urban planning in context [with] community organizing and affordable development practices in working class communities," said Bayne.
At both SAJE and TRUST, Bayne became more involved in discussions of gentrification and displacement in South L.A., particularly in the areas surrounding the Staples Center and the University of Southern California.
"We really tried to develop policies to challenge these [gentrifying] practices...I was working on community benefit agreements, looking at displacement-free zones, and looking at creating spaces for working-class people in the context of big investment and development," said Bayne.
It was an important moment to be doing so.
The city is at a critical development crossroads, he explained. As soon as investments arrive in a community in the form of more housing, improvements to parks, bike lanes, etc., the "walk score" tends to go up, the community becomes more desirable, and, suddenly, the very people those improvements had been made for could no longer afford to live there and enjoy them.
"Those dynamics are the crux of our problems right now," he said.
Cycles of investment and disinvestment, flight from and return to urban centers, effectively results in socio-economic segregation, he argued. And, he believes, it has negative consequences for the city as a whole.
"This polarization is a problem -- this idea that it is either a rich neighborhood or a poor neighborhood [...] It doesn't make any sense. It doesn't make for holistic living. It doesn't make for a real city at all."
"Our policy should be informed by these things," he said, returning to the question of how to address the de facto segregation that can result from investment in lower-income communities. "We don't have enough policy that deals with these things directly. We need displacement-free zones. We need [...] policies that protect and give residents stability in their housing, even while things are changing around them, so they can also change with those things."
The Los Angeles he envisions is comprised of fun, healthy, culturally vibrant mixed-income communities where well-to-do and lower-income residents alike would be able to live, work, and play together.
This is easier said than done, Bayne acknowledged, requiring responsive policy on the part of the city.
Some of the policy needs are pretty straightforward.
South L.A. has older infrastructure and not enough in the way of specific plans to dictate how new construction should impact a community's streets.
And while the city planning department's effort to hammer out a Community Plan Implementation Overlay (CPIO) tool is a step in the right direction, it's too late to fix the sidewalks around a new elementary school, where the lack of curb cuts and proper sewer drainage can make navigating the entrance to the school a challenge for those on foot or on bikes.
"Half of the sidewalks in Los Angeles don't have ramps. If you have a wheelchair, you have to either find a down ramp and [roll] onto a driveway, go onto the street, roll yourself down the curb. Access and ability are the nexus of the challenges behind building an inclusive community," Bayne said.
Some of the policy needs are more complicated and require both that planners have an understanding of the unique challenges South L.A. residents face and that the residents of South L.A. be seen as partners in and potential drivers of the process of community transformation.
Part of that process entails South L.A. residents feeling like they have ownership of their own community, particularly the public space, Bayne argued.
Because of safety issues and a poor relationship with law enforcement, residents may isolate themselves from their neighbors and be wary of efforts to build community. For youth of color, those dynamics result in limited access to public space. So much so that they often have no choice but to treat private spaces -- malls, movie theaters, etc. -- as de facto public spaces.
"As a black man, I have definitely always felt the challenge of public space. [...] When you go into neighborhoods like South L.A., that don't have very many parks, recreation centers, private spaces become public spaces and [they are] highly controlled." said Bayne.
By which he means they can be easily closed off to "undesirable" patrons. Bayne himself recalled how it was not unusual for the bad behavior of one or two youth to result in the branding of all youth of color as potential troublemakers. Barred from entry at such sites, Bayne and his friends would have to look elsewhere for a safe place to hang out after school.
It's one of the many reasons why he believes a welcoming public space is so important.
And probably one of the reasons that bicycling has turned out to be such an effective way to break down some of these barriers and reclaim previously-less-welcoming public space for the community.
Using his bike as an organizing tool, the conversations he helped launch in the South L.A. community around mobility gave a much-needed boost to the nascent bike movement there, bringing together groups from a wide range of neighborhoods around the common goals of not only reclaiming, but showcasing, South L.A. streets.
It also played a role in changing perceptions around cycling in South L.A.
"Even in our own community, black and brown folk will look at other people of color who cycle and think, 'Oh, you must be a failure. You don't have a license, you can't afford gas.' There are people who bike because they've had their license taken away, but that's not the whole population. This skew[ed] perception [had become] the norm," said Bayne.
It didn't help that there was a lack of representation within the mainstream cycling community -- a culture often embodied by a white, able-bodied male, he noted. The lack of awareness regarding the existence of a South L.A. bike culture has, in part, meant that the many specific challenges faced by African-American and Latino cyclists and their infrastructure needs remain largely unaddressed.
Dismantling preconceived notions about South L.A., he said, is crucial for reclaiming space.
Recently, Bayne has taken a new step forward in that direction. Frustrated by the extent to which innovation in non-profit work could be stifled by funders dictates about how problems should be solved, he (together with other advocate friends) launched the EMH Creative Group. He was also appointed to the Board of Transportation Commissioners, and actively consults and collaborates with a wide range of organizations, including pedestrian advocates Los Angeles Walks.
Even with all of this, Bayne is adamant that he is an advocate for the entire city. Having lived in a number of neighborhoods and befriended people from across the city, he is aware that the issues South L.A. faces manifest in different ways around Los Angeles. The affordability concerns he faces are the same ones friends are facing in their neighborhoods. It is becoming increasingly difficult, he said, for many of them to be able to stay where they are.
"I have aspirations, and I have hope," he said with regard to his goal of crafting that more holistic city he envisions. "But we have a lot of work to do."
Stay in touch
Sign up for our free newsletter