fracking
Residents Plan to Oppose Expanded Drilling at Jefferson-Budlong Site at Zoning Hearing Today
11:31 AM PST on November 25, 2014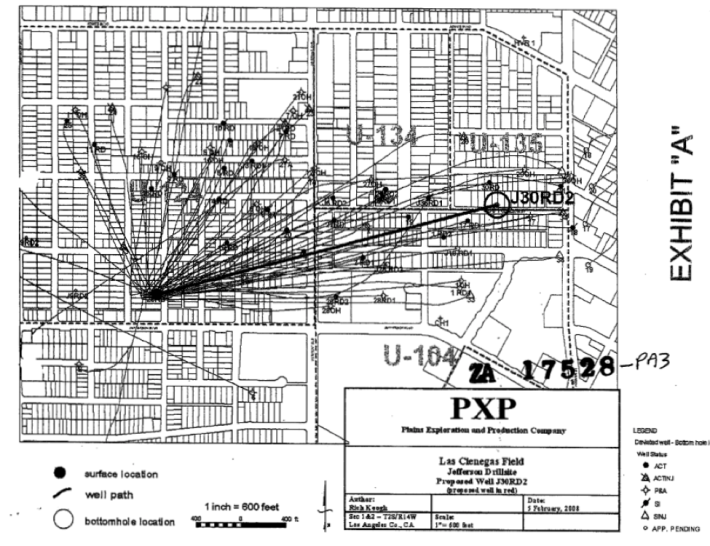 Over the course of a lengthy conversation yesterday, Rizgar Ghazi, head of permitting at the Department of Toxic Substances Control (DTSC), explained that part of the delay on the decision regarding embattled lead-acid battery recycler Exide's petition for a formal operating permit was that Exide had to first draft an Environmental Impact Report (EIR).
The months it would take for both the EIR to be drafted and reviewed and for the DTSC to conduct painstaking inspections of the plant, he assured me, would help ensure that Exide was in compliance with CEQA (California Environmental Quality Act) and that the risk to surrounding communities would (finally) be minimized.
Contrast this highly flawed (particularly in the case of Exide, which has operated for over a decade on an interim permit) but somewhat transparent process with the one that guides permitting for oil drilling and well stimulation.
As the many concerned West Adams residents who will be on hand at 1 p.m. today to protest Freeport-McMoRan's (FMOG) quest for a CEQA exemption from the City Zoning Administrator to expand operations at their Jefferson and Budlong site already know, the cards are very much stacked in favor of the operators. The residents vehemently disagree with FMOG's declaration that drilling one new well and re-drilling two existing wells will not "have a significant effect on the environment" and do not wish to have any more wells added to the eleven already in operation on site, all of which also were exempt from CEQA.
For the uninitiated, the purpose of CEQA is (among other things) to alert the public to the significant environmental effects of a proposed project and prevent or minimize damage to the environment via development of project alternatives, mitigation measures, and mitigation monitoring. Until last year, even the implementation of some bicycle lanes required the drafting of an EIR and a lengthy public process.
In the case of oil drilling, however, as long as the applicant is in compliance with the "authorized activities" previously approved for a site, operators can generally forego the public hearing or EIR process in favor of an administrative review process. Because the drilling of new wells is not seen as a change to the land use or a modification to pre-existing entitlements, a review process is not triggered. And this remains true regardless of the technique (fracking, acidization, etc.) utilized, the thousands of pounds of acids and other hazardous materials/waste that must be trucked in and out of a site and through communities, the pollution generated by the hundreds of trucks that transport the water and other materials, the (potentially contaminated) dust that gets kicked up on site, the land that must be cleared, the millions of gallons of water contaminated in the process, the number of times a well must be fractured to complete drilling, or the potential for earthquakes as a result of drilling.
And while it is true that the majority of oil districts were established well before CEQA was even a twinkle in environmentalists' eyes, drilling operators, oil and gas lobbyists, the Department of Conservation's (DoC) regulatory agency, the Division of Oil, Gas, and Geothermal Resources (DOGGR), and even the state have continued to work actively to guard the right of operators to remain exempt from it.
Arguing in 2012 that, "We are not required to be told" where fracking was occurring and claiming their mandate was only to monitor well integrity, DOGGR doggedly did their best to remain ignorant of both the specific locations of wells and the techniques operators used by not requiring reporting beyond well pressure tests.
They were aided in their efforts by Governor Jerry Brown, who fired Elena Miller (who reviewed drilling permits at DOGGR) and Derek Chernow (acting director of the DoC) in 2011 for slowing down the permitting process and suggesting that fracking operations should be subjected to CEQA.
Last year's signing into law of Senate Bill 4 (SB 4) marked a highly imperfect but significant first step forward in regulating unconventional oil and gas drilling practices in California. DOGGR was finally tasked with defining a range of unconventional drilling practices (and related terms) and adopting rules and regulations specific to those practices that operators must be able to comply with to receive a permit to drill.
SB 4 also ordered the state to conduct an EIR pursuant to CEQA, analyzing the effects of hydraulic fracturing statewide by July 15, 2015 (DOGGR's broad Notice of Preparation under CEQA can be found here).
The bill has done some good. As of January, 2014, corporations are required to inform DOGGR of the techniques and chemicals used in their extraction operations within 60 days of the completion of the work. Watered-down versions of the information (to protect trade secrets) are available to the public and the data will be used to evaluate the risks of fracking so that further appropriate regulation may be crafted next year.
Also helpful has been the Air Quality Management District's (AQMD) Rule 1148.2 (adopted last year) which requires that corporations notify the AQMD between 10 days and 24 hours before drilling, reworking, or completion of wells using gravel-packing, fracking, or acidizing techniques. The objective is to be able to notify the public (see database here) of operations in their communities and to ensure that the appropriate air quality monitoring can take place. While air monitoring itself can be fraught with problems around sites like the Inglewood Oil Field in Baldwin Hills, where the placement and type of monitor can impact what is detected, the notice at least ensures that someone knows when and where drilling will be happening.
But neither the legislation nor the (recently stalled) "fracking moratorium" passed by City Council earlier this year have managed to give concerned residents even a modicum of control over what happens in their neighborhoods and beneath their homes. And that knowledge has left them deeply unsettled, as Molly Peterson notes in her excellent story for KPCC.
So, they will gather today at City Hall to ask the Zoning Administrator to deny FMOG the exemption they seek.
If you'd like to join them, you can attend the hearing at City Hall (200 North Spring Street, Room 1020) at 1 p.m. today.
Sahra is Communities Editor for Streetsblog L.A., covering the intersection of mobility with race, class, history, representation, policing, housing, health, culture, community, and access to the public space in Boyle Heights and South Central Los Angeles.
Stay in touch
Sign up for our free newsletter