Eastside
Metro Postpones Approving ENA for Mariachi Plaza, Gets Blasted for Having it on Agenda in First Place
8:19 PM PST on November 13, 2014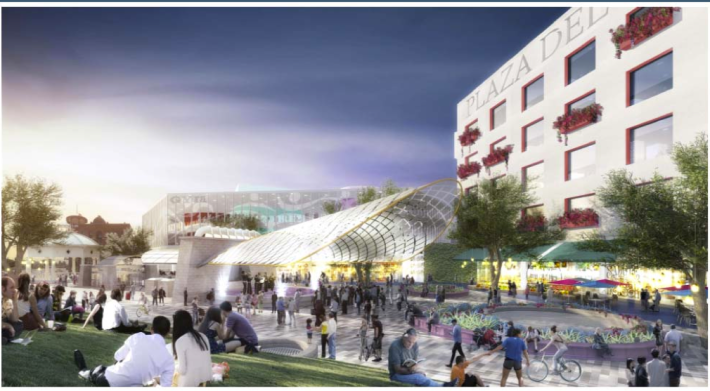 "Injustice. [...] Lack of accountability. Lack of outreach in our community," a frustrated Teresa Marquez, president of the Boyle Heights Stakeholders Association, told the Metro Board of Directors this morning. "Nobody's talking to us!"
She was right.
Metro had apparently reneged on promises in 2012 that, "prior to seeking Metro Board approval [for a project at Mariachi Plaza], staff will be conducting a meeting to update the community regarding the development site."
Instead, only a handful of people were made aware of the plans for an 8-story parking garage with medical offices and a 3-story retail and fitness center adjacent to the plaza, the motion before the Planning Committee last Tuesday to grant developer Primestor an 18-month Exclusive Negotiation Agreement and Planning Document (ENA) for the site, or the motions to grant ENAs to two other affordable housing projects slated for Cesar Chavez/Soto and 1st/Soto.
The firestorm the Mariachi Plaza plans and the lack of community outreach ignited (not even the neighborhood councils had been advised of the plans) prompted the Board to pull the item and the two linked to affordable housing from the consent agenda. All three were postponed until February of 2015 in order to give the developers time to engage the community in the planning process. *(The extension of the ENA for the 1st/Lorena site, which some hoped to also see postponed, was granted to A Community of Friends.)
It was a move that Primestor CEO and Co-founder Arturo Sneider said he applauded.
During the public comment period, he spoke of Metro's Request for Proposals (RFP) process as keeping them from being able to do extensive community engagement.
Although Metro had released the RFP almost a year ago, Primestor could do no outreach during the "blackout period" while its proposal was being considered. And since Metro had only conducted the final interviews in September and decided upon the winning proposals some time after that, there really had been no time for a community process. (The same had been true with the proposals for housing at 1st/Soto and Cesar Chavez/Soto)
Sneider reassured Metro that Primestor was committed to community engagement and local hiring, and was looking forward to beginning that process.
It was not enough to reassure those present to protest the project. While they were pleased that Metro had (finally) listened to the community, they were frustrated at their sense they were never seen as a partner in development and that their voices only tended to be heard when there was a massive outcry in the eleventh hour.
Many of the speakers wanted to make it clear that community engagement was not only important for a productive planning process, but also essential to ensure that current residents would be able to reap the benefits of any investments in the area.
One gentleman declared he was "appalled" at Metro's failure to create an advisory committee for the project at Mariachi Plaza and its consistent shutting out of his community from discussions about "what [Boyle Heights] could become." People were eager to be part of that conversation, he argued, and making them a part of it would result in a "win-win situation" for everybody.
When there is some mystery around development, agreed Boyle Heights Neighborhood Councilmember (BHNC) Mynor Godoy, it never ends well for the community.
Foregoing outreach and relying on data to make decisions about what Boyle Heights needed, concluded planning student Edber Macedo, would not work either. Planning needed to be inclusive and community-driven to be successful.
The belief that respect for the community and inclusivity were paramount underlay comments from a number of speakers that took the Board, Metro, and even Mayor Eric Garcetti to task for the costs they felt they had incurred when the Gold Line was pushed through.
A business owner from Chinatown spoke of how the train and the focus on large-scale transit-oriented development projects had hurt long-standing small businesses in his community. He warned those in Boyle Heights the same could happen to them and asked that Metro find ways to make development benefit the local entrepreneurs.
Railing against housing and a grocery store that had been demolished to make way for the train, resident Imelda Alvarez said in Spanish, You must return what you took [from us].
Carmen Fuentes agreed, saying, "[Housing and grocery markets] are the things that we need. Metro has a responsibility to bring those things back."
What they did not need, Fuentes, Alvarez, and a chorus of residents that had come to support affordable housing and transit-oriented development believed, was for both Garcetti and Metro to "contradict [themselves]" and "go against your own transit goals" by potentially allowing for a retail and parking structure project -- especially one that did not fit the community's needs -- to go forward.
If you were going to support parking, Alvarez asked, why did you build the train?
But perhaps the most poignant testimony came from Arturo Ramirez, head of the Organization of United Mariachis of Los Angeles, who feared mariachis would soon find themselves unwelcome at Mariachi Plaza.
Speaking in Spanish he said that, while stakeholders had been told Primestor had designed their project to both enhance the plaza and help the mariachis, We were not told how that was supposed to happen.
Demolishing the buildings hosting small businesses and important community murals, he felt, could not possibly result in anything other than the loss of what he called the "cultural beauty" of the area. And the time that it took complete construction could result in a significant loss of revenue for the mariachis, just as the construction of the Metro Line had.
Worse still, he worried, the new retailers might see the mariachis as a nuisance, resulting in their displacement from the very place that had long been defined by their presence.
"A change of that magnitude [at Mariachi Plaza]," concluded resident Leticia Andrade, following on Ramirez' comments, "will change the community."
* * * *
Following the meeting, a representative of Primestor let community members know that their outreach process around the Mariachi Plaza project would begin soon. Details on the meetings slated for that and the housing projects at 1st/Soto, 1st/Lorena, and Cesar Chavez/Soto will be posted as soon as they are available.
Sahra is Communities Editor for Streetsblog L.A., covering the intersection of mobility with race, class, history, representation, policing, housing, health, culture, community, and access to the public space in Boyle Heights and South Central Los Angeles.
Stay in touch
Sign up for our free newsletter