BRT
Guest Editorial: Dreaming Big About Rail Lines, Grand Boulevards, Bus Rapid Transit and Measure R2
3:00 PM PDT on August 20, 2014
(Move LA's mission is to build a broad constituency that will advocate for the development of a comprehensive, diverse, robust, clean and financially sound public transportation system for Los Angeles County. Denny Zane is the executive director. Gloria Ohland is the policy and communications director.)
More and more people — from elected officials to bike and pedestrian advocates — are talking about projects that could be funded if a transportation sales tax measure is put on the November 2016 ballot.
Most recently, for example, Los Angeles City Councilmember Paul Krekorian stood in front of the TV cameras with a host of heavy-hitting transportation leaders from San Fernando Valley to advocate conversion of the super-successful Orange Line to light rail, and an extension to Bob Hope Airport, then Glendale, then Pasadena.
Other cities and their councils of government are dreaming big as well.
It's all possible if voters have the opportunity to approve the right measure. Move LA is using a "strawman" proposal of funding ideas to gin up a "let's dream big" conversation about the sales tax, which some are fondly calling "Measure R2" in acknowledgment of its predecessor — the Measure R half-cent sales tax approved by voters in 2008 that is building the five new rail lines underway now.
The proposed 45-year half-cent sales tax "strawman" could generate $90 billion for transportation. The centerpiece is, as it was in Measure R1, significant expansion of the rail system. But we have another favorite in our strawman proposal — a transformational "Grand Boulevards" program. We propose taking 5-10 percent of the $90 billion for cities and councils of governments to invest in reviving and reinventing several-mile, multi-community-long stretches of maybe 15-20 arterials around L.A. County as transit-oriented boulevards that promote economic development as they pass through more than one community.
This money could fund both conventional and sustainable transportation improvements, from repaving and signal synchronization to clean, green, cool, and complete streets with more bus service,  better bus stops with real time arrival info, and wider sidewalks and bike lanes. It could fund landscaping and other community improvements that would make the boulevards appealing places on which to live and shop, and there would be incentives for transit-supportive mixed-use community development. Funding it could help leverage and implement L.A. Mayor Garcetti's Great Streets program!
It's important to remember that this is a transportation sales tax and must be used for transportation purposes. But what if 30 percent, a significant share of the funding in the Grand Boulevards program, were set aside in a competitive pot for cities willing to promote transit ridership by permitting moderate-density mixed-use transit-oriented development (TOD) along these grand boulevards?
This extra funding for transportation projects could be made available to those cities willing to permit apartments over shops and other housing that's affordable and appealing for young people, aging Baby Boomers and others who want to be able to live without a car — and who can do that because it's easy to walk and bike and take transit instead.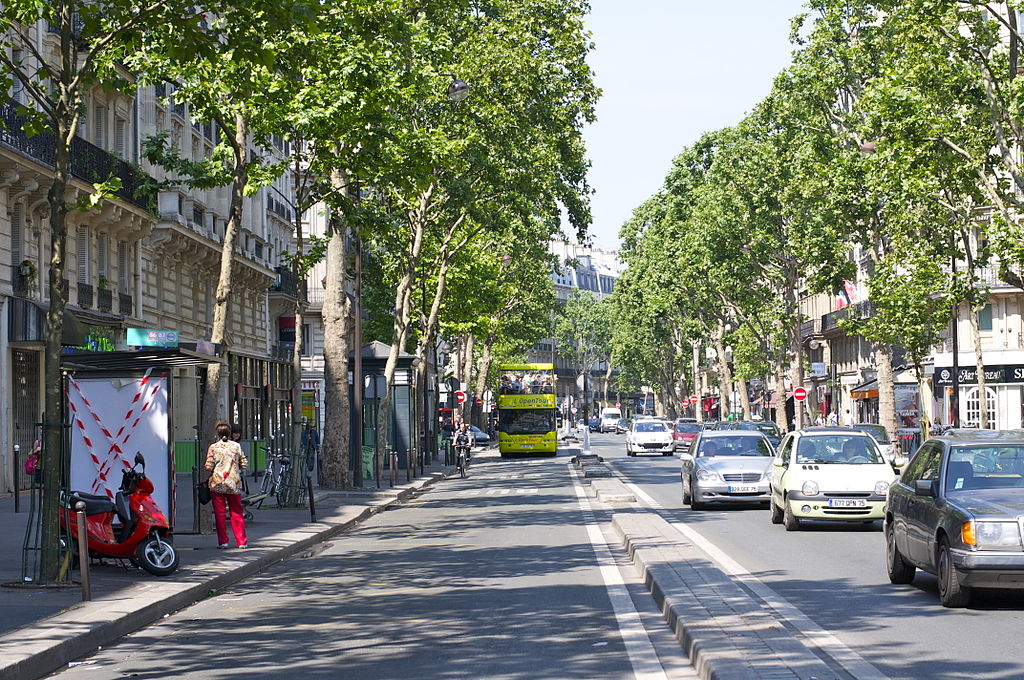 Perhaps the 25 percent of the set-aside funding could also provide an incentive to those cities willing to further reduce the need to own an automobile by adding shared-use mobility hubs that offer car-, ride- and bike-sharing services. Together with bike lanes and wider sidewalks these improvements could provide the first-mile last-mile connections into neighborhoods that will make Los Angeles County truly transit-oriented.
Imagine stretches of Pico, Venice, Colorado, Artesia, Lankershim, Hawthorne, or Foothill — this funding program could target communities that won't see development of new rail lines — dressed up as "grand boulevards." There wouldn't be the intensity of activity and development that occurs around rail stops, which are typically located a mile or two apart and attract significant private investment. Because buses stop more frequently than rail transit, the development that occurs here would be more distributed in districts up and down the boulevards at an intensity that's in scale with development in neighborhoods on either side.
This idea has a little something for a lot of people:
For communities that won't be getting a new rail line out of a new sales tax measure, Grand Boulevards funding could serve as a comparable prize that also makes it easier for people to get around.
For local governments, there would be enhanced economic development and tax revenues.
For new residents there would be the appeal of an attractive neighborhood where one could live without a car, while current residents could visit a revitalized and well-landscaped street on which to shop and dine.
For local businesses there are likely to be more customers because there are more people walking down the street.
For bus riders there are better service and stops.
For bicyclists and pedestrians there are bike lanes and wider sidewalks.
But there's even more to this program, and this part is key: This program could leverage even more funding for local governments, especially state cap-and-trade dollars, because these boulevards with this kind of transit-oriented development comprise the "sustainable communities" that cap-and-trade is intended to fund in order to reduce car trips and GHG emissions.
And it's not chump change: cap-and-trade revenues are expected to increase from $872 million this year to $3-$5 billion annually until 2020. Twenty percent of cap-and-trade funds will be dedicated to transit-oriented development, active transportation, and other "sustainable communities" strategies. Half of that will be dedicated to constructing affordable housing near transit, with the goal of building transit ridership.
Cities that agree to permit affordable housing along their boulevards could also — one day soon — be able to use tax-increment financing (TIF). No, Governor Brown has not yet committed to reinstating TIF, which he virtually eliminated when he dissolved all community redevelopment agencies in 2011. But some observers believe he will revive the use of TIF to help finance the creation of sustainable communities before he leaves office, and the nodes of activity and development that would spring up along Grand Boulevards would be ideal locations for TIF.
The layering on of all these improvements could have a multiplier effect that would indeed make these boulevards grand — and it's all a natural spin-off of the transit system development. Because there's more bus capacity, there is potentially enough ridership to justify systematic upgrades from improved service, to bus-only lanes, then to bus rapid transit — if that's what a community wants.
And for businesses worried about the loss of on-street parking to bus-only lanes there could also be Measure R2 funding as well as Cap & Trade funding and/or TIF when the state legislature and the governor reinstate it — for off-the-street structured district parking. Funding for structured parking would provide an additional benefit: It would take some of the heavy, heavy cost of building parking (estimated as about 25-30 percent of development costs) off the pro formas of mixed-use developers, enabling them to construct housing that's more affordable for renters and buyers and to make communities attractive for new development.
All of this takes us back to the original reason we wanted to write this opinion piece: We agree with Daniel Jacobson, who wrote on Streetsblog earlier this summer that a "spectrum of bus improvements, including bus rapid transit" — not just new rail lines — is needed to enhance transit ridership in Los Angeles. Given the concerns of business owners about the loss of parking for bus-only lanes and BRT, this could take more time than less — years, maybe a decade or more— but we agree that BRT is an essential part of the mix, and that this Grand Boulevards program would help move us toward a comprehensive BRT system.
One can imagine the view out the window of a new BRT line, with people walking and visiting along tree-shaded streets, bicycles parked in front of local businesses, an air of shared prosperity and friendliness, and development that happens incrementally — with second floors being renovated as apartments, then new development appearing on vacant lots or replacing decrepit buildings, with new development inching up from two stories to three and then four.
This is how L.A. communities can evolve over time in a way that honors existing architecture, development patterns and long-time residents, rather than blasting them into a high-density future that some communities are not ready for yet. And it's a peaceful evolution that started with the Measure R transit investment.
Stay in touch
Sign up for our free newsletter