CicLAvia
CicLAvia Begins Outreach Process in Boyle Heights for Oct. 5th Event
2:01 PM PDT on August 4, 2014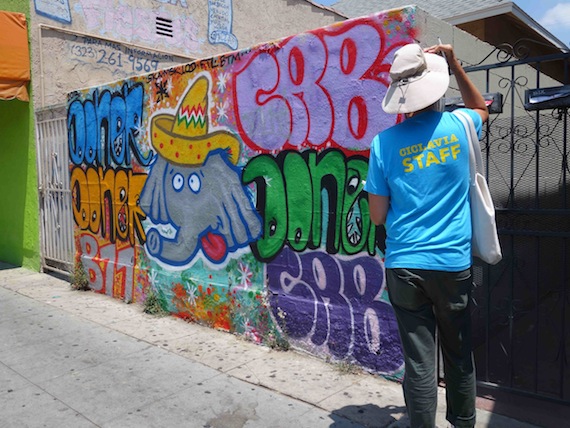 "¿Conoce CicLAvia?" (Are you familiar with CicLAvia?) and "¿Sabe qué es una ciclovía?" (Do you know what a ciclovía is?) were two of the questions SBLA writers Erick Huerta and Sahra Sulaiman found themselves asking Boyle Heights residents and business owners while canvassing the area with representatives of CicLAvia recently.
The goal of the first round of outreach for the October 5th event, set to run from Echo Park to East LA by way of the heart of Boyle Heights, was to give business owners and residents along the route time to prepare alternate parking or business plans around the street closures.
To that end, Volunteer Coordinator Henny Alamillo had armed volunteers Christopher Cameron and Jon Leibowitz with multi-lingual flyers that explained CicLAvia, touted the significant spike in revenue experienced by businesses that engaged event-goers, presented the map of the route, and suggested the myriad ways residents could participate in the event.
All of which would seem to be enough to get the message about CicLAvia across.
But, as Sahra and Erick ascertained (while serving as volunteers/translators), while cycling enthusiasts are largely familiar with the car-free, open streets event, it is still an unfamiliar concept to many, and to non-cyclists, non-English speakers, and lower-income community members, in particular.
The lack of familiarity with CicLAvia in Boyle Heights should not be all that surprising.
Casual observation (supported by some, albeit limited, data) would suggest that the majority of participants in such events are not lower-income and/or minority residents (although, this appears to slowly be changing over time, as well). And, as many of those same residents have limited Internet access and/or are not regular followers of livable streets issues when online, they haven't seen much in the way of CicLAvia's outreach campaigns.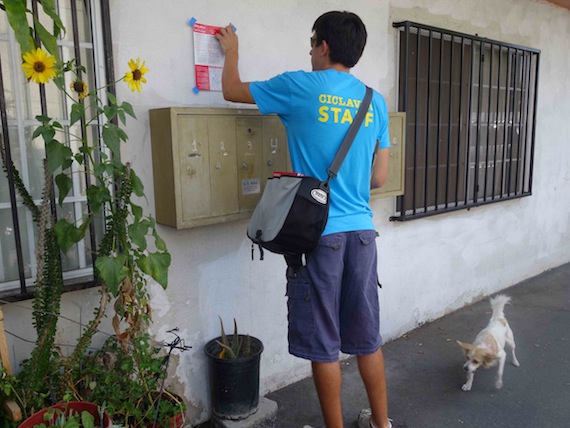 But the reactions of the community were about more than just a lack of familiarity with the event.
Sahra found that those residents along St. Louis St. that had heard of CicLAvia weren't sure that it was something they would be able to participate in. As Boyle Heights is a more family- and pedestrian-oriented community, the association of the event with bicycles made many think they might have to sit on the sidelines and watch as others rolled through their neighborhood. Others thought it might be a race.
For this reason, the one-on-one conversations with folks turned out to be key.
Being able to open the conversation with a description of the event as an effort to convert the streets into a park that families and children could stroll and play in for a day helped make it more relatable and accessible for residents.
In response, those that had small children with them often pointed at the kids and described the challenge of finding spaces where the kids could play safely. The poor condition of the area's sidewalks, many said, made it hard for kids to use their riding toys around their homes or while the family ran errands.
The conversations were also important in helping people digest the information on the flyers.
Some of those in the immigrant population struggle with reading in Spanish and/or English and are not familiar with the vocabulary associated with livable streets.
And while some of us (OK, maybe just Sahra) are obsessed with maps and accustomed to conceptualizing our neighborhoods or the city as a whole, map-reading is actually an acquired skill. So, for residents unaccustomed to seeing their neighborhood isolated on a 10-mile route map (below), orienting themselves turned out to be a challenge. Once it was explained to them how the route was set up, where potential hubs might be, and where they were located in relation to the rest of the route, most became much more enthusiastic about the event. Many even expressed delight at the idea that there would be such a long stretch to explore.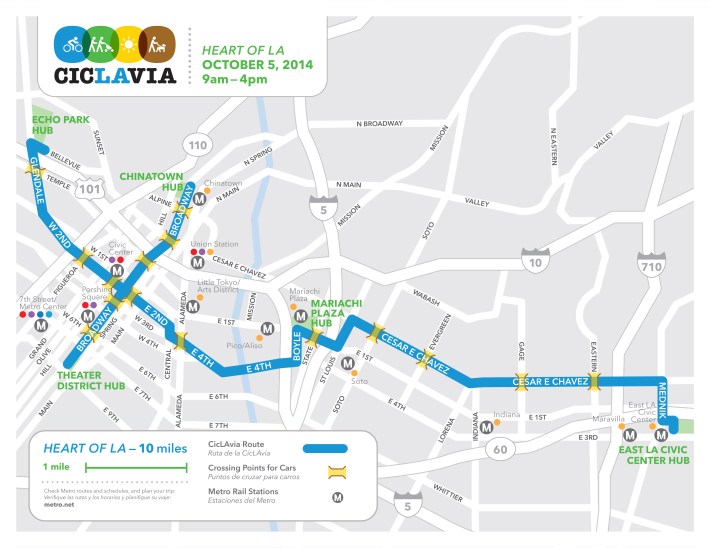 The face-to-face outreach was particularly important along Cesar Chavez, as Erick found.
Where business owners along 1st St. were mostly enthusiastic about the opportunity (with a few wishing they didn't have to take advantage of the boon in business and could spend the day riding their bikes instead), business owners along Cesar Chavez hadn't experienced a CicLAvia before and were initially more skeptical about the idea of a street closure.
According to Erick, many were immediately concerned about who was behind the closure, how long it would be in effect, and how it would impact their business.
Although Cesar Chavez is an important and bustling business district – and slated for Great Streets treatments in the coming year – it is not a particularly well-off one. Many of the businesses cater to lower-income customers with unstable incomes, meaning their own revenue stream can often be similarly precarious. Losing a day of work could therefore be devastating for some.
Suggesting ways to take advantage of the crush of potential customers along the event route seemed to mollify the concerns of the owners of liquor stores, mini-markets, other multi-service shops, and those that would normally be closed on Sundays. Others, like those who ran clothing stores or barbershops, were less sure that they would be able to benefit from the influx of new people to the area. And while Erick made clear the owners could try selling water or doing other things to entice people to come back another day, the potential drop in revenue remained a key concern.
Community concerns and questions notwithstanding, it would be a mistake to think that people were unhappy about a CicLAvia in their neighborhood. The event is actually a long time coming. Activists in the area have lobbied for an Eastside route for some time, and were frustrated by their inability to make it happen before now.
And, it is a tremendous opportunity for people unfamiliar with Boyle Heights and East L.A. or intimidated by some of the negative stereotypes that unfortunately persist about the areas to have an enriching experience in these communities.
What remains is to ensure that there is active participation from the local community in the event.
Alamillo and her volunteers are committed to doing more outreach as the date draws nearer. But they have limited resources and manpower, and may struggle to reach residents who live farther away from the route. Not only because of the time that goes into door-knocking and distance that must be covered, but because the message about what CicLAvia can offer the community may need to be tweaked to be appealing. In a multi-generational family-oriented community where people often walk and bike out of necessity, not choice, highlighting opportunities for family fun (i.e. Zumba, picnicking, music, food) and play (i.e. special zones for small kids) might be the best way to draw more locals out. (For more on equitable open streets events, see Adonia Lugo's recent work here)
If extensive door-knocking can't happen, working with schools, health clinics, and rec centers may help expedite the process of getting the word out, with the added benefit of it being passed on to community members by trusted sources.
In the meanwhile, Alamillo has scheduled a community meeting for August 19th (details below) in East L.A., at which she hopes to connect with community stakeholders and potential volunteers. If you would like to learn more about the upcoming event, ways you can participate, or have thoughts on how to make the event successful for the communities hosting it (i.e. finding ways local vendors can participate without harassment from law enforcement), please join CicLAvia staff and volunteers at the East L.A. Public Library, visit the website, sign up online to volunteer, or leave your thoughts below.
Community meeting for October 5th CicLAvia
Date: August 19th, 2014
Time: 7:00pm – 8:00pm
Location:  East Los Angeles Public Library 4837 E 3rd St (East L.A. Civic Center Metro stop)
RSVP to attend: Call 213.355.8500 or email info@ciclavia.org
Sahra is Communities Editor for Streetsblog L.A., covering the intersection of mobility with race, class, history, representation, policing, housing, health, culture, community, and access to the public space in Boyle Heights and South Central Los Angeles.
Stay in touch
Sign up for our free newsletter