bicycle lanes
Protected Bike Lanes Grow in CA as Cities Face Down Old Concerns
3:55 PM PDT on July 21, 2014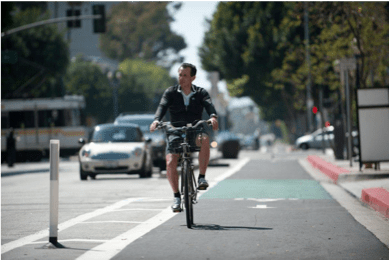 More and more California cities are looking to bring protected bike lanes to their streets, and a growing body of research showing the benefits they provide are giving city leaders a stronger case in the face of opposition to change.
The demand to make streets better for walking and biking is clear: local jurisdictions in California applied for more than $1 billion in funds from the state's Active Transportation Program to build bike and pedestrian projects, triple the amount of funding available for the program.
Protected bike lanes, also known as protected bikeways or "cycletracks," are lanes set aside for people on bikes, separated from motor traffic by physical barriers such as curbs, planters, or parked cars.
A bill currently in the California legislature, A.B, 1193, would remove some state-imposed barriers to building protected bike lanes by requiring Caltrans to establish design guidelines for them, which currently don't exist. But even without Caltrans guidance, several cities are already building protected lanes, including Long Beach, San Francisco, San Jose, Los Angeles , and even smaller cities including Alameda and Temple City.
To earn approval from Caltrans, some of these projects have been legally categorized as "experiments," built with easily-removable materials. This has also given planners some leeway when faced with objections from people who fear the street design changes.
A year after Long Beach installed protected bike lanes on the one-way couplet of Broadway and Third Streets, the city published a study [PDF] that found numerous benefits from the project. Crash rates decreased for all street users, bicycling and walking increased, and vehicle traffic slowed down. There was no increase in congestion, even with the removal of a traffic lane.
These findings are in line with a recent landmark study of protected bike lanes around the country, which provided new statistics showing that wherever they are implemented, they make nearly everyone on bikes and on foot feel safer and increase bicycling. In San Francisco, protected bike lanes on Market and Fell streets contributed to big jumps in bicycling; cyclist counts were up 43 percent and 50 percent on those streets, respectively, in the year after the lanes went in.
But since protected bikeways often remove a traffic lane and/or parking, cities still meet resistance from residents and merchants who fear that removing parking will hurt businesses, and that removing a traffic lane will worsen car congestion.
In San Diego, a proposal for protected bike lanes on University Avenue is going through the public planning process. Although there is strong support for the bike lanes, Sam Ollinger of BikeSD said some of the interactions at public meetings range from "ugly to unpleasant." Local businesses have objected to the loss of some on-street parking along one narrow section of the street, even though planners have bent over backwards to replace that parking nearby.
Similar objections were raised in Oakland when planners proposed protected bike lanes along Telegraph Avenue. The street is currently a four-lane roadway that works well for no one except drivers speeding through. Although a striped bike lane exists along most of the street's length, it is placed between parked cars and moving cars, and even that basic facility disappears at a few crucial points.
The proposed plans for Telegraph could replace the striped lanes with parking-protected bike lanes, but they would still disappear where they are needed most, at the complex intersection with 51st Street. Instead, planners have proposed either removing parking from one side of the street to create room for a striped, unprotected bike lane, or leaving the configuration as is and simply painting sharrows. Business owners have objected strenuously to removing car parking, but bicyclists counter that ditching the lanes at the intersection won't work.
The same story has played out in San Francisco, where plans to add protected bike lanes on Polk Street met resistance from local business owners. Although its current iteration still has some protected lanes, the plan was watered down and now includes standard bike lanes and sharrows along most of the street, with much of the on-street parking preserved.
A growing body of research has debunked concerns that businesses in urban neighborhoods rely heavily on parking spaces. Studies in LA and the Bay Area have consistently found that merchants tend to underestimate the number of customers that arrive without a car, and that customers who do arrive by car spend less than others on a weekly basis. Studies have been conducted in areas including the East Bay's San Pablo Avenue, LA's Santa Monica Boulevard, and Oakland's Temescal and SF's Polk Street:
In Oakland, a city study [PDF

]

of the Temescal neighborhood showed that 38 percent of land in the area is devoted to car storage. Another report [PDF] found that parking is heavily underutilized, with occupancy peaking at 65 percent between noon and 2 p.m. on weekends.
In San Francisco, a survey conducted on Polk found that almost 85 percent of people arrive without a car, and that people who do come by car visit less often and spend less money overall than customers who bike, walk, or take transit.
The Alliance for Biking and Walking, among others, has published findings [PDF] that protected bikeways contribute to economic growth. Temple City in LA cited those benefits as a reason for building its protected bike lanes along Rosemead Boulevard, promoting them as an economic development project that would help attract shoppers. In Portland, Oregon, business owners are lobbying for protected bike lanes on their street, even with some parking removal.
For Long Beach, its effort to install protected bike lanes on Broadway and Third was part of the city's quest to become "the most bike-friendly city in America." Charlie Gandy, then the mobility coordinator for the city, said that keeping that goal in mind was key when listening to arguments against changing the status quo.
"We had support from bicyclists, from small business owners, and from residents along the streets," Gandy explained. "We never had complete agreement, but what we didn't do was allow the loudest voice, or the most curmudgeonly, to hold sway."
Classifying the protected bike lanes as a removable pilot project placated some of the initial objectors. "Those that were opposed to it observed that what they expected to happen didn't happen, and their basic concerns went away," said Gandy.
Gandy told a story of one man who originally opposed the lanes, but later stopped in the street to tell him what a difference it made for his family to be able to ride their bikes to the beach, rather than feeling it was so dangerous that they had to drive instead.
"It's important to move forward deliberately and not gnash teeth endlessly," Gandy advised. "These things have a rhythm. It's also important to look at fact-based concerns rather than fear-based concerns."
With the protected lanes on the ground, Long Beach has shown that implementing safer street designs makes negotiating traffic easier for everyone.
"Particularly among young people," said Gandy, "it's changed the conversation about Long Beach."
Streetsblog California editor Melanie Curry has been thinking about transportation, and how to improve conditions for bicyclists, since her early days commuting by bike to UCLA long ago. She was Managing Editor at the East Bay Express, and edited Access Magazine for the University of California Transportation Center. She also earned her Masters in City Planning from UC Berkeley.
Stay in touch
Sign up for our free newsletter