fares - hikes, fareless
Editorial: Why Raise Metro Fares While Giving Away Metro Parking?
12:15 PM PDT on March 30, 2014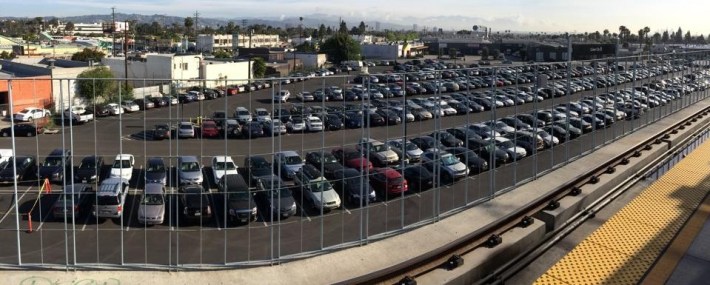 Metro is proposing to increase, or restructure, its $1.50 base transit fare to $1.75 later this year, with further increases planned in 2017 and 2020. Metro anticipates that this will increase its fare recovery - the percentage of operations costs that are paid for by fare revenues - from 25 percent to 33 percent. Metro foresees that this fare increase will "deflect" riders; a small percentage of people who currently take Metro will opt not to ride.
Officially, Streetsblog Los Angeles neither supports nor opposes Metro's proposed fare increase. We hold that robust transit service is needed, and that fares need to be affordable, and that those two important ends can be in conflict. When inflation drives operating costs up, at some point, it can make sense for agencies to increase what they charge for what they provide. Reasonable fare increases are generally preferable to significant service cuts.
I am not going to wade into all the issues in the fare increase, but want to explore another revenue source that Metro doesn't seem to be paying attention to: parking.
Metro has large amounts of parking that it gives away for free. For more than 90% of the spaces it owns, Metro's parking "fare recovery" is zero percent. Parking revenue isn't likely to cover the entire operating deficit Metro is asserting, but it can amount to millions of dollars, enough to delay or soften fare increases.
Charging for parking will also deflect a small number of the riders who drive (driver-riders are a small percentage of Metro's overall ridership - fewer than 10 percent), but, if revenue is used to offset fare increases, parking charges should lessen overall deflection. In some cases, charging for parking and keeping transit fares reasonable could deflect some drivers out of their cars and on to buses, carpools, bikes, and walking.
I recently attended a meeting where Metro staff presented their fare increase proposal. When I asked if Metro was also looking at parking revenue, Metro's presenter responded that Metro didn't have much parking, and that it fills up quickly anyway - as if that meant there wasn't anything that could be done. On the contrary, this high demand shows that Metro's parking is a revenue opportunity. The Transit Coalition's Bart Reed confirms that "[Metro Red Line] parking for free is gone by 7 a.m. in the valley." Streetsblog's Damien Newton states that, at "Culver City [Expo Station] after morning rush hour, I generally see people cruising for parking. There's no space."
What's wrong with free parking? Isn't that good?
I can't explain all of Donald Shoup's The High Cost of Free Parking. Suffice it to say that, generally, when an expensive, in-demand resource like parking is given away for free, it will run out and there won't be enough to go around. Shoup generally recommends that public agencies raise (or lower) the price of parking, to manage availability - to make sure people who want to park can find open parking spaces. When free parking runs out, then people drive around "cruising" for spaces, which is generally bad for transit, bicycling, walking.
Building and maintaining parking spaces isn't free for Metro. If driver-riders (less than 10 percent of Metro's ridership) are not paying for parking, then non-driving-riders are subsidizing drivers. 
One way to explain this is to look at overall fairness. Metro is a public agency tasked with providing transportation services. In providing a public good (transportation), Metro can and should choose to subsidize. In Metro's user fee structures, the agency makes policy choices regarding what it subsidizes. Right now, Metro subsidizes 99+ percent of the cost of parking, but only roughly 75 percent of the cost of riding transit. Metro is proposing to continue to subsidize parking at 99+ percent, but to only subsidize transit at 67 percent.  Metro is proposing that "fare recovery" for transit needs to go from 25 percent to 33 percent, but parking "fare recovery" can remain at zero percent indefinitely.
Metro says that fares need to go up to cover operating expenses, so it's only fair that drivers pay expenses for resources they use.
What can we learn from other transportation agencies?
In 2013, The San Francisco Bay Area's BART system proposed fare increases to cover inflation. The BART board approved raising both fares and parking fees (both daily and monthly), indexed to inflation. Parking increases at BART are expected to raise $7 million a year in 2014. A BART spokesperson explained the increase by stating "The bottom line is this: we don't charge enough to cover the cost to provide the parking space right now."
Minneapolis' streets.mn reviewed its transit agency's parking investments, and found that investing in Bus Rapid Transit served 7.5 times more users than investing in parking structures.
A look at the numbers
I compiled parking space quantities from Metro's website. Looking at Metro rail lines, as well as the BRT Orange and Silver Lines, Metro has a total of 19,450 parking spaces. Nearly twenty thousand spaces! That's just on the rail and BRT lines, I am sure there are more parking spaces in Metro's holdings. That's just today, I expect that there's more parking coming on line with Metro rail expansion under construction.
Of those 19,450 Metro spaces, 18,048 are completely free. That's 93% of the total. Metro only charges for 1402 spaces - more on that below.
How much did this parking cost Metro to build? I did some back-of-the-napkin calculations. For surface parking, which varies based on real estate costs, I've used a conservative national estimate of $4,200 per space. For parking structures (the ones that I know of: Willow Blue Line Station, Sierra Madre Villa  and Del Mar Gold Line Stations, and La Cienega Expo Line Station), I've estimated $27,000 per parking space, a Los Angeles estimate directly from Donald Shoup. Using these estimates, for Metro's nearly 20,000 parking spaces, the total construction cost for Metro parking comes to about $150 million. That's a conservative estimate, and the actual amount is likely higher. That's a lot of transit money going to park a lot of automobiles.
How much revenue could Metro earn from their 19,450 spaces? I am no economist, but I did another back-of-the-napkin estimate. I made some assumptions that I think are pretty conservative. Below are my revenue assumptions:
Metro can sell parking spaces for $3 for all day. This is the cost for Metro station parking at Park-by-phone.com. Some Metro lots should be able to charge more than this, some less, so it represents an average for purposes of my estimate.
Metro can actually sell 25% of its spaces. I am assuming that three out of four spaces might be empty if Metro charges for them. Some popular lots will fill up; outlying lots that don't fill today won't fill in the foreseeable future. Metro should be able to keep occupancy higher by using pricing strategies, and should probably aim for Shoup's 85% occupancy target, but, for purposes of a conservative estimate, I am assuming that Metro can fill at least one space in four system-wide.
Metro's parking spaces will only be sold once per day. In the real world, some spaces will turn over, so they could be charged for a few times each day.
Metro can do this every weekday of the year - 260 days per year.
These are fairly low assumptions. They're certainly not my recommendations, nor a good business plan. I am using a one-size-fits-all formula, and parking pricing should vary based on demand. Desired locations at desired times should charge more than this.
Even with these conservative assumptions, I estimate Metro's potential parking revenue at just over $3.5 million per year. A proactive agency should be able to do significantly better than this. That number is for gross revenue, and there would be some costs to administer and enforce this program, so the net revenue is somewhat less, but it's clearly a lot of money. Millions of dollars every year.
But Metro already charges for parking!
What about those 1402 spaces where Metro already charges for parking? 610 of them are at the Del Mar Gold Line Station, which is unique in the system, charging $2 per day.
The remaining 792 non-free spaces are available by purchasing a monthly parking permit, which costs $20-$39. The permit guarantees the user a space when arriving before 10:30 a.m. After 10:30 a.m., all Metro parking spaces are free.
When I write that these spaces are "available" by permit, that's not quite true. Of these 792 spaces, 534 spaces (67 percent) are listed as "sold out" on the Metro Parking Pass website.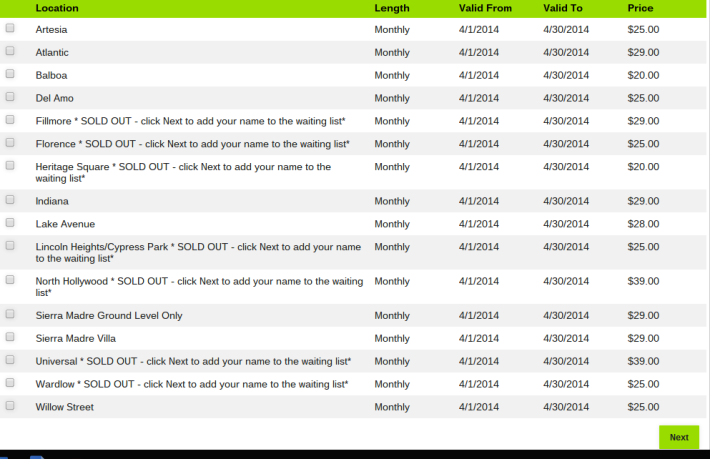 So many "sold out" locations mean that, for the small percentage of non-free spaces, Metro is selling them for less than their market value. To manage these spaces more efficiently (meaning Metro actually selling parking to people who want to purchase parking), Metro can either raise the price or increase the supply. In every lot listed as "sold out," Metro can increase the supply by converting existing free spaces to permitted ones.
I calculate that Metro grosses roughly $250,000-$350,000 per year from its monthly parking permit system. Some of these moneys would go into administering and enforcing the program. Assuming that monthly parking revenue is roughly $300,000 each year, and that this is the only revenue Metro is getting from these lots, then it will take nearly 500 years for Metro to recover its $150 million in parking construction costs.
There's also a Park-by-phone system that sells Metro spaces for $3 per day. It's unclear to me how this fits into the Metro parking system. Is there another chunk of spaces, or re-selling permit spaces, or something else? I'll look into this more in the future - or if someone out there knows, please tell us in the comments below.
Conclusions and a look at the big picture
Charging for parking is prudent fiscal policy and good transportation policy.
Changing Metro parking subsidies won't happen overnight. Charges can be phased in over time, lot by lot, starting with the most popular sites, where drivers are already frustrated and cruising today.
The parking revenue processes might get underway with a board motion directing Metro staff to report on parking revenue. What does it cost to build, operate, and maintain Metro's parking? How is Metro's monthly permit program working: how much revenue does it bring in, and how does the program respond to parking demand? Similarly, how about Metro's Park-by-phone program: revenue, response to demand? What other parking does Metro own, in addition to the rail and BRT lots this article focuses on? Perhaps, as Metro sets its target for fare recovery for operations cost, it can also set a target for parking cost recovery, with phased-in deadlines for meeting targets.
There are plenty of good reasons for Metro to charge for its parking: revenue, fairness, effectiveness, usefulness, environmental benefits, etc. Let's look at just one more: charging for parking helps Metro track usage data. Data is needed to help Metro make accurate projections for where parking will be needed. If Metro gets a better handle on parking demand, then it can reign in excessive spending on parking in some locations, and dedicate limited funds to what's most effective in providing transportation. 
(My spreadsheet calculations are here. As I've mentioned, these are rough estimates - please let me know if I've made any errors.)
Stay in touch
Sign up for our free newsletter