Eric Garcetti
Vision Zero or Zero Vision? L.A. Needs to Change the Way It Thinks About Safety
11:25 AM PDT on March 24, 2014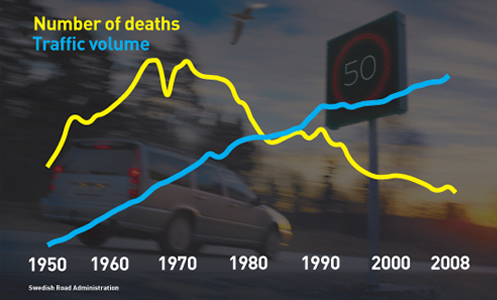 Cyclist John Philips was cycling in heavy traffic in the San Fernando Valley when he was hit from behind by an impatient driver. While the driver did try to run, heavy traffic allowed witnesses to photograph both him and his vehicle. The Los Angeles Police Department (LAPD) WAS summoned and a report was quickly taken.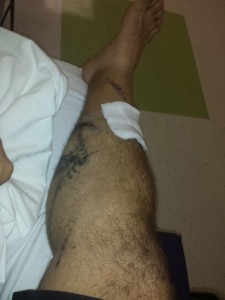 Last September, a cyclist was riding on Chatsworth Boulevard. After standing up for his rights after being verbally accosted by a dangerous driver, the driver intentionally ran him over, got out of his car, and berated him as he lay in the street. The cyclist used his cell phone to take pictures and turned the pics, as well as a witness list over to the police. Tire tracks were still visible on his legs when photographed later.
In December Dan Davis (name changed) crossed the street safely on foot in Downtown Los Angeles.
In all three of these stories, the LAPD was present . In only one of these cases did they find someone to be at fault. Philips and the other anonymous cyclist were shocked to discover that the city would not pursue a case against their attackers. In both cases "insufficient evidence" was cited, despite several eyewitnesses, pictures and immediate LAPD notification. Davis received a $259 ticket because the walk signal was already a flashing orange when he began his trip across the street, even though exactly zero people were injured or placed in danger by his actions.
With the LAPD's enforcement of traffic laws so clearly out-of-step with the city's safety needs, it's time for someone to lead the way towards creating a safer Los Angeles. It's time for the city to adopt Vision Zero.
"Vision Zero" began in Sweden. In the 1970's, Sweden decided that the amount of traffic deaths was too great, so it began to base every transportation design, construction and enforcement decision around a basic premise: "will it help reduce Sweden's total traffic deaths to zero?".
The term "Vision Zero" wasn't coined until it was written into the country's transportation laws in 1997, but the statistics are clear. With only three of every 100,000 Swedes die in crashes each year. This compares with 5.5 per 100,000 across the European Union, and 11.4 in America. Sweden's roads are the safest in the world. America has over three times as many per capita fatalities.
"The pieces are in place to make L.A. an even better and safer city for all of us to live," writes Jessica Meaney with the Safe Routes to Schools National Partnership and L.A. Walks.  "But it will take focused investment and leadership to get there, not just policy goals, not just words, but funding for implementation and leadership behind those visions.  Implementation and achieving this vision is what matters, and vision zero should be for all of Los Angeles County, let's do this for the whole region."
In a recent article, The Economist credits infrastructure construction in Sweden for much of the improvement in safety. While road design is clearly critical, and Streetsblog will explore the importance of infrastructure and Vision Zero in a separate article, traffic enforcement is just as important.
In New York City, incoming Mayor Bill DeBlasio is already embracing Vision Zero. San Francisco, under Mayor Ed Lee, is doing the same. Both are relying on a mix of education, infrastructure, and enforcement to achieve safer streets. L.A. should do the same.
In researching this article, Streetsblog reached out to our elected leadership including Mayor Eric Garcetti, City Council Transportation Committee Chair Mike Bonin, City Council Transportation Vice-Chair Tom LaBonge, City Council Planning and Land Use Chair Jose Huizar, City Council Public Safety Committee Chair Mitch Englander, City Councilmember Bernard Parks, who used to be the Chief of LAPD, and Councilmember Joe Buscaino who is an LAPD reserve officer.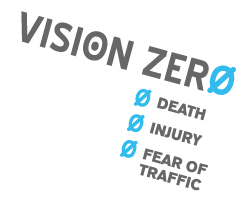 None of them seemed excited about L.A. embracing a Vision Zero strategy. In fact, only the Mayor's Office got back to me with an official statement, although Councilmember LaBonge did ask for a meeting where we could discuss what Vision Zero would mean. I am tentatively expected to sit down with the Councilmember on April 1.
"Vision Zero is an interesting concept that we are monitoring here in Los Angeles," writes the Mayor's Office.
"Public safety is one of Mayor Garcetti's top priorities, and that includes ensuring our streets are the safest in the nation. This extends to how we design our roadways to reduce and eliminate crashes and fatalities. That's why Mayor Garcetti has directed all city departments to adopt a metrics-based system that will help prioritize resources, and monitoring and reducing these collisions and fatalities will be fundamental to our approach."
It's interesting that Garcetti's office brings up metrics, because data on just how dangerous are L.A.'s streets can be hard to come by. In 2012 when L.A. Weekly looked for data on hit and run crashes, it took months of research and hundreds of dollars in copying fees. While the Weekly's report precedes Garcetti's rise to Mayor, it does speak to the need for more transparency in how the city collects and presents crash data.
Without accurate, publicly available data, no safety strategy can be shown to be a success or failure. A critical first step in implementing Vision Zero will be to gather, format and distribute crash data for Los Angeles so that the public can hold the city accountable or cheer its success.
In the coming weeks, the city will debate if and how it can fix and improve its transportation infrastructure. Councilmembers Joe Buscaino and Mitch Englander are focusing on the economic reasons to encourage support for a $4.5 billion sales tax proposal. However, a more powerful argument can be made that the streets must be improved to create a safer place for people to travel.
"A city bond should be used for capital investments in city infrastructure and not just for routine maintenance—and doing so is affordable," writes Holly Harper, Architect and Living Streets Initiative Coordinator of Green L. A. Coalition on behalf of the Streets of the Future Campaign.
"Such major improvements as curb extensions that incorporate green infrastructure are the future of our streets, but there are many simple safety enhancements to implement as part of any street project. High-visibility crosswalks with upgraded signage and signals, re-striping to include transit or bicycle lanes, well-maintained sidewalks and trees may be incorporated at reasonably low-cost."
There are many opportunities, both large and small, for Los Angeles to embrace a Vision Zero approach (no matter what it is called.) When it comes to public safety, there's no time like the present to begin to make changes.
Stay in touch
Sign up for our free newsletter