2014 sales tax
Good-bye #RoadBond, Hello #RoadandSidewalkTax
2:54 PM PDT on March 19, 2014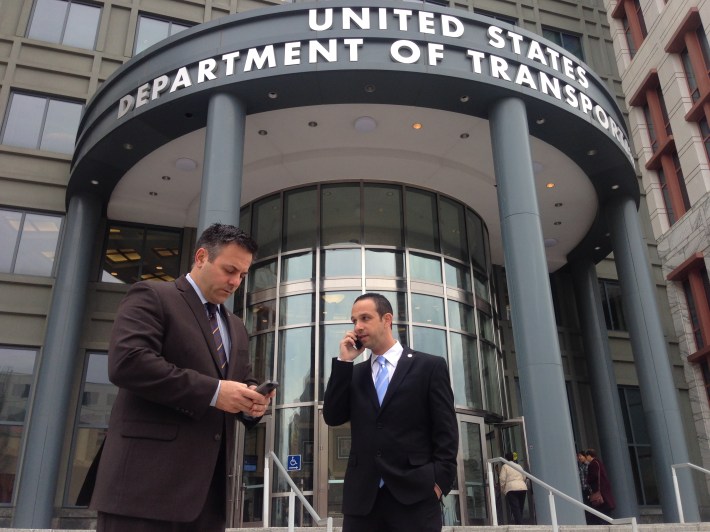 Sustainable transportation advocates from all parts of the city have weighed in on a draft proposal to repair large parts of the city's road and sidewalk infrastructure through a fifteen-year half-cent sales tax increase.
While they pretty much agree that the current proposal is better than previous ones, "better" still isn't good enough, especially when the way L.A. invests its transportation money impacts so much more than transportation. It also impacts the environment, public health, and a host of community issues.
"Community health depends on having access to streets that are safe for all users, particularly pedestrians and those using bikes and public transit," writes Malcolm Carson, General Counsel & Policy Director, Community Health Councils. "Community Health Councils supports a bond measure to fund complete streets treatments on major arterials with priority given to underserved communities such as South Los Angeles."
Yesterday, the City of Los Angeles Chief Legislative Analyst and City Administrative Officer released a report on the "Save Our Streets" proposal to identify ways to repair Los Angeles' decaying city street network. The staff recommends a fifteen-year half-cent sales tax increase that would raise $4.5 billion. $3.86 billion of the funds would be spent on road repair and restriping, and the rest would go towards sidewalk repair. The tax would have to be approved by 2/3 of voters before it would become law.
The 'Streets for the Future Coalition' is comprised of over a dozen organizations representing a variety of communities across Los Angeles, including the Los Angeles County Bicycle Coalition, L.A. Walks, Trust South L.A. and the groups quoted throughout this article. They argue that the sales tax proposal outlined by city staff fails to take into account Mayor Garcetti's "Great Streets" program, LADOT's People St, pedestrian needs beyond sidewalks that appear to be part of a war zone, environmental improvements, or bicycle planning.
The coalition is disappointed that the current proposal does not include funding for improving the safety of people bicycling or environmental improvements. They believe Los Angeles residents want to invest in the future of the city, and not simply fill potholes and return streets to their previous conditions. They plan to actively take part in the public process that begins with an information session at 6:30 in City Hall on April 2.
"Los Angeles' streets are the City's most important public places and the way we design our streets influences public health, air quality and social connections" writes Mark Valianatos, a professor at Occidental College, steering committee member for L.A. Walks, and contributor to Streetsblog L.A. "The Urban & Environmental Policy Institute at Occidental College believes we need streets for the future to help make L.A. a more just, green, and livable city."
Councilmembers Mitch Englander (CD-12, San Fernando Valley) and Joe Buscaino (CD-15, South Bay) have been beating the drum on road repair for over a year since their initial proposal for a thirty-year property tax increase for a ten-year bond failed to qualify for last fall's ballot.
Last Spring, Englander defended the now-defunct bond proposal to Streetsblog, noting that every street that was repaved would need to be restriped. Every restriping created opportunities for adding more bicycle lanes, Sharrows, modern crosswalks, or other improvements that could be made with paint.
Given this promise, and the new funding allocated for sidewalk repair, city staff and the councilmembers might be surprised that bicycling and pedestrian advocates are unhappy with the current proposal.
"Every visitor, every resident, and every business owner uses our streets and our local economy is dependent upon the ability to move people and goods throughout the city," wrote Buscaino and Englander in a statement.
"It is critically important that all stakeholders understand the seriousness and importance of this issue, engage in the conversation, and work cooperatively toward finding a solution."  
And therein lies the current rhetorical conflict. While the city is trying to improve the laughably poor state of its transportation infrastructure to better move more vehicles and pedestrians, advocates worry that they are planning for a city that will have different needs by the time the repaving and sidewalk repair is completed.
And, bicycle and pedestrian improvements aren't so expensive as to change the basic makeup of the tax.
"A city bond should be used for capital investments in city infrastructure and not just for routine maintenance—and doing so is affordable. Such major improvements as curb extensions that incorporate green infrastructure are the future of our streets, but there are many simple safety enhancements to implement as part of any street project," writes Holly Harper, an architect and director of Green L.A.'s Living Streets Coalition.
"High-visibility crosswalks with upgraded signage and signals, restriping to include transit or bicycle lanes, well-maintained sidewalks and trees may be incorporated at reasonably low cost."
But, as Buscaino and Englander note, the public process isn't closed, it's just opening. Last year, advocates for a sustainable transportation system dominated the public hearings and a cry for better sidewalks was a focus of a series in the Los Angeles Times. If Streets for the Future can replicate that effort, the sales tax proposal that goes to voters could be significantly different than the one presented by the city yesterday.
Stay in touch
Sign up for our free newsletter