California State Senate
CA Legislation Watch: Bills Introduced That Could Impact Livable Streets
2:22 PM PST on February 25, 2014
The deadline to introduce new bills to the California legislature was Friday, so a slew of new legislation is currently being assigned to committees for hearing. Some of them are so-called "spot" bills, as in "hold a spot in line for me, bub," containing a bare minimum of information, with the plan being to shape them in legislative discussion. All of them are likely to be amended before reaching a vote, and they must go through two voting processes (one in each house) before being passed on to the governor to be signed. Meanwhile, they give some clues about what our lawmakers are thinking about.
Here are the bills in play that could potentially impact livable streets.
Vulnerable Road Users Law: Asm. Marc Levine (D-San Rafael) introduced A.B. 2398, which raises the fines charged when drivers cause injury to "vulnerable road users," defined as pedestrians, bicyclists, and people using farm equipment and riding horses. The bill is loosely modeled on an existing law in Oregon, but the fines in this bill are minuscule, and sanctions don't include the community service or required license suspension of the Oregon law. Also, both laws depend on how the police assign responsibility for crashes — a significant flaw. For more on the Oregon law, see this interesting discussion from a Portland bike lawyer which predates its enactment, but could offer some guidance as the CA bill moves through the legislature.
Bicycle Tax: Senator Mark DeSaulnier (D-Concord) has proposed S.B. 1183, which would allow local jurisdictions to set a tax on bike sales. Funds from the tax would go towards trail improvement and maintenance. Cyclelicious got this right, pointing out that while bike tax proponents argue that the tax would provide "political credibility that cyclists pay their way," this is a "bankrupt excuse of an argument," since road infrastructure is disproportionately bankrolled by non-drivers through general taxes.
Redefining Electric Bicycles: Asm. Steven Bradford (D-Gardena) put forward A.B. 2173, which would define electric bicycles with motors that are limited to a top speed of 20 mph as "low-speed" electric bikes, and allow them to ride in bike lanes and on bike paths and trails.
The East Bay Bicycle Coalition's Robert Prinz is concerned that the wording of this bill may allow a loophole for Specialized's new "turbo" e-bike, which can go up to 28 mph. "What we're trying to do is calm traffic, not get bikes to speed up to car speeds," he says. "There's a big difference between a crash at 20 mph and a crash at 28 mph, especially for a cyclist."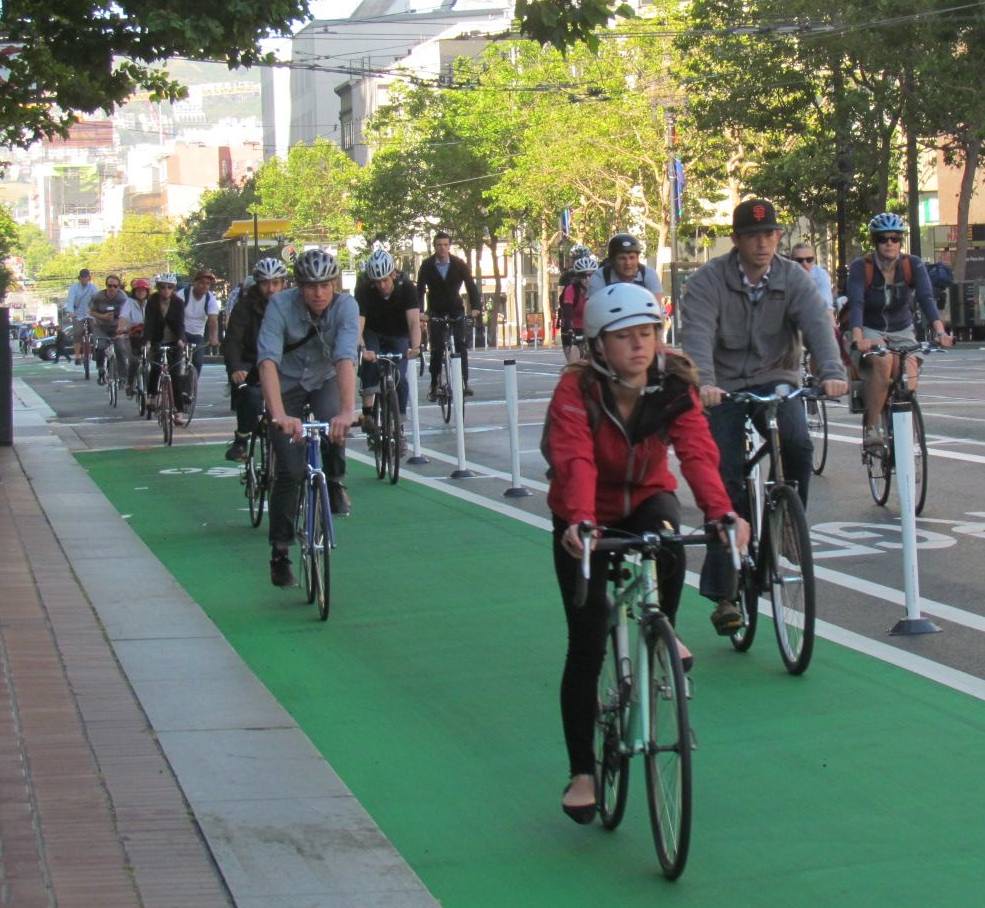 Cycle Track Standards: A.B. 1193, from Asms. Phil Ting (D-San Francisco) and Mike Gatto (D-L.A.), is still alive from the last legislative session. It would require Caltrans to define and establish design standards for a new type of Class IV facility for bikes: physically separated, buffered bike lanes, or "cycle tracks."
A couple of alternatives: Caltrans could just follow the advice in the recent SSTI report and adopt NACTO design guidelines, which already include a section on cycle tracks, rendering the bill moot. Or, with the right amendments, this bill could be the vehicle for that report's recommendation to eliminate Caltrans' oversight of bicycle facilities in the state. Stay tuned.
School District Planning: School districts have separate planning departments with their own methods and priorities that don't always mesh with those of their surrounding communities. A.B. 1179, introduced by Asm. Raul Bocanegra (D-Pacoima) last year, was an attempt to merge school district planning into regional planning efforts.
Last year's bill was gutted in discussion. This year's iteration is reduced to creating a spot for the Superintendent of Public Instruction on the Strategic Growth Council, which is the interagency group charged with figuring out how to meet the state's climate change goals. California needs much stronger efforts to bring schools into regional planning processes than this, since schools have such a big influence on where people choose to live.
School Zone Violations: In the Senate, Sen. Anthony Cannella (R-Ceres) introduced S.B. 1151, which would double fines for traffic violations near schools and use the proceeds to fund the Active Transportation Program, under whose umbrella Safe Routes to Schools Programs are funded. This would make fines for traffic violations in school zones equal to those in construction zones.
Increased Penalties for Hit and Run Drivers
 - Asm. Mike Gatto (D-L.A.) 
introduced A.B. 1532
 legislation that requires at least six month of driver's license suspension for any driver found guilty of a hit and run, regardless of whether or not someone was seriously hurt in the crash. The intent of Gatto's legislation is to balance the penalty for hit-and-run crimes with those for drunk driving misdemeanors and felonies.
This effort follows a new law Gatto authored last year that increased the statute of limitations for hit-and-run crashes.
Carbon Tax on Fuels: A bunch of bills want to control how revenue from cap-and-trade is applied (see below), but none directly address the market mechanisms used to control greenhouse gas emissions except for Darrell Steinberg's (D-Sacramento) proposal to replace cap-and-trade with a carbon tax, S.B. 1156. Cap-and-trade is scheduled to apply to fuels starting next year.
Money from Cap-and-Trade: Senators Ricardo Lara (D-Long Beach/Huntington Park), Fran Pavley (D-Agoura Hills), and Assemblymember Shannon Grove (R-Bakersfield) have each introduced bills that designate a specific use of cap-and-trade funds: S.B. 1204 (Lara and Pavley) would fund the technological development of zero emission trucks and buses; S.B. 1122 (Pavley) would designate funds for regional Sustainable Communities Strategies and the Alternative Transportation Program; A.B. 1639 (Grove) would clarify that the intent of the legislation is to use the funds specifically for cost-effective reductions in greenhouse gas emissions.
Many of these bills will transform in the hearing process, morphing and perhaps combining  until the very last minute (hopefully with as salubrious effects as S.B. 743's last-minute amendments last year).
Streetsblog will continue to track and report on these bills and other legislation affecting the state's transportation and livability landscape.
Streetsblog California editor Melanie Curry has been thinking about transportation, and how to improve conditions for bicyclists, since her early days commuting by bike to UCLA long ago. She was Managing Editor at the East Bay Express, and edited Access Magazine for the University of California Transportation Center. She also earned her Masters in City Planning from UC Berkeley.
Stay in touch
Sign up for our free newsletter