Why I Ride: Connecting with My City
3:34 PM PST on January 2, 2014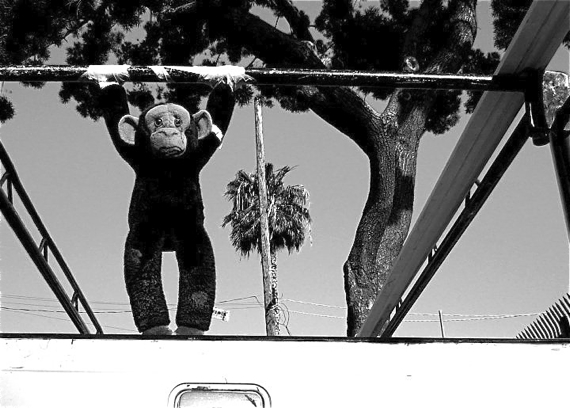 I looked at the two scruffy ticket scalpers crossing Figueroa near the Staples Center and wondered if my eyes deceived me.
As I slowed down to get a closer look, I heard one say, "There she goes..."
Holy sh*t, I thought, he's back from the dead!
"You remember me?" Big Mike asked, grabbing me in a big bear hug.
I probably hadn't seen him in two years. He had been in and out of the hospital with heart problems and other complications from diabetes. He hadn't been taking care of himself, the other scalpers told me when I would stop to ask about him, and they weren't sure he was going to make it.
"Look at you! You look great!" I exclaimed, pointing at his belly. "You've lost a whole person! I almost didn't recognize you!"
"I was almost dead!" he said, whipping out his flip phone and searching for a photo of himself laid up in a hospital bed. "A few times!"
"We were getting ready to shed some tears," agreed his pal and colleague, pointing to his eyes and tracing the path his tears would have taken. "It got real close there for a moment."
That admission hits me in the gut for some reason.
I have seen these guys working the corners together since I first moved to L.A. over a decade ago.
I met them when I stopped at a red light on Figueroa one frigid winter night. Me, curious about what they were up to, asked how business was and if they were warm enough on such a miserable night to be out. They, curious about the girl on the bike, bantered with me about nonsense and joked that they would get me free tickets to anything I wanted.
The free tickets never materialized. But, for the next twelve years, I would stop and chat whenever I saw them.
I learned that Big Mike may or may not have been a bodyguard for Ozzy Osbourne at one point in his life, and that, though they had done a lot of living, things really hadn't been easy for them. Health-wise, none of them were doing particularly well. Big Mike's pal confessed he just lost one of his eyes to poorly managed diabetes.
"That was a shock," he says.
"I'll bet," I say.
"You see, black men don't like to go to the doctor. And when we do, it's too late. And, me, I hate needles, so it's even worse..."
Big Mike has finally found what he was looking for. He turns the phone around so I can see, "I was all blown up there."
It's true. He's a mess in the photo -- bloated to twice his size, connected to all kinds of tubes and wires, and on a ventilator.
"Yikes," I say. "Please tell me you're taking better care of yourself now..."
"Oh yeah," he says, waving me off. He explains he still eats fast food, but mainly chicken and "none of that greasy stuff."
I jokingly smack my forehead, telling him fast food is really not the solution, no matter how "non-greasy" it may seem. But these are guys in their fifties without much in the way of means, stability, or education. Their ability to change their habits is dependent on whether or not they have money. And, being that the bulk of their support system is comprised of each other and others like them who are equally unhealthy, it is unlikely that they'll make any major changes on their own.
I suggest they look into diabetes classes, like those run by St. John's, and wish them good health and good business.
They wish me a happy new year and safety on the road.
As I ride off, I can't help but grin like an idiot. Seeing them was one of the better holiday gifts I've gotten in a long time.
When I first moved here from San Diego in 2001, I would ride around the city with my boyfriend of the time, marvel at the expanse and bustle of it, and declare we would probably always feel like outsiders. The city seemed like such a hard nut to crack.
At the time, I rode a bike because I cared about the environment, cared about my health, and couldn't afford to drive. But, I often wondered if I would be able to continue riding in L.A. -- it was so intimidating. There was no infrastructure and people were often incredibly eager to let me know just how much they wished for my death. Even parents with young kids in the car would shout terrible things when they rolled up next to me at a stoplight, pulled a right hook in front of me, or doored me. One family in a minivan purposely cut too close on an otherwise empty Venice Blvd. and ran me into a parked car. They then rolled down their windows and pointed and laughed as I, having had the wind knocked out of me, stood doubled over, desperately trying to force air back into my lungs.
The intense hostility never made sense to me, as I thought like a driver while on the bike and was the least obtrusive cyclist I could possibly be (i.e. getting out of the way so drivers could turn right, signaling and riding straight/predictably, obeying all stop lights and signs, etc.).
This is the road-ragiest place on Earth, I would muse after another horrible encounter. I can't imagine staying here.
But then I started meeting people on the street on my commutes. Usually they were folks on the margins -- the ticket scalpers, the panhandlers, the drug dealers, the service workers, the delivery guys, or the high school drop-outs. They were curious to know about where I was riding to and from and why. In return, they taught me a lot about the rhythms of the city and the human fuel which powers it. And, they were all incredibly kind.
They even looked out for me.
When I had to take medical leave from grad school after returning home from Africa very ill, no one from school bothered to check in to see why I dropped off the map for nine months.
Folks on the street, however, were frantic.
The scalpers proclaimed they feared I had been hit or that some other terrible thing had happened to me.
"Girl, don't do that to us again!" they admonished.
It was like getting a hug from the city -- I wasn't an outsider any more.
Which is kind of ironic, as I am not a social rider; I usually prefer riding solo, even when out exploring.
But, riding is an inherently social act. You are exposed to the world at the same time that the world is exposed to you. You can engage people and places in way you never would if you were in a car. And the experience is (usually) rewarding and makes you happy to be on the road, something that too many Angelenos are not.
I thought back to when I ran into Big Mike after his first health scare 5 or 6 years ago. I was riding through an empty downtown on a Sunday afternoon when I heard someone shouting at me.
We hugged and I told him I had been worried -- I had heard from the guys he was ill.
He cocked his head to the side and looked at me, "You really my friend, aren't you?"
"Of course," I said.
"Hmm," he laughed. "Well, maybe we'll go and get married some time."
"No," I said. "That probably won't happen. But we can be friends."
"That's all right," he agreed, patting me on the shoulder. "You worried about me. You're my friend."
Sahra is Communities Editor for Streetsblog L.A., covering the intersection of mobility with race, class, history, representation, policing, housing, health, culture, community, and access to the public space in Boyle Heights and South Central Los Angeles.
Stay in touch
Sign up for our free newsletter