Air Quality
The SCAQMD Hearing Board Will Receive Public Testimony on the Exide Battery Recycling Plant on December 14th. That Means You.
3:50 PM PST on December 6, 2013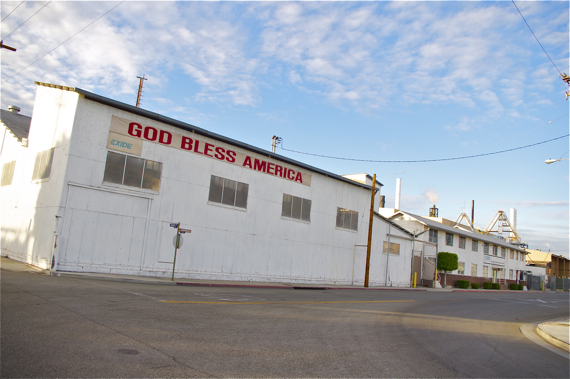 While I sympathize with any of the good people of Irwindale that may have experienced heartburn, nosebleeds, or inflamed asthma because of a stinky Sriracha factory, I do have to wonder a bit about our priorities.
The last I checked, spicy-smelling air is neither fatal (egregrious asthma attacks aside) nor likely to induce neurological or other developmental problems in children.
Yet, a malodorous spice factory can be shut down within weeks of complaints being filed. This, despite the judge acknowledging that there was a "lack of credible evidence" that any health issues could ascribed to the odor and that the only real crime was that the odor appeared to be "extremely annoying, irritating and offensive to the senses, warranting consideration as a public nuisance."
Meanwhile, the Exide battery recycling plant, which regularly exceeded lead emissions limits throughout 2011 (and again several times this year) and had higher-than-average arsenic emissions during 2013, remains open for business.
Nevermind that a few hundred thousand people living in Boyle Heights, Maywood, and Huntington Park may have experienced heightened and prolonged exposure to dangerous toxins.
In fact, just this past June, L.A. County Superior Court Judge Luis Lavin was so unmoved by documentation of Exide's history of emissions violations that he felt obliged to declare that the plant did not pose "an imminent and substantial" threat to the community.
His ruling was in response to Exide's petition to resume their operations after being forced to temporarily suspend them when the South Coast Air Quality Management District (SCAQMD) was able to show that, beyond exceeding levels of hazardous emissions (including arsenic), Exide's underground pipelines -- which carry up to 310,000 gallons of contaminant-laden waste water a day -- were degraded and in violation of California standards.
The corporation, Lavin said in his ruling, would be in danger of "irreparable harm" were hearings to drag on while experts quibbled over the extent to which the public was at genuine risk from plant emissions.
Exide has been operating full-speed-ahead since then, minus a few glitches here and there, of course, because of...wait for it...excessive emissions.
Thankfully, the SCAQMD, fed up with Exide's violations and rejecting their risk-reduction plan, is continuing to push back.
They filed a petition for abatement in mid-October, alleging that Exide failed to adequately control gaseous pollutant emissions and requesting that Exide's smelting operations be shut down until air pollution controls were upgraded. They also issued two notices of violation to Exide just last month, one for a failure to make a timely notification to SCAQMD and the public of an unplanned temporary shutdown after a power failure on November 12 and the other for incomplete ambient monitoring due to a power failure to the ambient monitors on January 19. (See here for specifics).
The question of abatement is now going to be brought before the SCAQMD Hearing Board on December 14, 2013, and they would like members of the public to attend and voice their concerns.
The SCAQMD is so interested in both giving the public a voice and allowing them to observe the process, in fact, that they are offering free bus service to Cal State L.A. to attendees from several locations within the affected communities (listed below or here).
But, be forewarned: this won't be a town-hall style affair.
The Hearing Board is a "quasi-judicial panel authorized to provide relief from AQMD regulations under certain circumstances." Meaning, they are able to make official rulings on things like petitions by companies for variances, petitions for abatement orders, or appeals by companies from the granting of permits, permit conditions, permit denials and suspensions, denials of emission reduction credits, and denials of pollution control plans.
But, rulings take time.
The hearing next week will be the first of several on the case.
Lawyers for both parties will offer opening statements laying out their cases and then members of the public will be invited to offer testimony on their concerns about Exide's operations.
Because it is an actual hearing, however, anyone testifying will be sworn in before being allowed to take the stand. As is also custom in courtroom proceedings, applause, cheering, or jeering will be discouraged and speakers will be asked to keep comments brief, should they mirror those of previous speakers.
There will be no question-and-answer period. Nor will there be any resolution of the issue by the end of the day. The hearing is to gather testimony only.
If you need more information on the SCAQMD's dealings with Exide or the event, you can knock yourself out on their information-packed Exide-specific page here. Or you can contact the Clerk of the Board at 909-396-2500 or by email at clerkofboard@aqmd.gov.
The SCAQMD Hearing Board will convene Saturday, December 14, 2013, from 9:00 am to 4:00 pm, at Cal State L.A. (5151 State University Dr.) in Golden Eagle Building, 3rd fl.
The SCAQMD will provide free bus service to and from Cal State L.A. Buses will depart from various locations every hour on the hour beginning at 8:00 am. Buses will continuously depart from Cal State L.A. and return to the following locations throughout the day:
Salt Lake Recreation Center
3401 E. Florence Avenue
Huntington Park, CA 90255
Southeast Rio Vista YMCA
34801 E. 58th Street
Maywood, CA 90270
Hollenbeck Middle School
2510 East Sixth Street
Los Angeles, CA 90023
Commerce City Hall
2535 Commerce Way
Commerce, CA 90040
Maravilla Community Center
4919 Cesar Chavez Avenue
Los Angeles, CA 90022
Sahra is Communities Editor for Streetsblog L.A., covering the intersection of mobility with race, class, history, representation, policing, housing, health, culture, community, and access to the public space in Boyle Heights and South Central Los Angeles.
Stay in touch
Sign up for our free newsletter