CicLAvia
Advice for CicLAvia VIII: Heart of L.A., Go Out, Have Fun
12:14 PM PDT on October 4, 2013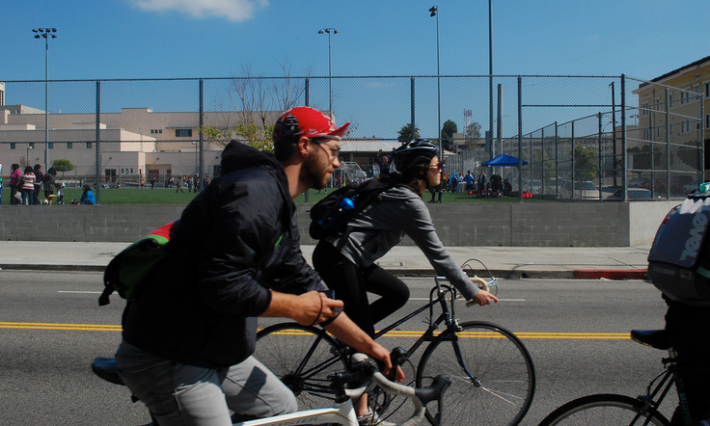 I started writing four different guides for CicLAvia VIII this week. One focused on the growth of the event from the inaugural 10/10/10 CicLAvia, one was on WalkLAvia padding through Boyle Heights, one was an event roundup for happenings throughout the day, and another was about city politics entitled "We Need Another CicLAvia Turnaround."
In the end though, I wasn't happy with one of them. The closest I came to happy with an article was the one on WalkLAvia, because of my own brief history with Los Angeles Walks and my affinity for the people in the team and the creative ways they're forcing Los Angeles decision-makers to consider pedestrian safety. The worst one was "We Need Another CicLAvia Turnaround," which read as a gigantic whine about the Garcetti administration.
As a writer, I faced another issue: how do I say something new about either CicLAvia in general or about this particular CicLAvia event. We've written extensive previews about every CicLAvia. CicLAvia the organization was in the news plenty of times since CicLAvia VII back in June. Some of its non-event highlights include a $500,000 grant from the Wasserman Foundation which means there will be funding for CicLAvias IX through XII next year and a UCLA study showing that CicLAvia is great for local business.
There were also plenty of guides published, many of them on the CicLAvia website. What sense would it make to rehash those events and happenings when I could accomplish the same thing by just making a meta-series of links (which I did, at the end of this article.)
But there's one thing I haven't seen yet, which is just some simple advice. Whether this is your first CicLAvia or you're eighth, treat as though it was your first one. Take a moment to talk to someone new. Go someplace you haven't visited on the previous CicLAvias. Heck, the entire idea behind having a Streetsblog "scavenger hunt" is to encourage people to look around their surroundings for something a little different (and of course, some shameless self-promotion.)
Try to see something on the route you've never seen before forget the guides. Go slow. Take in the city, in a different way. And most importantly, wear sunscreen. Sorry, that last bit of advice is from the parent in me.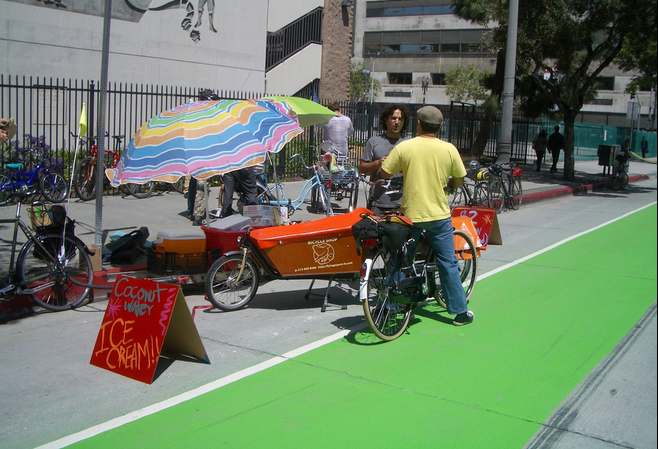 Because here's the thing. You know what I remember about CicLAvias? It's never the planned events. It's always the random interactions be it riding in front of Eric Garcetti at CicLAvia I and listening to his heartfelt awe at how great the event was, to my son kicking a soccer ball with a stranger at CicLAvia II, to running into Rachel Stevenson for the first time in over a year at CicLAvia VII.
Go make a memory on Sunday. And if you still want to read a CicLAvia preview, you can read one after the jump. There's a lot of great things happening, just make sure to take a little time to enjoy CicLAvia for just being CicLAvia too.
This is the 4th CicLAvia heading through the Downtown area. Since 10/10/10 the wavy line from the Bike District in East Hollywood's Hel-Mel to Hollenbeck Park has regenerated into four outer hubs spinning into a centralized one in a formation that looks a little like Dr. Who's K-9 robot dog from the 1980's. This CicLAvia adds pedestrian zones, which proved popular with attendees and effective at reducing incidents between bicyclists and pedestrians during the CicLAvia VII: Historic Wilshire Corridor.
There's a lot of events, feeder rides, and happenings occurring throughout the map. As best I could, here's a list of many of the great events happening on Sunday during CicLAvia VII: Heart of L.A.
Feeder rides:
CicLAvia has a list of feeder rides and walks from the official website including rides from Northeast Los Angeles, Glendale, Norwalk, Van Nuys/CSUN, USC/Exposition Park, El Sereno, and Downtown Los Angeles.  I found a few other ones on Facebook for Santa Monica and the Eastside.
Walking events:
Los Angeles Walks is hosting another WalkLAvia, this time starting in Boyle Heights at Mariachi Plaza and ending at the Chinatown Hub. The two hour walk will provide a great tour of Boyle Heights, Downtown Los Angeles and Chinatown for the uninitiated or a fantastic group walk for anyone looking for a group walk. When I visited the L..A. Walks superhero team on Tuesday, I asked each of them, "Why Boyle Heights?" The best answer came from Alexis Lantz.
"Why not Boyle Heights? I can't believe we haven't walked through Boyle Heights before," answered Alexis Lantz, one of the steering committee members of Los Angeles Walks. "There's so much history and so many great things to see."
The walk starts at 10 am at Mariachi Plaza. Easily Gold Line accessible for anyone looking to not do a walk before the walk. Get more details at their Walktober website.
CicLAvia is also holding a fundraiser-inside-the-event with the Charles' Phoenix Chinatown Field Trip. I'm just going to quote the CicLAvia website.
Experience the charm of LA's legendary Old Chinatown as your tour guide, Charles Phoenix, shares his keen eye for oddball detail and the stories, and glories, of one of LA's most exotic themed environments and precious pop cultural resources. Look through the layers of time at Chinatown's recently restored vintage neon signage, colorful Chinese modern architecture, multi-generation family owned antique stores and curio shops, classic restaurants and more. You will never see Old Chinatown the same way again.
You need reservations, make them here.
Last, a family is organizing a ride on Expo and then a walk through the Downtown. Cool. You can get the details from Culver City to the Chinatown Gold Line Station at the "feeder rides/walks" website on CicLAvia.
The Hubs:
There are five hubs for this year's Heart of Los Angeles CicLAvia at the African American Firefighter Museum, Mariachi Plaza, MacArthur Park, Grand Park and Chinatown. There's a slew of events at each Hub, including a chance to get your picture with Power Rangers. I mean, who doesn't want to get their picture taken with Power Rangers. Jason David Frank, David Yost, Thuy Trang, Amy Jo Johnson...wait a second, they mean people in costumes don't they? And I think I just revealed a little too much about myself.
But you can get all the information for each of the hubs at the CicLAvia website. Check it out. I already picked which food truck I'm visiting.
Go Metro/Go Art Tour:
Metro always puts its best foot forward for CicLAvia, and its official newsblog The Source always publishes a series on discounts and how to best use Metro to get to the event. You can find all their previews, right here.
Best of all, this year Metro offers a quick art guide for anyone planning to traverse the route looking for something new. Put together by our friend Heidi Zeller, this is one of the more unique guides to Sunday's event.
Advocacy:
I always appreciate the confluence of advocacy and Open Streets, be it the L.A. Beyond Coal rally at the first CicLAvia, the mix of Occupy and CicLAvia at CicLAvia III or anything else. This year, the only event I've found so far is a petition to stop the freeway-style redesign of the Hyperion Bridge. Is there something I'm missing? Leave it in the comments section.
Stay in touch
Sign up for our free newsletter