hit and run
Public Safety Committee Acknowledges the Hit and Run Crisis, LAPD Not So Much.
1:23 PM PDT on August 2, 2013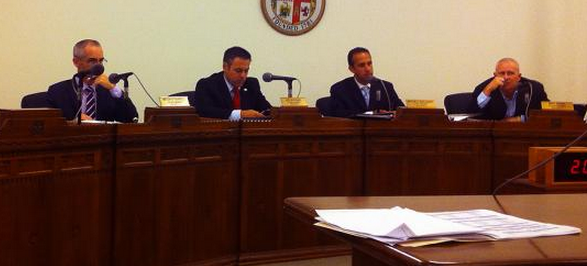 In Los Angeles, according to LAPD crime statistics for 2011, 1273 cyclists and pedestrians were victims of hit and run crimes. In other words every single day, 3 or 4 cyclists and pedestrians become hit and run victims within Los Angeles city limits. Of these, 26 people walking or biking died as a result of the collision in which a motorist fled the scene. Another 10 victims were killed while in cars.
Mind numbing.
Because LAPD traffic division response time can typically take an hour or more to respond to collisions and with LAPD officers known to actively discourage filing reports for minor or no injury hit and runs, there is no telling what the true extent of the crisis is. Years of public comments and protests by cycling and pedestrian advocates including a focused Police Commission public comment action last year have only begun to garner the kind of attention needed to begin to solve this.
Last Friday, members of the LAPD came before the Public Safety Committee to present their report on the extent of LA's hit and run crisis. The hearing followed a request by Councilman Buscaino in the wake of an LA Weekly exposé last December that brought light to this staggering reality on our streets. Based on the language of that report... the LAPD leadership does not yet appear ready to tackle the issue.
Several members of the "all powerful bicycle lobby," including myself, made the early morning trip to City Hall thanks to a special LA Bike Trains group ride. Having released the report to the police commission weeks before we already knew the report was a disappointment in many ways. But this was a chance to hear what the Council Members thought and to deliver another round of public comment.
Having attended many disappointing City Council meetings over the years I had no reason to feel optimistic about this one. The formula usually goes something like… livable streets advocates show up with pitch forks, LAPD / LADOT make excuses / naysay / not feasible, politicians feign interest / read their Blackberrys and / or Tom LaBonge talks about critical mass and outlaw bike riders.
But this meeting was different - stacked with freshmen councilmembers – it struck me as a bit of a sea change.
Not only were these Council Members engaged, they were speaking nuanced livable streets language. At one point Council Member Bonin corrected LAPD Deputy Chief Downing for invoking Critical Mass as a causation for hit and run crimes stating: "The typical hit and run victim is not riding on Critical Mass." This was immediately received with applause from the audience. Given the chance, I would have politely whispered to Chief Downing that the LAPD has been escorting a very peaceful amicable Critical Mass now for years... but I digress.
Audio of the agenda item:

It was clear that the committee members were looking for answers and the critical first step is acknowledging the problem. Instead, the report's slicing and dicing statistical methodology compared Los Angeles to other cities essentially proclaiming "Look! they have a problem too!" I kept thinking to myself when was the last time the ole "But everyone else is doing it too!" excuse got someone out of a speeding ticket?
Moving forward, while it wasn't made clear what the next steps would be, what I did find promising about the meeting was that all of the members acknowledged that Hit and Run crime is not only out of control in Los Angeles but more importantly that it should be elevated to the same urgency as other violent crime. Cyclist and pedestrians advocates have been asking for this distinction for years and it seems like the city of Los Angeles is finally-almost-kind-of on the verge of acknowledging it through official means.
Before retiring the item Councilman Englander moved to:
Adopt LAPD recommendations
Remove the word accident from hit and run reports
Gather better data and report EVERY hit and run crime
Report back on additional Enforcement options
These are encouraging first steps... and 3-4 people riding their bikes and walking in Los Angeles today and tomorrow and the next and the next and the next need the city to continue to step it up. Next week, I will post up some thoughts on what I think the city can do right now to quicken the pace.
Notable Quotes from the meeting:
"There still has to be accountability on the part of the bicyclists." -Deputy Chief Michael Downing
(QUESTION: How exactly does a hit and run victim work to become accountable while lying abandoned on the pavement?)
"We want to have more clearance on robberies than we do hit and runs." -Deputy Chief Michael Downing
"There is no such thing as a hit and run accident, there is no such thing as a murder accident or a child rape accident... it is a crime." - Ann, cyclist
"Driving is a priviledge not a right, and the privilege is thoroughly abused." - TJ Flexor, cyclist
"A hit and run accident is also a violent crime and I personally want to see it elevated in status."
- Councilmember Mike Bonin
"My son was not killed by the hit, he was killed by the run." -Don Rosenberg
"As a father I take this very seriously." - Councilmember Mitch Englander
"The trend is to get more people out of cars and walking and biking everywhere. We need to protect vulnerable users of the roads." - Councilmember Mitch O'Farrell
Stay in touch
Sign up for our free newsletter