Mike Bonin
Bonin Ready to Work on Transportation Problems Throughout L.A.'s Westside
10:55 AM PDT on July 19, 2013
(Editor's note: We're breaking out interview with new Los Angeles City Council Transportation Committee Chair Mike Bonin into three parts. Yesterday focused on his role as Chair. Today focuses on local issues on the Westside's CD 11. Monday we will post the unedited audio from the interview. Also, since we discuss the Expo Bikeway, we should note that I am the CD 11 representative to the Expo Bicycle Advisory Committee.)
Despite being intensely proud of the Council District he represents, Mike Bonin has no illusions that the Westside's CD11 is a Livable Streets paradise.
"Every single North-South street," he half-joked to me when I asked if there were any streets in the district that could use a road diet.
Following the success of the Main Street Road Diet in Venice, there is some excitement of possibly putting other streets on a diet, i.e. removing a mixed use travel lane and replacing it with dedicated bike lanes. While Bonin is enthusiastic about the possibility of bringing more road diets home, he also recognizes that on the Westside, there need to be more ways to move a lot of people north and south.
And he doesn't mean massive highway projects.
"I'm not a big fan of the 405 project," Bonin flatly states of the late, over-budget, 405 widening project that spawned two Carmaggedons and lost the support of even it's largest backers.
"I wish we hadn't done the 405 project. The line I've continued to use is that it seems to be a tremendous amount of pain for not a lot of gain."
Instead?
"What we should have done was work on the LAX rail connection into the valley."
In Bonin's vision, such a rail line wouldn't just get people over the mountain from the Westside to the Valley or vice-versa, it would also create a rail mass transit option for people within the Westside.
When we sat down on the 733 Rapid last week, we didn't know that Bonin and San Fernando Valley Council Member Paul Krekorian would be appointed to the Metro Board of Directors by Eric Garcetti. Putting a Valley and Westisde Council Member on the powerful board is a clear sign from the Mayor's Office that advancing the "LAX to the Valley" transit project is high on his priority list.
But while a connector between LAX and the Valley is still years in the future, the Expo Line Phase II is being built right through of Bonin's 11th Council District today. When we spoke last week on the bus, he was on his way to a meeting of the Expo Construction Authority Board of Directors. At that meeting he was voted Vice-Chair of the Board.
Vice Chair of the Expo Construction Authority, Member of the Metro Board of Directors, Chair of the City Council Transportation Committee. Mike Bonin has been in office for less than three weeks, and he's basically positioned himself in the center of the Greater Los Angeles transportation world.
So getting the design fixed for the future bicycle crossing at Exposition and Centinella ought to be a piece of cake, right?
"I'm cautiously optimistic," Bonin remarked.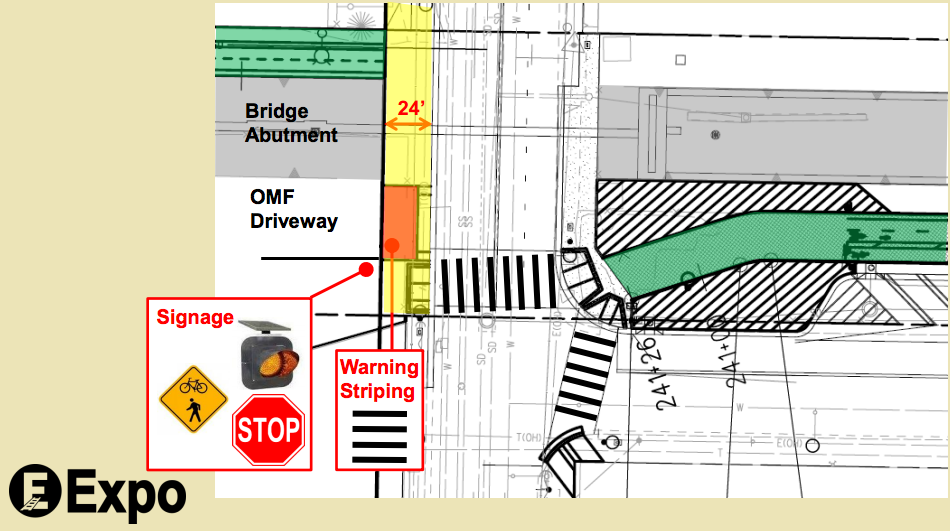 For those of you that missed it, as a result of a compromise between the Expo Construction Authority and local homeowners moved the driveway for an Expo Maintenance facility at the crossing of Exposition and Centinela from its original design. The new plan calls for a driveway to face Centinela instead of Exposition,  requiring cyclists on the bike path built adjacent to the railway have to literally bicycle across a driveway. Expo staff and their contractors insist the design is safe. Everyone else that looks at it sees a disaster waiting to happen.
Bonin's predecessor, Bill Rosendahl, introduced and moved a motion asking LADOT to explore funding options for fixing the crossing as Expo bluntly refuses to pay for a safe crossing. The report on options is due next week. Bonin believes it will contain an answer to the Centinella Crossing issue.
The issue is important not just because of a crossing, but because of the message it sends if the Expo Bike Path, which has a Star Wars budget, comes out looking like Dude Where's My Car.
"It hasn't been the easiest issue in the world to get the folks at Expo…to appreciate," he explains. "I started talking about this as Bill's alternate. We need to do the bikeway right...I'm looking at who's going to be using it in 2030. We need to build out the multi-modal system we want now for 2030."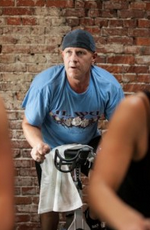 One of the best signs that Los Angeles is mentally ready for a truly multi-modal transportation system is the physical representation of the pent-up demand for bicycling infrastructure known as CicLAvia. When CicLAvia came to the Westside in April, Bonin was away on a long-overdue family vacation following the election.
But that doesn't mean he didn't hear hundreds of reports, on Twitter, Facebook and face to face. But what struck him wasn't the amount of people that experienced the CicLAvia VI: CicLAvia to the Sea, but how many didn't.
"I was surprised how many people, including active community leaders, didn't know about CicLAvia," Bonin said. This was an experience I shared, finding myself explaining to puzzled parents at my son's preschool why Venice Boulevard was "closed yesterday" and why Sammy was so suntanned. Clearly, we have some work to do for next year.
But, as is true for many Livable Streets believers, Bonin finds CicLAvia to be a game-changing event for the city.
"Three of four CicLAvias ago, it really struck me that this was the Los Angeles of my imagination," Bonin says. He's not just of the experience of bicycling with a couple hundred thousand of his closest friends, but of the thousands of other little experiences and interactions an Angeleno can experience at CicLAvia.
A similar experience can be found on the bus.
Given the relatively non-bruising nature of the campaign to replace Bill Rosendahl, Bonin actually hired former rival Freddy Sutton as constituent advocate in one of his field offices, Bonin doesn't have the celebrity of some of his colleagues in other districts. So, we road the bus in relative anonymity, except for one rider who did come over to say hi and engage in a minute of conversation.
But as his time in office grows, he can expect to spend more time on the bus in unscheduled office hours and less answering email or scoping out the new raw food restaurant in Downtown Los Angeles. Bonin admitted, despite being in the middle of a cleanse in his second week in office, that he didn't feel up to a bike commute downtown. However, if he's looking for a little more privacy on his commute, he can always bike commute to his district office.
Stay in touch
Sign up for our free newsletter