High Desert Corridor Highway Project Continues to Morph Right in Front of Our Eyes
8:59 AM PDT on July 11, 2013

There's no way to look at the proposed "High Desert Corridor" Project and not see a mammoth highway project. The 63 mile project will add hundreds of freeway lane miles between the City of Palmdale in L.A. County and the quaint sounding Town of Apple Valley in San Bernadino County. The highway will be up to eight lanes in some sections and as "small" as two lanes in others.
In short, it's one of the largest pending highway projects in America.
But for those of us following the project, there are signs the proposed project is being re-imagined in new ways. During the last round of meetings, details of a parallel bike path surfaced with rumors of a rail component. In a powerpoint that has been circulated to elected officials, details of what the rail corridor could look like are starting to appear. Metro will host public meetings on the project next week, and once we get an electronic copy of the presentation, we will be sure to publish it on Scribd and Streetsblog LITE. A full listing of the meetings is at the end of this article.
"The High Desert Corridor will create vital interconnected transportation infrastructure in the Antelope Valley to support economic and population growth for decades to come, while also alleviating traffic congestion and air pollution in the Los Angeles and San Bernardino basins by diverting truck and car traffic through this bypass while also enhancing the region's rail and air transportation systems with links to the California High Speed Rail and XpressWest to Las Vegas and Palmdale Airport," Supervisor Mike Antonovich wrote in a statement to Streetsblog.
"The potential to include solar energy, natural gas and bike path elements makes the High Desert Corridor a truly multi-purpose transportation project."
Antonovich has taken some heat on Streetsblog both for his unwavering support for this highway project and other reasons. However, staff working on the project credit Antonovich for extending the vision for the project to include bikes paths, solar generators, wind farms, and the high speed rail tracks.
The newest plans, currently being studied with the rest of the High Desert Corridor Project, would run a rail line in the median of the new freeway that could serve Metrolink, a new "High Desert Corridor" specialty service, California High Speed Rail (CAHSR) trains or Xpress, the private high speed rail line that would connect Palmdale to Las Vegas.
Currently, CAHSR is planned to run through Palmdale on its way to Los Angeles from San Francisco. Xpress has its western hub in Victorville, nearly 60 miles to the east. By building high speed rail tracks between the stations, the High Desert Corridor opens new options for both rail lines. Could Xpress run trains directly from Union Station, or even partner with CAHSR to run joint trains from San Francisco or San Diego? The worst case scenario is a new feeder service for each rail line. The best case scenarios are limited only by money and imagination.
This additional rail line would do wonders for ridership on both Xpress and CAHSR, if both are built, by providing the direct connection between the new lines missing in current plans.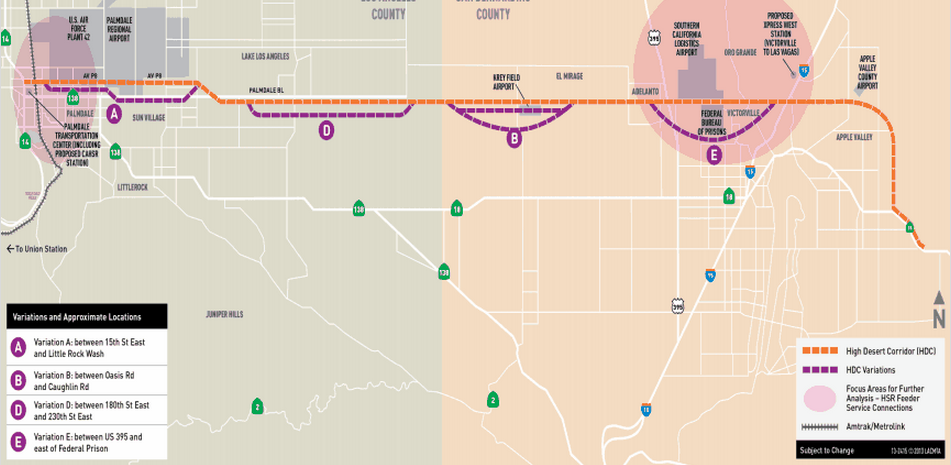 It also makes Antonovich's rail vision for the Antelope Valley more than just a future vision. Under this plan, the High Desert Corridor becomes a lynchpin for a successful High Speed Rail system for California. And the proposal is being pushed by a noted Republican County Supervisor in a state where the Republican party has not been friendly to the high speed rail proposals.
Antonovich has pushed the idea of an extended high speed rail role for Palmdale for at least two years. While there is a variety of funding options available, he has always stated that the high cost of high speed rail makes it unlikely without a private investor.
"It would have to be a public-private partnership," he said to the San Bernadino Sun in 2011. "The goal is to have a seamless operation."
The project is also looking at putting renewable energy generation in the mammoth right of way to make the corridor "energy neutral." Solar panels and wind farms could power recharging stations for electric cars and overhead lighting. Excess energy could be returned to the local grid.
As for the bike path, it wouldn't run the entire 63 mile route, but at nearly fifty miles it would be roughly the length of the Los Angeles River Path between Griffith Park and Downtown Long Beach. The entire bike path would run on a separated bike path in its own right of way.
After the meetings next week, staff will work on a Draft Environmental Impact Report to fulfill local and state requirements. At the end of the environmental process, staff will reveal a favored route and modal additions as well as price tags for these items. A joint powers authority will then vote to certify the documents before final design and construction can begin. Funding for the project is set aside in L.A. County's Measure R, San Bernadino County's Measure I, the State Transportation Improvement Fund, and other state and federal funds.
Schedule of meetings:
Monday, July 15, 2013 6-8 p.m. at the Lake Los Angeles Elementary School, 16310 E. Avenue Q,Palmdale, Calif., 93591

Tuesday, July 16, 2013 6-8 p.m. at the Stater Bros. Stadium, Mavericks Conference Room, 12000 Stadium Way, Adelanto, Calif., 92301.

Wednesday, July 17, 2013 6-8 p.m. at the Endeavour School of Exploration, 12403 Ridgecrest Rd., Victorville, Calif., 92395.

Monday, July 22, 2013 6-8 p.m. at the Larry Chimbole Cultural Center, Joshua Room, 38350 Sierra Hwy., Palmdale, Calif., 93350.
The meetings on July 17 and July 22 will be webcast live at ustream.tv/channel/metro-high-desert-corridor.
Stay in touch
Sign up for our free newsletter