South LA
The People that You Meet When You're Riding Down the Street
11:26 AM PDT on June 11, 2013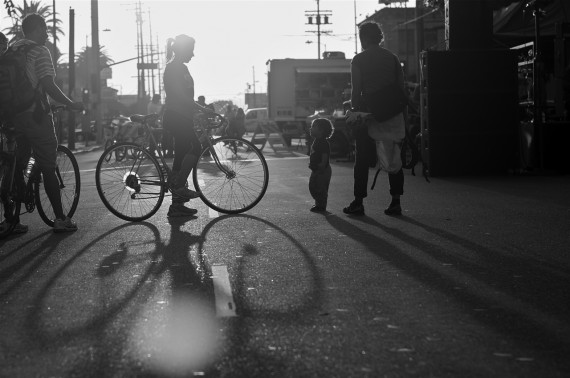 I had just passed the liquor store near Avalon and Manchester in South L.A. when a large man who was slinging dope and chilling with a few other guys apparently decided that he was in the mood to make nice with a lady.
And that lady was me.
A couple of blocks south of the store, I turned back to see he had jumped on his beach cruiser and was pumping hard to catch up with me.
Really hard.
So hard, in fact, that I thought he might actually have a heart attack or pass out from a lack of oxygen.
"Let's pull over here," I said after letting him catch up with me. "I'm afraid you're going to keel over!"
He was fine, he assured me. He rode all the time. He just wanted to chat.
After some obligatory banter about bicycle riding and lady-chasing, I told him a little about what I was doing in the area that day and about my interests in South L.A.
I was heading to Watts, I explained, because I was working on a larger project on the effect of chronic violence on the health of communities.
"Why you goin' to Watts lookin' for that?" he dismissed the idea with a wave.
"Watts!" he snorted again.
Gesturing north of Manchester, he told me that Watts had nothing on his neighborhood.
Turns out Barney -- "like the dinosaur," he said -- was an OG from the Mad Swan Bloods, and had been with the gang almost since its founding in 1973.
I had stumbled upon an amazing local historian, in other words.
Over the next half hour he told me about growing up in the area, hanging out at the "post office" off Manchester (where gang members posted up and used to meet to talk business), their tumultuous relationship with the Main Street Crips, about well-known figures from the time, like Elvis Dexter (deceased), Pee Wee (on death row), and Stanley "Tookie" Williams (executed), who Barney says exaggerated his own role and the "work" he put in to building the Crips.
Not unlike the majority of gang members I know today, he had gotten into gangs because he had been raised in the streets. He was already fending for himself at a young age, he said, with his mom sometimes turning him out of the house while he was still in primary school because of her own demons.
The gang took him in and taught him a lot, he acknowledged, but it also set him on a path that marked him for life: he's all tatted up, missing several front teeth thanks to past crack and other addictions, and did some time in the pen for a variety of offenses.
He's clean and sober now, he reassured me, and hoping to see the community change for the better.
Even so, slinging dope is the steadiest work he can find.
Jobs in the area are scarce and who would be willing to chance hiring someone as physically, culturally, and emotionally marked by his past as him, anyways? Not too many people, he said.
So, he is kind of stuck where he is.
And while he seemed to relish being in a place that he knew so well and where he was so well-known, he did wonder what it might be like to experience something else for once.
Pausing and sizing me up for a moment, he asked, "So, you're not Caucasian?"
"No."
"But Caucasians don't know you not Caucasian."
"Right," I acknowledged. "Sometimes they don't."
"What's that feel like?" he wanted to know.
I could see where he was going with this.
Being an ambiguous brown female means that, not only am I able to insert myself into all sorts of social circles with relative ease, I am likely to be accepted as at least a provisional member of the group in many of them.
It's a real privilege -- a luxury, even -- to be able to move through so many communities so fluidly and build trust with groups in ways that others cannot.
Coffee-black in complexion, heavily tattooed, missing teeth, and looking a decade older than his 40-odd years, Barney was aware of how he would always be seen. And, while that was OK in his neighborhood, he knew he could never slip unnoticed into new social situations outside his 'hood -- people's perceptions of him based on his appearance would always define those interactions.
As we stood talking, another OG called out from a red car passing by, "Everything OK, homie?"
It was one of his fellow Bloods, checking to see why Barney was so far south of his territory and whether he needed some help.
He reassured the guy everything was fine and that I wasn't an undercover cop or anything like that.
Soon after, the police drove by for the second time, slowing down this time to get a better look at us. They were probably wondering if there could be anything other than questionable circumstances that could bring such an unlikely pairing as ourselves together.
Even within his neighborhood, it was clear he was tightly boxed in by his identity and judgments were being made about mine.
In the end, I had work to get to and figured he had dope to sell, so I decided to take my leave of him.
Considering that he first had chased me down as a potential lady friend, I hesitated for a second before handing him my business card. But I eventually decided that he was just too interesting to let get away.
He doesn't use computers or any of that stuff, he told me after asking what a street blog was. But maybe he would call me some time to talk about old gang history and anything else I wanted to hear.
I smiled and shook his hand. And when I said I hoped he would, I meant it.
Sahra is Communities Editor for Streetsblog L.A., covering the intersection of mobility with race, class, history, representation, policing, housing, health, culture, community, and access to the public space in Boyle Heights and South Central Los Angeles.
Stay in touch
Sign up for our free newsletter