Long Beach
Long Beach: Bridging the Racial Inequalities within Cycling
10:46 AM PST on January 16, 2013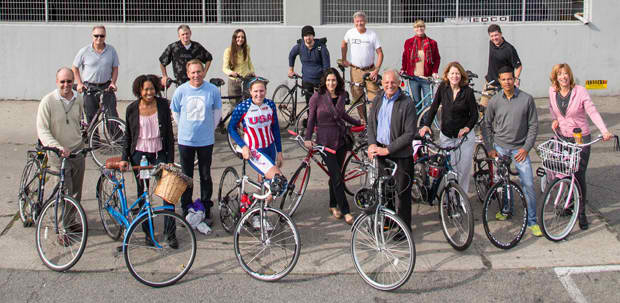 The racial and economic disparities amongst the bicycling communities in Long Beach is not one to be understated. In fact, a friend of mine pointed this out while we were doing the cover photoshoot for the Long Beach Post's Person of the Year, the Bicyclist: "Wow, this crowd is overwhelmingly... white."
Though disdainful, the lack of racial diversity shouldn't have been shocking to her since it isn't just a Long Beach problem, but a national one. And Elizabeth Williams, the woman who spearheads Cali Bike Tours, is intent on altering that reality and refers to the gap that separates people of diverse ethnicities from healthy living. She calls her pilot program "Bridging the Gap to Biking in Underserved Communities."
"When I sit anywhere--let's say here [at Berlin in the East Arts Village]--I can count the people who bike by," Williams said. "You can count the white, the black, the Latino, the Asian--and the numbers are beyond disproportionate."
According to Williams's logic, bicycling within the black community is viewed as child's play: it isn't for adults.  Leaving one's bike behind represents, on a certain level, graduation into adulthood. This social stigma perpetuates stereotypical success in very Southern Californian terms, where your car soon becomes a symbol of your well-to-do-ness--something which Williams feel is doubly intensified within the racial minority communities.
As she bluntly puts it: it just isn't normal.
"I will be riding and black families will just stare. I wave--what else am I to do?--but we have to alter this perspective," she insisted.
And just as bluntly: it's because we choose as a community not to normalize it through images and advertising that cater to a specific, limited audience.
She gestures towards a 4th Street banner dedicated to the city's large safety campaign, "Share Our Streets," and pointedly exclaims, "There's nobody who looks like me on there. And although I was a part of the campaign, I am not on there. There's Tony Cruz and his son on one, Joen [Garnica] on another... That's about as colorful as it gets."
And it's not just the street banners. Newspaper ads lack showing large families with more than one child. The large ads spread throughout Long Beach Transit buses showcase a 1950s-dressed white woman driving an refurbished classic convertible in pristine condition while sharing the road with a variety of bicyclists.
"A convertible car? I can't afford that, I can't relate to that," she emphasized. "It ends up creating this idea in my head, 'That's not for me.' And what we're doing now is good--but we can do better in getting awareness programs out there that help the underserved actually relate."
The altering of this perspective isn't simply about getting more people on bikes. As many advocates know, one can't simply approach a community and say, "This is good for you so do it," and the people will follow. If that were the case, the gap between marginalized groups versus that of the more affluent wouldn't be so alarming. In other words, the needs and challenges of these outlying communities are markedly different than those the city currently caters to; biking isn't just for leisure but for daily survival.
Marked difference in social determinants--such as poverty, low socioeconomic status (SES), and lack of access to care--sadly increase rates of obesity, diabetes, heart pressure, high cholesterol, and various other medical and health issues which plague these oft-ignored communities.
For Williams, the possibility of at least lowering such problems revolves around altering perceptions as much as providing access: a separated bike lane doesn't encourage much when one doesn't know the point of it. In the consensus of many, all that bike lane did was remove parking and limit the ability to drive faster down a street.
In this vein, reflecting the U.S. health care problem where money is geared more towards technology (e.g. devices and drugs) rather than equity, Williams sees money geared more towards infrastructure but not programming.
With sophisticated incentive programs--for example, Williams is set on providing free bikes with the caveat that those receiving the bikes become entirely educated in and graduated from a bicycle safety and knowledge program--paired with better information--for example, she discovered that the outreach was improperly done to the extent that only ONE person showed up to a community meeting in North Long Beach a year ago to discuss the bike plan--Williams hope that acknowledging the gaps will help lead to mending them.
And the key is trying to inform people who already lack large amounts of monies that not only is the investment worth it for them, but it will increase their property value on top of alleviating other financial stresses as well, including dependence on gas, public transit, or general vehicle costs.
"There are countless things that you just may not know about--tag-alongs, bike trailers, baskets--that can and will make your life better. I am confident I can sit a family down and shoot down every excuse they might throw at me as to why they don't ride--and tell them how they'll benefit on top of it."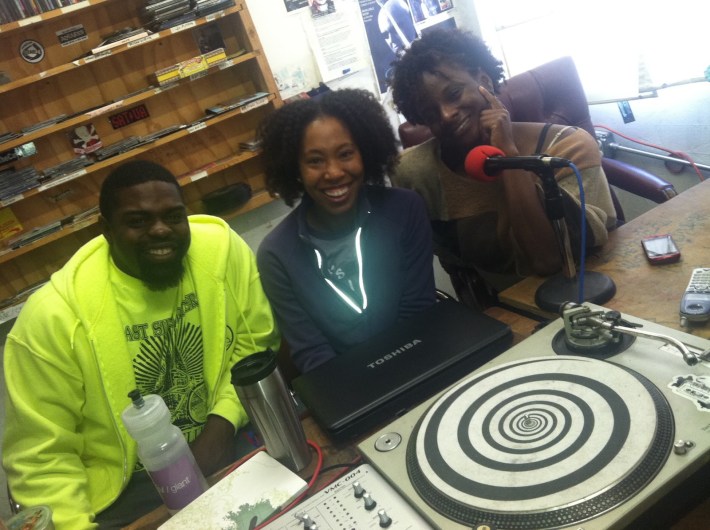 That excuse includes safety, where a fear--not necessarily unfounded, particularly in unsafe neighborhoods--is deeply held by parents and guardians who are told they should permit their children to ride bikes. Inspired by John Jones and his phenomenal work with the East Side Riders, Williams feels that cohesive engagement--such as Jones's work with local gang members to create Life Lanes that permit kids to ride in certain parameters in Watts with no fear of being attacked or confronted--with everyone from the Long Beach Police to neighborhoods overseers will override that fear.
Even beyond the direct, individual health reasons, there are--as studies have repeatedly shown--deeper communal benefits that transcend safer roads: the more people seen walking and biking, the the more likely they're to engage with their neighbors, notice businesses, and support local economies.
If one were to theoretically provide these concepts to underserved neighborhoods, more people will engage with their neighborhood entirely as a whole--and Williams is deciding to just that this year, particularly given her new role as Bike Ambassador for North Long Beach.
This spring, she hopes to begin surveying the neighborhood association events to find out about the citizens' riding experiences, their feelings on bikes, and what would it take for them to ride a bike; she'll then compile that data to begin creating programs such as the one that will offer bikes to those who choose to educate themselves in bicycle safety.
"I don't want any excuses--we don't want any excuses. We want to eradicate everyone's excuses. 'But I have my child.' ''We got you, our meetings have child care.' 'But I don't speak English.' 'We have translators.' We're gonna find you," she said with a mischievous smile. "And we're gonna get you to understand."
Stay in touch
Sign up for our free newsletter